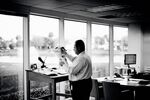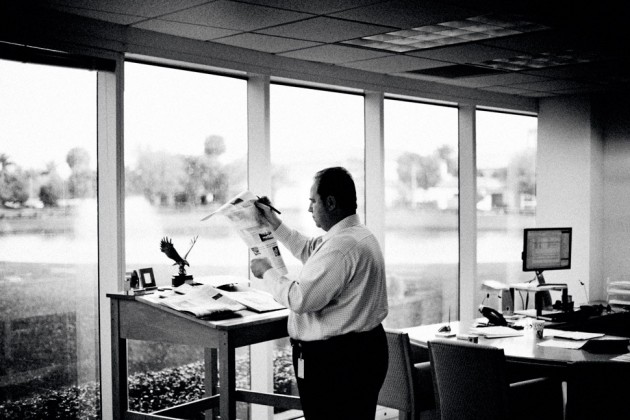 Christopher Ruddy, 49, the chief executive officer and founder of conservative media company Newsmax Media, is giving a tour of his neighborhood in an Acura driven by his chauffeur, Hector. The car heads south on I-95 from West Palm Beach to Boca Raton. It's the heart of Florida's Red Belt. Ann Coulter lives a few blocks away—Ruddy spent New Year's Eve there. Rush Limbaugh is just across the bridge. Donald Trump, David Koch, Patty Mellon Scaife, and a host of other Republican power brokers have homes across the lagoon in Palm Beach. To live among such conservative heavyweights is one reason Ruddy settled in West Palm Beach; the other is that Florida has no state income tax. The headquarters of Newsmax is here, too, off Okeechobee Boulevard; virtually every Republican presidential candidate makes an obligatory visit.
Newsmax, which had revenue of $104 million in 2013, up from $85 million the year before, is perhaps best known for its namesake, 200,000-circulation monthly magazine. A conservative reimagining of the traditional newsweekly, Newsmax publishes political stories such as "President Obama's Outrageous Power Grab" and ads for gold coins and hearing aids. For conservative politicians, making a Newsmax cover is an important stamp of validation. Newsmax.com, launched in 1998, before the magazine, is the most trafficked conservative site on the Web, with more than 11.5 million visitors in January, according to ComScore. On a recent morning, the featured posts on the home page were "Obama Intel Reforms Threaten US Security," "GOP Poised to Retake Senate as Disillusioned Democrats Depart," and "Bomb-Strapped Islamists Threaten 'Present' at Olympics." Ruddy has amassed a 5 million-person e-mail list, one reason Republican presidential candidates stop in to see him.
What's remarkable about Ruddy's prominence in the Republican media establishment is that he isn't even a Republican, and Newsmax isn't a conventional media company. Ruddy has taken Newsmax's boomer audience, average age 54.7, and figured out how to sell it far more than political news. Newsmax, the corporation, is a smorgasbord of political, health, and financial information, self-help books, and even vitamin supplements constantly pushed through the website and e-mail lists. This eclectic array of products—the company made $46 million in subscription revenue from its 17 newsletters and $6 million from vitamin supplements in 2013—makes Newsmax less of a news business and more of a strange hybrid of the Heritage Foundation and Amway. It was Amway founder Richard Devos who suggested to Ruddy that Newsmax could sell supplements to his middle-aged audience.
Ruddy is registered as an Independent and is more moderate than the rhetoric typically espoused by his media properties. He has become friends with Bill and Hillary Clinton and won't rule out supporting Hillary for president in 2016. All of which makes his latest ambition, to build a TV network that he believes will challenge the conservative news monopoly of Fox News, either a misguided fantasy or a cunningly disruptive business plan.
For the last 18 years, Fox News, led by its president, Roger Ailes, has exploited its unique slant on the news to generate nearly $1 billion in profits a year for parent 21st Century Fox. There's been no serious conservative competitor to Fox News, and Ruddy has never understood why. (Fox News didn't make anyone available for comment.) "How do you have something so successful in cable that nobody else wants to imitate or cut into their market share?" Ruddy says. "It defies reason."
This June, Ruddy plans to launch NewsmaxTV, a 24-hour cable news channel that will be, he says, a kinder, gentler Fox. "Our goal is to be a little more boomer-oriented, more information-based rather than being vituperative and polarizing," he says. Ruddy says he can make NewsmaxTV profitable entirely through advertising and selling Newsmax's consumer products over the air. It's the same business model that's been successful for QVC, Home Shopping Network, and numerous televangelists, but no one has tried it in cable news. He's quick to add that he doesn't need to beat Fox News, he just needs to shave off a little of its audience—particularly those conservatives who feel Fox has drifted too far to the right. "If we take 10 to 15 percent of the Fox audience," he says, "and they are making $1 billion a year, then we are going to be hugely profitable."
 
 
Ruddy grew up on Long Island in Williston Park, N.Y., the 12th child of a police lieutenant and a homemaker. The family was Republican, Catholic but not regular churchgoers. Chris came of age during the Reagan Revolution. Like many conservative peers, he still sees Ronald Reagan as his political true north. "What annoys me about the Republicans today is they seem like they are always fighting for corporate interests and not the mainstream," he says.
He graduated from St. John's University in New York and earned a master's degree in public policy from the London School of Economics. When he returned to the U.S. in 1988, he taught at two of the toughest public schools in the South Bronx, William Howard Taft High School and Adlai Stevenson High School, both now shuttered. He says those years, where he recalls disruptive students punching through the windows after he had banished them from his class, reinforced his conservatism. "I saw how these government programs that were intended to help people, and they were well-intentioned programs, were creating this cycle of dependency," he says. "Most of my students didn't have fathers [at home]. Start with that. These government programs weren't curing those problems."


In 1991, Ruddy joined a conservative monthly, the New York Guardian. There he broke a story debunking a PBS documentary film, Liberators: Fighting on Two Fronts in World War II, which told an inaccurate story of how black GIs liberated Buchenwald and Dachau. His reporting came to the attention of Rupert Murdoch, who had just acquired the New York Post, and soon Ruddy was making a name for himself as a Post reporter covering the Clinton White House. The suicide of Deputy White House Counsel Vincent Foster in 1993 became his defining story, and it was Ruddy who provided conservative talk radio with plenty of fuel for the wide-ranging conspiracy theories that sprang up.
He left the Post in 1994 when billionaire Richard Mellon Scaife hired him to be the national correspondent for the Pittsburgh Tribune-Review. Ruddy would eventually turn his reporting on Foster into a book, The Strange Death of Vincent Foster, in 1997. To promote the book, he became a regular guest in the right-wing radio sphere, frequently traveling to make studio appearances with George Putnam, Mike Reagan, Larry Elder, Limbaugh, and other hosts. While he was a guest on Putnam's radio show in Los Angeles, a "Matt from Hollywood" became a frequent caller. He soon figured out that Matt from Hollywood was the same Matt whose website so many other callers seemed to be reading. "The next time I did Putnam's show, I told the screener, 'Get that guy's number.' "
Matt from Hollywood turned out to be Matt Drudge, and when Ruddy met him at a restaurant in Burbank, Calif., Drudge had recently quit his job at the CBS gift shop. Wearing his signature fedora, he related how he started the Drudge Report on a Compu-Serve usernet group and had more people on his e-mail list than the Washington Post. Drudge laid out his vision to take down traditional media. "This was a game changer," Ruddy says. "I thought, wow, I should do this as a business, because Matt had the journalism skills, but he probably didn't have the business skills. I thought I had the business skills."
In 1998, Ruddy raised $300,000 from investors—his first $25,000 was from Central Intelligence Agency Director William Casey's daughter Bernadette—and launched Newsmax.com. He figured out he wasn't going to make money from banner ads, so he launched his first newsletter, Internet Vortex, basically a print edition of the website, for which he charged $30 a year. He had 10,000 subscribers within 12 months. "I realized this was where we would make money," he says. "We had to do newsletters in order to keep doing the website." Dozens of newsletters followed, such as the Financial Intelligence Report, the Franklin Prosperity Report, and the Blaylock Wellness Report, several with more than 100,000 subscribers and an average subscription price of about $100 per year. "We saw very early that boomers were hungry for this combination of conservative news and financial and health news," he says.
In 2002, Ruddy and Scaife bought out the original investors; today, Ruddy owns 58 percent of the company. Newsmax has 260 employees, with plans for 300 by summer. Ruddy earns what he describes as a modest six-figure salary, but he's plainly as interested in his own success as in advancing his conservative agenda. Says his friend and Newsmax contributor, Harvard Law School professor Alan Dershowitz: "A liberal could come up with a losing business and still have his ideas accepted. Someone with Chris's ideas has to be financially successful to be credible, because free-market success is a central part of his idea."
 
 
Ruddy flutters his fingers when he's excited, as he is now. Wearing blue pinstripe trousers, a white shirt, and a blue jacket, he's strutting through Newsmax's new 50,000-square-foot corporate headquarters in Boca Raton, asking the contractor, Harry Burke, about which walls will be torn down to make room for the editing bays, cubicles, and offices. In the southeast corner will be Ruddy's 800-square-foot executive suite, currently a brightly lit cavity of drywall and metal studs, bouquets of cable hanging down from the exposed ceiling.
"When do we get the certificate of occupancy?" Ruddy asks.
The middle of March, Burke says.
Ruddy nods. He can't wait. In just a few weeks he'll move in his paintings (portraits of Reagan and Theodore Roosevelt, an impressionistic landscape with seagulls) and the photos of him with Republican dignitaries (Sarah Palin, Eric Cantor, and John Boehner, among others) and embark on his challenge to Fox News.
Other traditional media companies, such as Time Warner, CNN's parent, or Comcast, parent of MSNBC, have so far been reluctant to launch right-of-center news networks—not because there isn't an audience but because, according to Ruddy, "there is a certain stigma to conservative politics." For him, that stigma is a point of pride.

At the moment, NewsmaxTV is available on the Web and broadcasts for three hours a day. Steve Malzberg, a longtime New York radio host, interviews politicians, pundits, and health and financial experts—many of whom publish Newsmax newsletters. By June, NewsmaxTV will be based in Boca Raton and will broadcast nine hours a day. The network, which will remain free on the Web, plans to be in about 50 million homes through Dish Network, DirecTV, and several cable companies. Ruddy initially tried to persuade the cable and satellite companies to pay for NewsmaxTV. "They don't want to pay new networks," he says. "[Glenn] Beck has been trying [for his Blaze Network], but they are actually trying to get rid of the networks they have. So what we are going to do is say, 'We are going to give you the service free or we will pay you to take us.' "
In the usual cable news business model, networks such as Fox News collect advertising revenue and subscription fees—about $1 a month per subscriber—from their cable and satellite distributors. Ruddy believes he can pay cable operators to carry NewsmaxTV and still cover his costs through ads and direct sales. Every viewer is a potential customer for his newsletters and vitamins. He's also exploring partnerships with other conservative media entrepreneurs, including Beck and David Smith, CEO of Sinclair Broadcast Group, which in 2013 bought Washington, D.C.'s ABC affiliate WJLA-TV from Allbritton Communications. "Cable channels are getting between $2 and $8 per subscriber per month in advertising. My view is I need to make 60¢ per subscriber to break even … if I'm paying about 25¢ per subscriber in programming and 35¢ to the distributor. I already have the infrastructure to easily do this."
The eclecticism of Ruddy's business is evident in a morning planning meeting in the Newsmax office. He sits before a conference table with the heads of various divisions around him and on speakerphone. They report on the progress of the launch of a women's health newsletter and the possibility of leasing more studio space from the local PBS affiliate. There's good news—the newsletter Absolute Profits is averaging $205 per subscriber. And there's less good news—there are still some problems with new printing software. Later, he checks in with the marketing department, where he's told that an e-mail blast to 3.2 million accounts with the subject line "The Five Things That Activate Cancer in Your Body" yielded 17 subscriptions to Dr. Brownstein's Natural Way to Health newsletter at $54.95 each. "Not bad," he nods.
Although Ted Cruz is on the February cover of Newsmax magazine under the headline "Fixing Washington," Ruddy's own conservatism, despite a fervent anti-Obama streak, is far from Tea Party obstructionism. "People mellow or change or get perspective as they age," says liberal journalist Joe Conason, often Ruddy's foil during the Clinton battles, who now counts him as a friend. "Or most people do. He's not this right-wing kid that he was."
Ruddy describes himself as "not as far to the right" as Fox's Ailes. "You want to help people … but you also want to make sure it doesn't create a cycle of dependency," he says. He favors preserving Social Security and Medicare, extending unemployment benefits, raising the minimum wage, reforming immigration, even forgiving student loans. In a recent Newsmax editorial lambasting Rand Paul for dredging up the Monica Lewinsky affair, he wrote, "As one of the participants in those battles back then who was a critic of President Clinton, I can say with some degree of certainty we made a mistake." About the only area in which he remains a staunch party-line conservative is foreign policy.
Ruddy's friendship with the Clintons has been much remarked on in conservative circles. (In a signed photo on Ruddy's wall, Bill Clinton wrote, "I hope this doesn't destroy your circulation.") He met Clinton in 2007 at Clinton's Harlem offices, and they toured Africa together. Ruddy has given substantially to the Clinton Foundation and favored Hillary over Obama in 2008. "I'm already torn by a Hillary Clinton candidacy," he says. "I actually think she would make a good president. Generally, I would align myself with the Republican candidate, so there could be some bumps coming down the road."
 
 
Ruddy, who has never married, has just started a 90-day program for avoiding heart disease based on his company's best-selling book The Simple Heart Cure. "I feel rejuvenated," he says. He discovered its author, Dr. Chauncey Crandall, while watching the local news. "I called him up and asked if he'd be interested in doing a newsletter." Dr. Crandall's Heart Health Report now has more than 125,000 subscribers at $55 each. It's a typical Ruddy story, and he tells it in his tenor drone with long expository anecdotes that begin, for example, "I was walking into a bar with Jack Kemp and Henry Kissinger …"
Over dinner at Cafe Sapori, an Italian restaurant in West Palm Beach, where the manager comes over and greets him, Ruddy veers from a heart-healthy diet. He orders steak, after lasagna for lunch, but he does consume his share of a heart-healthy red wine. His dinner guest, James Dale Davidson, co-author of The Great Reckoning, talks at length about global cooling. It's his belief that the planet is entering a 100-year cycle of drastically cooler temperatures. Those who warn about global warming, he says, would have us embrace policies that would be calamitous in the face of this steady temperature drop. He lays out his vision: crop failures, riots, chaos. "We could be entering a mini-Ice Age," Davidson warns.
Ruddy listens, a measured smile on his face. Climate change is a difficult issue for him, as the conservative base dismisses most such science. He's careful to say he believes the science is not yet settled. Yet as he listens to Davidson, he shakes his head.
"I remember as a kid, my dad used to go out in the driveway every morning, and he had to start the car a half hour before we left the house to melt the ice from the windshield," Ruddy says. "It just doesn't seem like people have to do that anymore." Another dinner companion adds that the last decade has been the hottest on record.
"But look what is happening this winter," Davidson points out.
Ruddy nods, squints as if he's thinking over the wisdom of that point. "Hmm, see, there are multiple voices on this. That's what viewers want. They want to hear both sides of a story. That's what conservative viewers are not getting right now." No matter how he tries to fashion NewsmaxTV as a centrist alternative to Fox News, its audience will be the same, staunch conservatives. Which is fine with Ruddy, as long as they take their vitamins.
Before it's here, it's on the Bloomberg Terminal.
LEARN MORE