Low Rates Haven't Stopped Annuities Sales
Many retirees crave the certainty that lifetime contracts provide
by and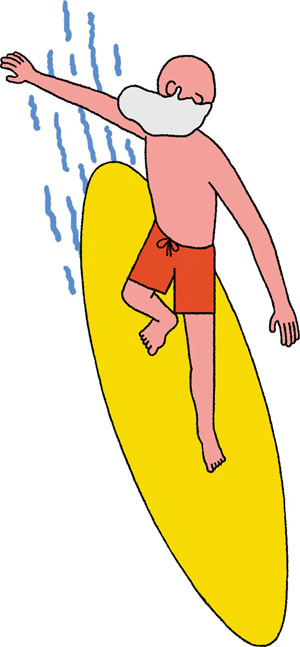 Sales of immediate annuities hit a record $8.3 billion last year, according to data collected by the industry group Limra; in the late 1990s, they averaged less than a third of that. That alone wouldn't be newsworthy, except that investors typically shun this type of financial product, which provides retirees with a secure stream of payments, when stocks are on their way up.
Immediate annuities promise payments for life in exchange for a one-time deposit. The payout amounts are usually fixed, based on interest rates at the time of purchase. Nevertheless, the payments can be higher than what an individual would get if he invested the same amount in U.S. Treasuries, because on top of collecting interest he's getting back a bit of his principal. (Funds are pooled, so there's more to go around as people die.) A 72-year-old man who purchased a $100,000 immediate annuity would collect about $8,000 annually, according to New York Life Insurance, the largest seller last year. "If you're a little bit risk averse, if you're worried about running out of money, there's nothing like it," says Olivia Mitchell, a professor of insurance and risk management at the University of Pennsylvania's Wharton School.
Americans' increased appetite for immediate annuities is driven in part by demographics. U.S. Census projections indicate that the number of people ages 65 and older will more than double between 2012 and 2060, from 43 million to 92 million. "Regardless of what's going on in the economy, you just have a natural driver of demand, which is more people reaching retirement age," says Matthew Grove, a senior managing director at New York Life. The insurer says the average age of buyers of immediate annuities is 73.
Still, there's good reason to believe that the economy is also affecting purchasing decisions. The past few years have been trying ones for savers. In the aftermath of the financial crisis, many parked the bulk of their savings in cash or ultrasafe but low-yielding Treasuries. "People climbed into bomb shelters" in 2009 and "hid there for four years," says David Edwards, president of Heron Financial Group, a wealth adviser in New York. That means seniors, who have long been counseled to pare back their ownership of stocks as they approach retirement age, missed one of the longest-running bull markets. With the realization that they are "no closer to their retirement goal," says Edwards, some are gravitating to the security that annuities provide.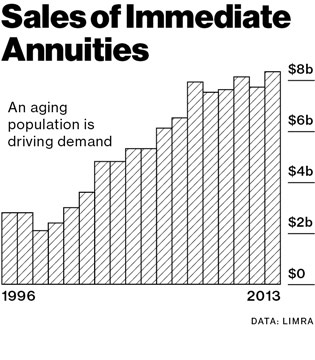 Immediate annuities are a small slice of the annuity market, which logged $230 billion in sales last year. Variable annuities—which can offer greater potential for gains, along with the risk of losses—had sales of $145 billion last year. That's declining as some insurers have ceased marketing the products, because they were losing money on them.
Yields on 10-year Treasuries, a gauge for annuities, haven't climbed enough for some financial advisers to feel comfortable telling clients to lock their money in the contracts. "You don't want to put a client in something that's illiquid, in an environment where you think rates are going to go up," says David Keator, of the advisory firm Keator Group in Lenox, Mass.
Annuities are gaining support from policymakers who worry that with the increase in longevity, coupled with the shift from company pensions to 401(k) accounts, many Americans are in danger of outliving their savings. The U.S. Department of the Treasury has proposed regulations to make it easier to fund annuities from 401(k) accounts and other retirement plans.
For decades, economists, including Nobel prize winner Franco Modigliani, have been puzzling over why more people don't buy annuities, given that the contracts allow households to spend more than they could by relying solely on their investment returns. The answer to this mystery, according to Grove, is that retirees become deeply attached to their nest egg and are reluctant to spend it. "People reach retirement and hold dearly on to their principal," says Grove, who oversees New York Life's annuity business. "They see preserving that nest egg as incredibly important," even at the cost of lower spending.
Before it's here, it's on the Bloomberg Terminal.
LEARN MORE