Costco Is Losing on Cheap Chicken, but Kale Margins Are Healthy
by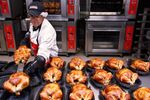 Selling a product at or below profit margins to get shoppers in the door—a so-called loss leader—is a retail strategy as old as Thanksgiving turkeys. But it only works if the customers buy other things. At Costco last quarter, many didn't: Shoppers instead stuck to the cheap groceries, specifically meat, that the giant warehouse club uses to attract them.
Costco sales rose 6 percent, to $25.8 billion, and yet profit dropped 15 percent, to $463 million, in part because customers didn't buy as many high-margin electronics such as cameras and computers. The company's operating margin dipped from 3 percent, to 2.8 percent, which is a big deal for an enterprise of Costco's size.
The meat issue came up a few months ago after another disappointing result. The response from Costco Chief Financial Officer Richard Galanti was the same today as it was then: Traffic and long-term loyalty trump reactive price hikes. "We're going to do what's right each day on pricing, irrespective of how it's going to be on margins that day," he said on a conference call this morning.
Costco's rotisserie chickens, at $4.99 each, are a powerful draw. Customers are gobbling up almost 70 million of the birds a year.  "We don't study it—say, 'What if we took it to $5.49 at this many shops or whatever?'" Galanti said. "We know it's the right thing to do."
Farmers were selling whole chickens last quarter for about $1.05 per pound, according to the U.S. Department of Agriculture, up from 96¢ to $1 a year ago. On a 3-pound chicken, Costco is pocketing about 20¢ less profit. Given the size of its chicken business, that's $14 million over a full year. No wonder analysts are asking Costco executives a lot of questions about inflation.
The sole bright spot in Costco's grocery business of late has been its organic fare. Not only are the margins higher, according to Galanti, but the food is attracting new, younger consumers. Costco called out its "giant bags of kale" as a particular hit. The leafy stuff may not taste as good as rotisserie chickens, but it's a lot healthier—physically and financially.
Before it's here, it's on the Bloomberg Terminal.
LEARN MORE