Cash-For-Polls Puzzles India Investors as Modi Lead Widens
Andrew MacAskill and Bibhudatta Pradhan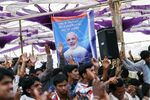 The pioneer of political opinion polls in India says he has good reason not to trust them: he has been asked to rig them on more than 10 occasions over the past two decades in return for envelopes of cash.
N. Bhaskara Rao, who has conducted surveys for Robert F. Kennedy and Indira Gandhi, said he once had to fire his right-hand man after discovering the person accepted money from a political party to doctor a poll. That's why he wasn't surprised when a local broadcaster last week exposed employees of 11 polling companies offering to fix results for money.
"I used to think there were one or two respectable polling agencies, but not anymore," said Rao, 73, who helped develop the polling industry in India in the 1970s and remains chairman of Marketing and Development Research Associates, which conducts consumer market research. "It is a bit like fixing matches in cricket -- everyone knows it is going on."
Investors are grappling with how much faith to put in surveys showing Narendra Modi's opposition Bharatiya Janata Party winning elections with results due May 16 after they failed to predict the outcome of the last two national votes. Election officials have called on lawmakers to ban opinion polls during the campaign period and asked police to look into the claims by News Express.
'Pinch of Salt'
"One will have to take the opinion polls with a pinch of salt," said Mahesh Patil, co-chief investment officer at Birla Sun Life Asset Management Co. in Mumbai, who manages about $2 billion in equities. "We won't get too much guided by polls in our investment decisions as they haven't got it right every time."
CVoter, Nielsen and the Centre for the Study of Developing Societies, the three largest organizations conducting national political polls, project Modi's BJP to emerge as the biggest party, an outcome favored by investors seeking a change to revive Asia's third-biggest economy. Of those, CVoter was the only one named in the News Express report.
Prime Minister Manmohan Singh said in January his government could've done better at controlling price rises after the BJP trounced Congress in state elections held late last year, even while defending policies to buy farm produce at guaranteed prices, boost rural wages and distribute cheap food. India has Asia's highest inflation rate, and the rupee has fallen 11 percent against the dollar in the past year.
BJP Lead
The CVoter, Nielsen and the Centre for the Study of Developing Societies surveys predict the BJP will win 188 to 217 seats of the 543 up for grabs in the lower house of parliament, short of the 272 needed for a majority. Congress would win 73 to 91 seats, its lowest-ever tally, with smaller parties splitting the rest.
The BJP and its two allies would win as many as 232 seats, 40 short of a majority, according to a poll released yesterday by the Centre for the Study of Developing Studies. Congress and its coalition partners would get as many as 139 seats, it said.
About 815 million eligible voters, more than double the U.S. population, will cast ballots in nine rounds of voting from April 7 to May 12, the Election Commission of India said this week. Results will be announced on May 16 as votes are counted from the Himalayas to islands in the Bay of Bengal.
"The corporate world is betting on the BJP and the Modi phenomena," said Satish Misra, a political analyst at the Observer Research Foundation in New Delhi. "There is a lot of suspicion that money is exchanging hands, and some of these survey companies are not all above board."
Past Failures
India's polls failed to predict the past two national votes.
In 2004, Congress won even after the polls suggested the BJP would retain power, leading to the biggest one-day sell-off of stocks among foreign investors in more than four years on concerns that the new government would abandon policies to control spending.
Five years later, after most surveys predicted a close fight, Congress won with the largest tally in two decades, boosting the stock market by a record 17 percent in its next session as investors bet a stronger mandate would allow Singh to ease foreign investment rules and sell state assets.
The News Express sting operation broadcast last week showed staff of polling companies telling undercover reporters they can fix results for a price. The election commission released a transcript of the report and News Express posted segments on its website.
'Sheer Sensationalism'
CVoter, based on Delhi's outskirts, was the most well-known company named in the report. India Today, which says it has a readership of 1.8 million, suspended working with CVoter after an employee was caught on film saying the polling company charges a separate fee to use a larger margin of error to manipulate poll results.
Yashwant Deshmukh, CVoter's founder, denied any wrongdoing, says his polls are accurate and claims his company, which also conducts surveys for English-language broadcaster Times Now, is being smeared by unnamed politicians who want to discredit opinion polls.
"We will see on the counting day -- if the results stand correct, then I am going to ask a lot of people to apologize," Deshmukh said in an interview. "It is just sheer sensationalism. I don't know what they are trying to prove."
In another incident, Arun Behuria of New Delhi-based Quality Research Services (P) Ltd. told News Express that it had released a poll showing the BJP would win 200 of 403 seats in a local election in Uttar Pradesh, India's most populous state, even though employees knew it would fail to win even half that number.
'Business Trick'
Behuria, the managing director of Quality Research Services, denied the company conducted the Uttar Pradesh poll and said he made the comments to try and impress the clients so he could win the contract. He said that he would never take money to rig a poll.
"It was a business trick I applied to get the assignment," Behuria said in an interview. "I have never done any unethical things in my whole career."
India's election commission asked the government in November to pass legislation to ban publishing surveys after the election dates are announced, citing concerns that the polls are disingenuous. Among the country's 15 largest parties, only the BJP opposed the ban.
'Simplistic Solution'
Prakash Javadekar, a spokesman for the BJP and a member of the upper house of parliament, said banning opinion polls would be draconian and undermine free speech.
"If you ban these, what will you decide to ban next?" Javadekar said. "It's a simplistic solution to a complicated problem."
Congress wants the polls outlawed because they cannot be accurate in a country as diverse as India, according to Abhishek Manu Singhvi, a party spokesman. The country has 1.2 billion people that speak about two dozen languages with more than 2,000 dialects.
Even without fraud, Indian opinion polls face sampling difficulties that can affect their accuracy. Much of Congress's support stems from rural areas that are harder to reach, and many constituencies feature close contests between three or four different parties, making them hard to predict.
"Generally, I think the polls are wrong because of dishonesty and manipulation," said S.Y. Quraishi, India's former chief election commissioner, who retired in 2012. "It is not just paranoia -- look at the problem of paid news," he said, referring to candidates and political parties paying media outlets for positive news coverage.
RFK, Indira
Quraishi said the election commission uncovered more than 2,000 cases of media outlets taking cash for positive stories while he headed the agency. The commission lacked resources to investigate allegations of poll tampering, he said.
Rao, who helped pioneer opinion polling in India, studied for his doctorate almost half a century ago at the University of Iowa, where statistician George Gallup earned his degree before developing the polling industry in the U.S. During this time in the U.S., Rao conducted an opinion poll for Robert F. Kennedy that predicted he'd win the Democratic presidential nomination before his assassination in 1968.
Upon his return to India, Rao conducted polls for former Prime Minister Indira Gandhi, including one that correctly showed she would be defeated if she held elections after declaring an end to emergency rule in 1977. Rao, who says he has mentored most of India's leading opinion pollsters, sees the malfeasance as deep rooted.
"Opinion polls do make a difference to how people vote when they are published in the media," said Rao, who is now chairman of the Centre for Media Studies, a New Delhi-based research group that studies the media and politics. "Our democracy is being corrupted."
Before it's here, it's on the Bloomberg Terminal.
LEARN MORE