Bond Market's Taper Tantrums Are Over
Treasury bond buyers stop worrying about a sudden rate hike
By and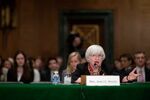 Bond investors have taken a chill pill. Measures of Treasury bond market volatility have plunged this year and are approaching levels not seen since before May 2013, when the Federal Reserve first hinted it would reduce its $85 billion in monthly bond purchases, according to data compiled by Bloomberg.

The relative stability of government bond prices underscores the strides Fed officials have made in reassuring investors that it will not immediately begin raising rates after ending its bond purchases. After reaching a 29-month high at the start of the year, yields on 10-year Treasuries have retreated as new Fed Chair Janet Yellen pledged to maintain her predecessor Ben Bernanke's tapering policy in "measured steps" and keep borrowing costs low to spur economic growth. "Bond markets understand that Bernanke and now Janet Yellen are talking from the same song sheet," says Neil MacKinnon, a strategist at VTB Capital and former U.K. Treasury official. "The market has bought into the idea that Fed tapering is not tightening."
Treasuries have returned 1.9 percent this year, rebounding from a 3.4 percent drop in 2013 that was the worst since 2009, data compiled by Bank of America Merrill Lynch show. Yields on 10-year government bonds, a benchmark for everything from mortgages to car loans and corporate bonds, decreased to 2.6 percent on March 3 from a high of 3.05 percent in January, which was the highest since July 2011. Bond yields rise when prices fall, and vice versa.
After cutting interest rates to almost zero in the aftermath of the financial crisis, the Fed under Bernanke began its bond purchases to provide additional stimulus to the economy. When Bernanke indicated last year that the Fed was considering tapering its current round of bond purchases, investors reacted by selling stocks and bonds. Yields on 10-year Treasuries, which fell to a low of 1.61 percent on May 1, eclipsed 3 percent by September and sparked losses in fixed income assets.
Market indicators suggest that traders see the Fed raising rates in the middle of next year. Michael Feroli, chief U.S. economist at JPMorgan Chase, warns that a financial market convulsion similar to the "tantrum" that occurred in 2013 may be unavoidable when the central bank does raise rates. "Whenever the decision to tighten policy is made, then the instability seen in summer of 2013 is likely to reappear," Feroli wrote in a paper released on Feb. 28.
For now, measures of investor unease give a more sanguine outlook. The Chicago Board Option Exchange Interest Rate Volatility Index, which reflects the cost for contracts to protect against sudden losses, tumbled last week to the lowest since May.
Although recent retail sales, manufacturing, and housing data fell short of economists' estimates, Yellen reiterated in Senate testimony on Feb. 27 that the Fed is likely to keep curtailing its stimulus. It has reduced its purchases of Treasuries and mortgage-backed securities by $10 billion at each of its past two policy meetings, and economists surveyed by Bloomberg estimate the central bank will maintain that pace until it stops buying bonds in December.
At the same time, Yellen signaled that the Fed won't automatically lift interest rates once the unemployment rate falls below 6.5 percent, as it once said it would. Instead, the Fed will consider a variety of economic data and provide investors with guidance on its intentions. "We do want to give markets as much of an indication of how we expect to conduct policy as we can," Yellen said.
Clear statements from Yellen will help reassure investors even when faster economic growth makes a rate hike more likely, according Charles Diebel, fixed income strategist at Lloyds Banking Group. "She wants to be as predictable as she possibly can be," he says.
The shrinking budget deficit and reduced political discord are also steadying the markets, says Erik Schiller, a money manager for Prudential Fixed Income. The U.S. budget deficit will fall to 3 percent of gross domestic product this fiscal year, down from 9.8 percent in 2009 and the lowest in seven years, the Congressional Budget Office projected in February. Lawmakers in December passed the first bipartisan budget from a divided Congress in almost three decades. We have "relatively stable long-term deficit projections, very low potential policy risk," says Schiller. "Both of those are helping to keep things muted."
BOTTOM LINE -
The bottom line: Yields on 10-year Treasuries have fallen to 2.6 percent from 3.05 percent in January as investors relax.
Before it's here, it's on the Bloomberg Terminal.
LEARN MORE