In 401(k) Plans, a Little More Makes a Big Difference
McDonald's, Amgen, and DuPont make generous contributions; Wynn Resorts is stingier
By and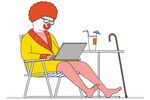 For a company that has caught heat for the low wages it pays workers, McDonald's has a retirement savings plan that's surprisingly generous, matching 300 percent of the first 1 percent employees save in their 401(k) accounts. The fast-food chain also matches 100 percent of the next 4 percent of pay an employee contributes, and in the past two years it made a discretionary profit-sharing contribution of 2 percent. "We wanted to encourage people to start saving early in their careers," says Lisa Emerson, McDonald's vice president for global total compensation.
The design of 401(k) plans can vary significantly, and even small differences can add up to hundreds of thousands of dollars over the course of a career. Take the case of an employee with a starting salary of $31,000 at age 25, who was granted annual pay increases of 3 percent, reaching a final salary of $101,123 at age 65. Assume she made the average contribution for her age and that the portfolio generated an annual return of 5 percent. Under those conditions, the individual would have $999,231 if she worked at DuPont, where the top corporate match is 6 percent and the company kicks in an additional 3 percent of pay, according to Jack VanDerhei, research director at the Employee Benefit Research Institute. The same person would have ended up with $504,684 if she worked at Wynn Resorts, where the maximum match is $500.
The plans, originally conceived as a supplement to pensions, have mostly replaced them over the past three decades. Workers can direct as much as $17,500 of pretax income toward their 401(k)s in 2014. Employees 50 and older can set aside an additional $5,500 of pay. Combined contributions from workers and employers can add up to $52,000—although companies are under no obligation to chip in, as they usually must with pensions, and can alter the terms of their plans without government approval.
Corporations say they consider a broad range of benefits and their costs when setting 401(k) policies and are especially weighing rising expenses for health care. "There are wide variations among plans, which can reflect a company's profitability, its corporate culture, or what employees expect," says Ed Ferrigno, vice president for government affairs for the Plan Sponsor Council of America, which represents employers that offer 401(k) plans. "It all boils down to companies figuring out their needs."
Among those with the most generous plans are companies that compete for highly educated and skilled workers or those that until recently offered pensions to all employees. DuPont in 2007 cut back pension benefits for veteran employees and eliminated them for new hires. To compensate for the loss, the company improved its 401(k) plan.
A DuPont employee who earns $100,000 per year and sets aside 6 percent receives $9,000 in company contributions. That adds up to a good portion of the 10 percent to 12 percent of income financial experts say is the minimum employees need to save each year to retire without lowering their standard of living. DuPont also counts incentive pay when calculating its match. "Our view is that planning for retirement is a joint responsibility of employees and the company," says Ron Miller, DuPont's director of global compensation and benefits.
Amgen uses its 401(k) plan as a recruitment tool. "We believe our program helps us to attract, engage, and retain the highly trained scientific and technical professionals we need to deliver new drug therapies," wrote Stuart Tross, the biotechnology company's senior vice president for human resources, in an e-mail. Amgen contributes a sum equal to 5 percent of workers' salaries whether or not they put money in and also matches contributions of as much as 5 percent of employee pay.
Other companies are more stingy. Last year, Wynn Resorts told employees it would match 50 percent of contributions up to 6 percent of their paychecks but capped its payment at $500. Workers who left the company by Dec. 31 forfeited the contribution, which was paid as a lump sum in early 2014. The luxury hotels and casino resorts company says it will decide whether to make a contribution in subsequent years. Wynn Resorts also requires a three-year vesting period for employees, forcing those who leave sooner to forfeit unvested company contributions. Wynn Resorts declined to comment.
Oracle matches 50 percent of employees' contributions up to 6 percent of salary—a formula used at many companies—but caps its annual maximum payment at $5,100. Employees at the software company aren't fully vested until they've worked at Oracle for four years. The company declined to comment.
Companies that stint on contributions not only make it harder for employees to accumulate enough for a retirement nest egg, but they also may discourage their workers from saving. "Employees tend to glom on to the match threshold," says Brigitte Madrian, a Harvard Kennedy School professor who studies retirement policy and corporate management. "They'll tend to contribute 6 percent of pay if that's what their employer matches."
Macy's last year told employees it would be changing retirement plans in 2014 "to better manage expenses in an environment in which health-care costs are expected to increase," according to a Feb. 7, 2013, press release. The retailer froze pensions in January and is increasing its 401(k) contribution to a maximum of 3.5 percent of employees' pay this year, from 2.5 percent last year.
"Companies know the most important benefit to employees is health care, and after that many workers want cash in their pockets," says Brett Goldstein, director of retirement planning at American Investment Planners, an advisory firm in Jericho, N.Y. "So companies which can't—or don't want to—do it all sacrifice retirement benefits, even if that's shortsighted."