Netanyahu Offers to Help Brown Manage California Drought
Jonathan Ferziger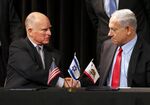 Israeli Prime Minister Benjamin Netanyahu offered to help California weather its drought with water conservation and desalination techniques pioneered by his country's scientists.
Netanyahu signed a memorandum of understanding for joint technology development yesterday with California Governor Jerry Brown in a tour through Silicon Valley that also took him to Apple Inc. and other computer-related companies.
"California, I hear, has a big water problem," Netanyahu said in an interview yesterday on Bloomberg Television. "We in Israel don't have a water problem. We use technology to solve it, in recycling, in desalination, in deep drip irrigation and so on. And these technologies could be used by the state of California to eliminate its chronic drought problem."
About 74 percent of California, the most populous U.S. state with 38 million people, is gripped by "extreme" or "exceptional" drought, the most severe conditions, according to the U.S. Drought Monitor, a federal website. Twenty-six percent of the state -- mostly in central California -- is considered exceptionally dry, according to the website, which was updated Feb. 25, before moderate to heavy rains fell on much of the state.
Countering Drought
Six decades of providing water in a country that's 60 percent desert have made Israel a technological leader in countering drought. Desalination of sea water, reuse of treated sewage for agriculture, software creating an early-warning system for leaks, computerized drip irrigation and careful accounting of every drop have become the norm in Israel, the world's 40th biggest economy.
Speaking to reporters with Netanyahu at the Computer History Museum in Mountain View, Brown said he welcomes assistance with water technology.
"We're in the midst of a mega drought," Brown said. "Israel has demonstrated how efficient a country can be and this is a great opportunity for collaboration."
North of San Diego, Israel's IDE Technologies Ltd. is helping to build what it says will be the largest seawater desalination plant in the Western Hemisphere. The facility in Carlsbad, when finished in 2016, will be able to provide 50 million gallons of potable water a day. Three smaller plants already operate in California, and 15 more have been proposed.
Unusual Lengths
Israel has been dealing with such conditions throughout its history. The climate has forced the country to go to unusual lengths to lower consumption and raise supply, methods it now uses as a matter of routine.
"Our rainfall has dropped by half in the 65 years of Israel's existence, our population grew 10-fold and our economy grew 70 times," Netanyahu said on Bloomberg TV. "How come we don't have a water problem? Because we use technology to solve it."
In Israel, desalination now provides about one-quarter of the country's water supply. Each of IDE's three plants in Israel provides roughly double the output anticipated from the Carlsbad facility, according to closely held Poseidon Resources Corp., which is developing the $922 million plant with IDE.
In reverse-osmosis desalination, the most popular desalination method, treated seawater is sent through a series of filtration membranes that remove salt and other impurities. About half of the seawater becomes drinking water. The rest is returned to the ocean with higher concentrations of salt and other minerals.
In Israel, 75 percent of the country's sewage is recycled, the highest percentage in the world, according to Mekorot, Israel's national water company. More than 50 percent of water used in agriculture comes from treated sewage, according to the Israel Water Association. Medjool dates grown in Israel with recycled wastewater are among the most coveted in U.S. food stores.
Before it's here, it's on the Bloomberg Terminal.
LEARN MORE