The Icahn vs. Andreessen Fight: A Blow-by-Blow Explainer
The billionaire attacks Andreessen, demanding a PayPal spinoff
by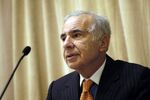 If Silicon Valley were a bar, this is the point at which Marc Andreessen would ask Carl Icahn if he wanted to step outside.
Andreessen, a venture capital titan, is going about his business. Icahn, an activist investor notorious for mixing it up in fancy establishments, keeps getting in his face. He says Andreessen has been double dealing from his board seat at EBay, one of seven companies at which he is a director—a roster that includes Facebook and Hewlett-Packard.
What is Icahn after?
Most directly: a rise in EBay's stock price. Icahn owns almost 1 percent of the company's shares. One of the best ways to make this happen, he asserts, is for EBay to spin off Paypal, a fast-growing payments business that now accounts for 40 percent of its revenue. Currently, Icahn says EBay trades at "a conglomerate discount." If the two businesses were to operate independently, he contends that they could more effectively foster innovation, make more focused strategic decisions, and be worth much more than they are as a single company.
However, EBay isn't keen on doing this. It says the two businesses are complementary and that Paypal is the linchpin of its strategy to be more than the Web's biggest auctioneer.
How does Icahn plan to force EBay to spin off PayPal?
By getting a couple of seats on the board. With two out of 11 board members, Icahn could push for a PayPal spinoff from the inside.
Why all the vitriol?
Board seats don't appear magically. If Icahn wants his own picks to serve as directors, he's going to have to get them voted in—and get two others voted out.
A week ago, Icahn started targeting two directors: Scott Cook, chairman of Intuit, maker of TurboTax and—according to Icahn—an EBay competitor; and Andreessen, whom Icahn says owns stakes in five competitors and has benefited from at least two deals at the expense of EBay shareholders.
Icahn's haymaker from that initial letter:
"We have found ourselves in many troubling situations over the years, but the complete disregard for accountability at EBay is the most blatant we have ever seen. Indeed, for the first time in our long history, we have encountered a situation where we believe we should not even have to run a proxy fight to change the board composition."
What, specifically, is Icahn's beef with Andreessen?
The criticism rests on two occasions that Andreessen's firm, Andreessen Horowitz, bought companies formerly owned by EBay. In 2009, the firm was part of a group of investors that bought Skype, which the group soon after sold to Microsoft for a handsome gain. (Bloomberg LP, the publisher of Bloomberg Businessweek, is an investor in Andreessen Horowitz.)
The other deal revolved around Kynetic, an e-commerce company that was part of GSI Commerce. EBay bought GSI in March 2011, but immediately spun Kynetic off to its founder. In June 2012, Andreessen's firm made a big investment in Kynetic.
Icahn is suggesting that Andreessen, as an EBay board member, might have pushed for both companies to be sold at low prices, making it easier for his investment firm to swoop in and make a profit.
How do Andreessen and EBay respond?
EBay said Andreessen recused himself from all discussions and negotiations involving Skype's sale. Here's how the company explained its approach to Andreessen's wide range of holdings:
Rather than banishing valuable directors like Mr. Andreessen from their boardrooms, companies like EBay prefer to manage potential directors' conflicts through scrupulous governance practices and full transparency.
Andreessen echoed that stance in a recent interview with the Wall Street Journal and in a statement issued on Monday.
As for Kynetic, Andreessen said his firm bought into the company more than a year after EBay sold it, well after any conflict of interest might have been manifest.
What happened today?
The rhetoric escalated. Icahn likened EBay to a "totalitarian state" that wouldn't entertain a democratic discussion. In his statement, Andreessen noted that EBay shareholders overwhelmingly approved him after the Skype deal and that, by Icahn's logic, activist investors with a range of holdings create "the exact same kind of potential conflict."
What's next?
Icahn is calling on shareholders to vote Andreessen and Cook off the board at the company's annual meeting in April while approving two of his nominees. He also asks to examine all records of the Skype deal for signs of malfeasance.
The agitation may have already paid off. Since Icahn wrote his first letter a week ago, EBay shares have climbed almost 7 percent.
Before it's here, it's on the Bloomberg Terminal.
LEARN MORE