Songwriter's Ode to 'El Chapo' Becomes a YouTube Hit
By and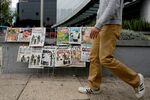 Joaquin "El Chapo" Guzman has a complex relationship with Mexicans living in the U.S.  Consider Chicago songwriter Jacqueline Alderete. Shortly after the drug lord was arrested on Feb. 22, Alderete composed a so-called narcocorrido—a folk song about the exploits of traffickers—that has already drawn more than 20,000 hits on YouTube. Her day job: working to keep kids off drugs and out of gangs.
Alderete wrote La Captura del Chapo Corrido in just 35 minutes, knowing there would be an eager audience for it. Songs about Chapo are the most-requested from her family's band, which includes her 12-string guitarist husband, Arturo Ochoa, and her 17-year-old daughter, Delia Robles, who plays the accordion. (They taped the video in the family room of their home.)
"They identify with him because, as one of his songs says, Chapo basically started out selling oranges," says Alderete, 39. His capture "will only increase his popularity. More people are asking for his freedom."
Part of the renown lies in his mystique. The 5-foot-6-inch Guzman casts a tall shadow over Chicago's Little Village neighborhood, a center of Mexican-American life in the city. The legend of El Chapo, or "Shorty," following his escape from prison 13 years ago is so big—and confidence in Mexican authorities here is so low—that many doubt agents really nabbed the alleged head of the Sinaloa Cartel.
"Myself, I don't believe he's been captured," Jose Morales, 61, a native of Morelos state, said last weekend after listening to Ochoa and Robles play the new Chapo corrido at a Little Village restaurant, one of a dozen gigs the group, Los Malportados de Arturo Ochoa, played that day. "I think it's impossible that such a wise person could be captured so easily—all by himself."
In her tune, Alderete draws on the aura that surrounds him. "Now the government is trembling at the highest levels, the banks and even the gringos are feeling the pressure," one line goes. "By just opening his mouth El Chapo can crush them."
While she was nervous about releasing the song, feedback has been mostly positive. Alderete says she doesn't see so-called narcocorridos as promoting drug lords, and that her musical musings don't detract from the work she does with at-risk kids.
"There are people who tell me this is a contradiction," she says. But "my daughter plays narcocorridos and she's not in a gang, she hasn't become a drug trafficker. And it's a positive way for her to learn an instrument, to get a skill for study, for a business, a job."
At the very least, it gets her another gig in Little Village.
Before it's here, it's on the Bloomberg Terminal.
LEARN MORE