Chevron's RICO Win Is a Potent Weapon Against Ecuadorian Pollution Judgment
A federal judge says lawyers suing the oil company committed fraud
Paul M. Barrett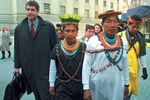 For several years, corporate defense lawyers and lobbyists have watched Chevron use the federal anti-racketeering statute to combat mass-liability lawsuits. Now the results of the experiment are in—a major victory for the oil company in federal court in New York—and business advocates say other corporations will follow suit.
On March 4, U.S. District Judge Lewis Kaplan ruled that a multibillion-dollar pollution judgment against Chevron in 2011 by a court in Ecuador was obtained by means of "coercion," "bribery," and other acts violating the Racketeer Influenced and Corrupt Organizations Act (RICO). Kaplan named Steven Donziger, a New York plaintiffs' lawyer, as the mastermind of a legal campaign that began in 1993 and over two decades evolved into an elaborate shakedown scheme.
The judge barred Donziger and his clients—thousands of poor farmers and indigenous tribe members—from profiting from their ill-gotten Ecuadorian verdict. "Even if Donziger and his clients had a just cause—and the court expresses no opinion on that—they were not entitled to corrupt the process to achieve their goal," Kaplan wrote in a 485-page opinion featuring 1,842 footnotes. "Justice is not served by inflicting injustice."
"Those of us who have followed the case can't say we're surprised," says Darren McKinney, a spokesman for the American Tort Reform Association, a corporate-funded lobbying group in Washington. "We hope it will encourage other defendant companies that have been victimized by fraudulent lawsuits to fight back with RICO suits of their own."
In separate recent cases lacking the heft of the Chevron litigation, the railroad CSX, production company Feld Entertainment, and Garlock Sealing Technologies have used variations of the oil giant's counterpunching strategy. They "are bravely forging a new path, using the RICO statute to pursue just punishment themselves," says McKinney.
The approach of accusing victims' attorneys of being fraudsters has been honed with particular energy by the Los Angeles-based law firm Gibson, Dunn & Crutcher, Chevron's main outside counsel. Gibson Dunn several years ago used similar methods to negate a multibillion-dollar pesticide liability that Dole Food faced in Nicaragua. On its website, the firm markets its approach as "not just a series of defensive tactics, but rather an affirmative strategy to ultimately end the litigation" against corporate defendants.
In the Chevron case, Gibson Dunn began investigating Donziger long before he won a 2011 verdict in Ecuador holding the oil company responsible for contamination of a large swath of jungle. The Ecuadorian trial court initially imposed a judgment of $19 billion, the largest ever of its kind. Chevron's attempt to nullify the judgment was already well under way when Ecuador's Supreme Court upheld the finding of liability but halved the damages to $9.5 billion. Chevron said all along it wouldn't pay a dime, and because it lacks any assets to speak of in Ecuador, the plaintiffs have tried to enforce the judgment in third countries where the oil company does have investments, including Canada, Argentina, and Brazil.
Anticipating a defeat in Ecuador, Chevron countersued Donziger in federal court in New York in February 2011. Kaplan's ruling was the culmination of that countersuit. While the judge identified a range of dishonest methods Donziger used to vanquish Chevron in Ecuador, Kaplan seemed most determined to underscore that the American lawyer authorized a plan that allegedly promised $500,000 from a potential plaintiffs' judgment as a kickback to the Ecuadorian trial judge, Nicolas Zambrano. As part of that arrangement, Zambrano agreed to allow the plaintiffs' legal team to ghostwrite his ruling against Chevron, Kaplan said. In a foreshadowing of sorts, Donziger had earlier arranged for his paid American scientific consultants to draft a supposedly neutral report by a court-appointed "independent" Ecuadorian technical expert, Kaplan also concluded.
Donziger denied wrongdoing and vowed to appeal. "This is an appalling decision resulting from a deeply flawed proceeding that overturns a unanimous ruling by Ecuador's Supreme Court," he said in an e-mailed statement. "We believe Judge Kaplan is wrong on the law and wrong on the facts and that he repeatedly let his implacable hostility toward me, my Ecuadorian clients, and their country infect his view of the case." The sheer volume of Kaplan's opinion and its extraordinary factual specificity seemed designed, at least in part, to preempt just such a claim by Donziger.
Donziger predicted that Kaplan's ruling won't influence judiciaries in Canada and other countries where the Ecuadorians are seeking enforcement of the 2011 judgment. Chevron, of course, is betting otherwise. The company plans to translate and export Kaplan's decision to courtrooms north and south without delay. During a press conference on March 4, Chevron General Counsel R. Hewitt Pate said: "No judge in any country that respects the rule of law will now entertain enforcement of this judgment."
BOTTOM LINE -
The bottom line: A federal judge says lawyers used bribes and fabricated evidence to win a $19 billion judgment against Chevron.
Before it's here, it's on the Bloomberg Terminal.
LEARN MORE