Emerging-Market Stocks Sink on Ukraine as Russia Slumps
Rajhkumar K Shaaw, Zahra Hankir and Julia Leite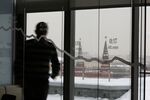 Emerging-market stocks fell the most in a month as Russia's threat to invade Ukraine spurred the worst selloff in the Micex Index since 2008 and sent the ruble tumbling even as the central bank raised interest rates.
The MSCI Emerging Markets Index slumped 1.6 percent to 950.68 in New York, the biggest decline since Jan. 27. Russia's benchmark plunged as much as 13 percent and the ruble depreciated 1.7 percent against the dollar. Stocks in Poland, Romania and Hungary decreased more than 3 percent. The Kospi index slid the most since Feb. 4 after North Korea fired two missiles and data showed South Korean exports missed estimates.
Geopolitical tensions in Ukraine and Korea are raising concern that slowing economic growth and Federal Reserve stimulus cuts will spur capital outflows from emerging markets. The U.S. is weighing sanctions against Russia after President Vladimir Putin got lawmakers to approve troop deployments, while Secretary of State John Kerry headed to Kiev.
"There's a lot of geopolitical uncertainty out there," Patrick Chovanec, the New York-based chief strategist at Silvercrest Asset Management Group LLC, said by phone. His firm manages $14.1 billion in assets. "It's a matter of perception of global risk. Markets are unsettled by things they didn't expect."
Invasion Threats
The Micex Index sank 11 percent, the steepest decrease since November 2008, while the UX Index slumped 12 percent in Kiev, the most since September 2008. Ukraine yesterday mobilized its army as gunmen surrounded military installations in the Black Sea region of Crimea, where Russian speakers comprise the majority. The area has become the focal point of Ukraine's crisis after an uprising that triggered last month's overthrow of President Viktor Yanukovych.
Putin's threat to invade raised the likelihood of one of the tensest standoffs between Russia and the West since the end of the Cold War. A Bloomberg gauge tracking developing-nation currencies retreated 0.6 percent. Turkey's lira fell for the first time in three days, while Hungary's forint lost 1.2 percent versus the euro.
The premium investors demand to own emerging-market debt over U.S. Treasuries rose eight basis points to 328, JPMorgan Chase & Co. indexes show.
OAO Mechel, Russia's biggest coking-coal producer, plunged 23 percent to a record low in Moscow, while OAO Gazprom, which pumps gas through Ukraine, slumped 14 percent, the most since November 2008.
Rate Increase
Russia unexpectedly raised its key interest rate by 150 basis points, Bank Rossii said on its website. It had been left unchanged since August 2012. The board will meet again March 14. The ruble weakened 1.5 percent against the central bank's target basket of dollars and euros to a record low.
The yield on Russian government bonds due February 2027 rose 52 basis points, or 0.52 percentage point, to 8.88 percent, the highest since June 2012.
Ukraine's U.S. currency-denominated notes due in June traded at 91.2 cents on the dollar, from 94.8 on Feb. 28, pushing the yield up to 47.273 percent. The rate on dollar bonds due in 2023 surged 104 basis points to 10.54 percent.
The MSCI Emerging Markets Index has dropped 5.2 percent this year and trades at 10.4 times projected 12-month earnings, data compiled by Bloomberg show. The MSCI World Index has lost 0.3 percent in the period, and is valued at 15.2 times.
Emerging economies probably expanded at a 4.5 percent pace in 2013 versus 1.2 percent for advanced countries, the smallest gap since 2002, according to the International Monetary Fund.
Escalating Tensions
Energy companies paced declines in the developing-nation measure today. The MSCI EM Energy Index slumped 4.1 percent, the steepest decrease since September 2011.
The Kospi retreated 0.8 percent following data that showed South Korea's exports increased 1.6 percent in February from a year earlier, compared with a 2.9 percent forecast in a Bloomberg survey.
North Korea fired two short-range ballistic missiles after it launched four into the sea off its eastern coast last week, escalating tensions as the U.S. and South Korea entered the second week of joint military drills.
The Hang Seng China Enterprises Index of mainland companies listed in Hong Kong fell 1.4 percent after a manufacturing index dropped. The Shanghai Composite Index rose 0.9 percent amid bets lawmakers will announce economic reform measures during an annual policy meeting this week.
Thailand's SET Index gained 1.1 percent after anti-government protesters removed blockades at four main intersections in central Bangkok.
Brazil's markets are closed for the Carnival holiday. In Mexico City, Genomma Lab Internacional SAB, a producer of over-the-counter drugs, fell 2.8 percent to a five-month low.
Before it's here, it's on the Bloomberg Terminal.
LEARN MORE