Ruble Plunges to Record as Bank Rossii Seen Selling $10 Billion
Vladimir Kuznetsov and Andras Gergely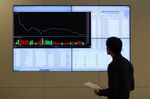 Bank Rossii poured dollars into the currency market, with traders estimating sales of about $10 billion, and raised interest rates after the threat of Western sanctions against Russia sent the ruble to a record low.
Policy makers are stepping up efforts to shore up the ruble as investor demand for Russian assets dries up after President Vladimir Putin's military forces took over parts of neighboring Ukraine. The ruble sank 1.8 percent against the dollar today, more than any other currency tracked by Bloomberg, while the benchmark Micex stock index plunged more than 11 percent and benchmark bond yields soared.
"So far, the panic goes on," Dmitry Dorofeev, a money manager at BCS Financial Group in Moscow, said by e-mail. "The central bank's decision should help support the ruble in current conditions, but it's very negative for debt."
The rout today extends the ruble's slide this year to 10 percent, a selloff exacerbated by the upheaval in Ukraine that led to the ouster of Putin's ally last month and Russia's incursion into the Crimea peninsula over the weekend.
Bank Rossii sold at least $10 billion to support the ruble today, according to Pavel Demetchik, a trader at ING Groep in Moscow. Dmitry Dorofeev, a money manager at BCS Financial Group, estimated sales of at least $7 billion. Bank Rossii's press service said it won't comment on today intervention. The size of the sales is set to be published in two days, per the regulator's information policy. Russia's foreign reserves have fallen $40 billion since May to $493.4 billion, according to data through Feb. 21.
Sole Seller
"There are no other currency sellers on the market," Demetchik said.
The ruble's decline, as measured against Bank Rossii's target basket of dollars and euros, was 1.4 percent, leaving it at a record low of 42.6334 at 6 p.m. in Moscow, when the central bank stops its market operations.
The central bank surprised investors today by raising its key rate 1.5 percentage points to 7 percent today in a bid to halt the declines at the risk of deepening an economic slowdown. The yield on benchmark bonds due in 2027 jumped 52 basis points, or 0.52 percentage point, to 8.88 percent. The Micex stock index declined 11.5 percent to 1,297.96.
The central bank said its decision to raise rates is "temporary" and that policy makers will conduct their regular meeting on March 14. The decision is aimed at curbing inflation and shoring up financial stability following the recent increase in financial-market volatility, Bank Rossii said in a statement on its website.
U.S. Sanctions
Russian servicemen surrounded Ukrainian army units in the Black Sea district in the last 24 hours, while more armored personnel carriers and war ships have been sighted, the border guard service said today, two days after Putin gained parliamentary approval to send troops into Ukraine. The U.S. is "prepared to put sanctions in place" and "isolate Russia economically," Secretary of State John Kerry said on CBS's "Face the Nation" program yesterday.
The central bank was selling about $1 billion for every 5 kopek move today. This may help halt the currency's slide as the intensity of selling will likely decrease in coming days, Sergey Romanchuk, head of foreign exchange trading at AKB Metallinvestbank OAO, said in e-mailed comments.
The pressure on the ruble may be predominantly coming from retail clients, who are less sensitive to changes in interest rates, rather than institutional investors, Goldman Sachs Group Inc. analysts Clemens Grafe and Andrew Matheny said in an e-mailed note today.
Not 'Sufficient'
"We are skeptical that today's decision from the central bank will be sufficient in itself to prevent further currency weakening," they said.
Losses may be limited because Russia's position as the world's biggest energy exporter means it will benefit should the conflict drive up oil prices, according to Simon Mandel, Vice President of Emerging Europe at Auerbach Grayson & Co.
"Naturally, the Russia-specific risk does rise, but it is hedged on the basis of higher oil and gas prices and the benefit that Russia will reap from that," Mandel said in a phone interview yesterday from New York. "Russia has a natural hedge against geopolitical risk in the region."
Oil has increased 5.6 percent this year to $103.92 per barrel in New York.
'Knee-Jerk'
While some losses in the ruble, bonds and stocks are "inevitable," Russia's economy remains sustained by high energy prices, meaning that any downward adjustment should be "short-lived," Chris Weafer, a senior partner at Macro Advisory in Moscow, said in an e-mailed note yesterday.
"The oil price is not collapsing, the economy is not heading into steep recession and corporate-debt exposure is much better," Weafer wrote. "So while a knee-jerk adjustment is to be expected, it should be relatively modest."
Crimea, where Russian speakers comprise the majority, has become the focal point of Ukraine's crisis after the uprising that triggered last month's toppling of President Viktor Yanukovych. Demonstrations erupted in November after Yanukovych spurned a trade pact with the European Union in favor of closer ties with Russia. An interim cabinet headed by Premier Arseniy Yatsenyuk is seeking aid from the International Monetary Fund and a return to negotiations with the EU.
"The threat of sanctions could be quite effective" as Russia's elite have their assets in "Western bank accounts" while the nation's companies rely on international debt markets for financing, Tim Ash, chief emerging markets economist at Standard Bank Group Ltd. in London, said by phone yesterday.. "The West has quite a lot of leverage on Russia if it's clever and uses it the right way."
Before it's here, it's on the Bloomberg Terminal.
LEARN MORE