Obama Weighs Sanctions on Russia as Kerry Travels to Kiev
David Lerman and Greg Giroux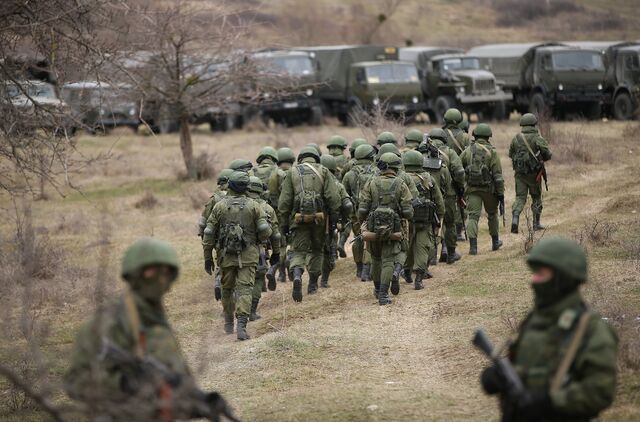 U.S. Secretary of State John Kerry will travel to Kiev to meet with Ukrainian leaders tomorrow to offer support as Russian troops occupy the nation's Crimea region, U.S. officials said yesterday.
As the Obama administration considers asset freezes, travel visa bans and sanctions on banks to punish Russia, the top U.S. diplomat will "reaffirm the United States' strong support for Ukrainian sovereignty," said Jen Psaki, a Kerry spokeswoman, in an e-mailed statement.
President Barack Obama contacted several overseas leaders over the weekend, including Germany's Angela Merkel and the U.K.'s David Cameron, on how to respond to Russia's incursion in Ukraine's Crimea region, which prompted Ukraine to mobilize its army reserves as it seeks international economic aid. Russian President Vladimir Putin accepted a German proposal for a "fact-finding mission" to defuse the crisis, Merkel's office said in an e-mail.
The Russian military has operational control over the Crimean peninsula, with about 6,000 air and naval forces in the region, a U.S. administration official told reporters yesterday on condition of anonymity.
'All Options'
In a series of televised interviews yesterday, Kerry said the administration is considering "all options" to penalize Russia for invading the Black Sea region of Ukraine.
If Russia doesn't "step back" from its military incursion, "there could even be, ultimately, asset freezes, visa bans" and disruption of trade, Kerry said on NBC's "Meet the Press" program.
Laying out the economic stakes for Russia as the U.S. tries to defuse a crisis over Ukraine, Kerry also said Russia "may not even remain in the G-8 if this continues," referring to the group that Russia joined after the dissolution of the Soviet Union.
A U.S. or NATO military intervention in Ukraine would be "the last thing anybody wants," Kerry said. The crisis doesn't presage a return to a Cold War stand-off between the U.S. and Russia, he said.
"This does not have to be, and should not be, an East-West struggle," Kerry said. "This is not about Russia and the U.S. This is about the people of Ukraine."
Economic Hardship
While Russia has legitimate interests in the mostly Russian-speaking Crimea region, "You just don't invade another country on phony pretexts in order to assert your interests," Kerry said.
By mobilizing troops in Crimea, Putin will "lose on the international stage" and his people will suffer economic hardship, Kerry said.
"American business may pull back," he said. "There may be a further tumble of the ruble."
Trade between the U.S. and Russia amounted to $40 billion last year, or about 1 percent of total U.S. trade, according to U.S. Commerce Department data. Since 2009, as global trade began to recover from a worldwide economic crisis, U.S. trade with Russia has increased by about 70 percent.
Obama on March 1 moved to suspend U.S. preparations for a meeting of industrial nations in Russia in June, and told Putin that his country is violating international law by sending troops into Ukraine.
Obama Call
In a 90-minute phone call on March 1, Obama "expressed his deep concern over Russia's clear violation of Ukrainian sovereignty and territorial integrity," according to the White House.
The U.S. also called for dispatching international observers to Crimea and other parts of Ukraine.
Russia's parliament voted on March 1 to approve military use in Ukraine after Russian troops seized facilities in the country's Crimea region. The military movements in Crimea, home to Russia's Black Sea fleet, risk destabilizing Ukraine as its new government negotiates with the U.S. and Europe for financial aid to avoid default.
Calls for international action against Russia continued to build, as NATO's North Atlantic Council issued a unanimous statement condemning Russia's military actions.
Polish Prime Minister Donald Tusk said the Ukraine crisis "has the hallmarks of a conflict that could lead to war."
Applying Pressure
Tusk said at a news conference in Warsaw yesterday that "tough pressure" is required to restrain Russia, more than just a boycott of a G-8 meeting planned for Sochi in June. The group includes leading industrialized countries, along with Russia.
The U.K. joined the U.S. and Canada in refusing to attend preparatory meetings for the G-8 summit in Sochi in June that were due to take place this week.
Prime Minister David Cameron "is clear that the focus of our engagement with Russia must be the situation in Ukraine, rather than other normal business," according to a statement.
U.K. Foreign Secretary William Hague traveled to Kiev for meetings with Ukrainian authorities to "make clear our support for them, and urge continued restraint," according to the statement.
Ukraine's ambassador to the United Nations, Yuriy Sergeyev said on CNN's "State of the Union" program that the country needs military support.
Increasing Awareness
"We are looking to raise the world's awareness and to address the world leaders to stop this aggression," Sergeyev said.
U.S. lawmakers from both parties have been urging Obama to lead an international effort to impose diplomatic and economic sanctions on Russia if it attacks Ukraine, though they have stopped short of calling for armed intervention.
Senator Lindsey Graham, a South Carolina Republican on the Armed Services Committee, called for suspending Russian membership in the groups of industrialized nations known as the G-8 and G-20 for at least a year.
"For every day they stay in the Crimea, add to the suspension," Graham said on CNN's "State of the Union."
Senator Richard Durbin of Illinois, the chamber's second-ranking Democrat and a member of the Foreign Relations Committee, said Congress should pass a resolution condemning Putin's move against Ukraine, work through the International Monetary Fund to provide assistance, and "make it clear to Putin" that he can't invade sovereign countries on the pretext of protecting Russian-speaking people.
Putin Response
"We've got to draw the line," Durbin said on CNN.
Ian Bremmer, president and founder of Eurasia Group Ltd., a risk consultant, said the economic measures under review by the U.S. and allies aren't likely to do much to change Putin's approach.
"I don't think this is significant from a Putin perspective," Bremmer said. With Europeans relying on Russia for trade and energy, "Coordination is going to be very hard," he said.
Violence in Ukraine, an east-west energy route, escalated last month amid frustration among protesters in Kiev that demands for new elections and broader changes in governance were being ignored. Viktor Yanukovych, the former Russian-backed president of Ukraine, was deposed by Ukrainian lawmakers Feb. 22 after clashes with protesters left at least 82 people dead.
Putin is asserting his power over the Crimea region, part of Ukraine with large ethnic-Russian populations, after Yanukovych's overthrow. The U.S. has supported Ukraine's new government.
"This is on a razor's edge," former Secretary of State Madeleine Albright, who served in the Clinton administration, said of the Ukraine crisis on CNN's "Fareed Zakaria GPS" show. "It could turn into a civil war."
Before it's here, it's on the Bloomberg Terminal.
LEARN MORE