Rates of Lung Cancer Rising Steeply in Smoggy Beijing
Christina Larson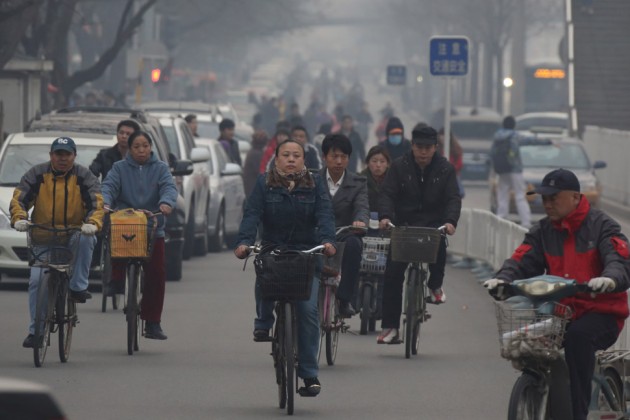 In 2002, for every 100,000 men living in Beijing, 49 had lung cancer. By 2010, that number had risen more than 50 percent, to 75. Women in China are less likely to smoke and so have lower rates of the disease. But among those living in Beijing, a similar sharp rise in lung cancer cases occurred over the last decade. In 2002, for every 100,000 women living in Beijing, 30 had lung cancer; by 2010, that number had also risen more than 50 percent, to 46.
Those figures come from the Beijing office of China's Cancer Prevention and Control Center, which believes the steep rise in lung cancer occurrences can be linked to worsening air pollution in China's capital city. Wang Ning, deputy director of the cancer center, told China Daily that lung cancer caused by smoking and cases caused by exposure to air pollution generally exhibit different characteristics. "The proportion of lung adenocarcinoma cases"—those associated with air pollution—"is increasing," Wang said.
The World Health Organization's World Cancer Report 2014 found that China, home to roughly 20 percent of the global population, now accounts for one-third of global deaths from lung cancer.
Additionally, severe air pollution in such cities as Beijing has consequences for expectant mothers. A study published in the March 2013 issue of Environmental Health Perspective found that maternal exposure to heavy air pollution was linked to higher incidences of low birth weights in five countries. Low birth weights are correlated with elevated risk for a variety of health problems later in life.
Persistent smog that blocks out natural sunlight also threatens China's agriculture. He Dongxian, an associate professor at China Agricultural University's College of Water Resources & Civil Engineering, told the South China Morning Post that many plants have difficulty sprouting when smog delays or obstructs photosynthesis, creating a scenario "somewhat similar to a nuclear winter."
Before it's here, it's on the Bloomberg Terminal.
LEARN MORE