Made-in-USA Luxury Brands Win Fans in China
American brands are outpacing the Europeans with cheaper goods
Andrew Roberts and Liza Lin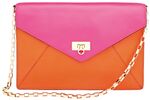 Corina Su would love to own a handbag or shoes from luxury brands such as Louis Vuitton or Gucci. For now, Kate Spade, Michael Kors, or Coach will do. "We call these the 'American trendy brands,' " says Su, a 25-year-old who works in advertising in Shanghai. She prefers Kate Spade's bright colors and bold designs to the more muted styles offered by big European luxury houses that tout their heritage to justify charging more. "I might eventually buy an LV or Gucci bag," Su says. "But it won't be until I'm much older, I suspect."
As Chinese shoppers such as Su get better acquainted with American luxury brands, they're discovering a designer wardrobe doesn't have to cost months of pay. That's helping U.S. labels that offer fashions with a foreign pedigree but price tags in the hundreds of dollars even as European luxury-goods makers raise prices for some bags to more than $4,000 to combat slowing growth. "The Chinese market is developing into a middle-class market, looking a bit less elitist and a bit more American," says Luca Solca, an analyst at Exane BNP Paribas.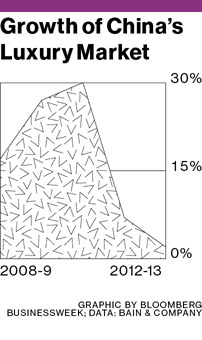 The likes of Coach, Michael Kors, and Tory Burch had been slow to tap growing Chinese luxury demand partly because they have smaller distribution in Europe and Asia, says Lucie Greene, editor at LS:N Global, the research unit of London consultant Future Laboratory. The Chinese account for more than a quarter of global luxury spending, Bain estimates. As more Chinese travel to the U.S., sales of American fashion brands are poised to accelerate there and in China, Greene predicts. "Part of the allure of luxury brands is a sense of exclusivity and the exotic," she says. "U.S. labels could well be where Chinese consumers turn next for newness."
Coach, which gets about a fifth of North American store sales from tourists, says Chinese are its fastest-growing customer group, while Italy's Prada says it's seeing fewer Chinese shoppers in Europe. The shift comes as the U.S. eases visa restrictions for Chinese nationals and a weaker dollar makes it cheaper for them to shop in Miami than in Milan. To capitalize on this, Coach is adding Mandarin-speaking staff in its U.S. stores. And Coach and Kors, a maker of $140 dresses and $225 studded high-top sneakers, are using Chinese social networking apps such as WeChat and opening more shops in China. The result: Coach reported an increase in comparable sales in China of at least 10 percent in the three months through Dec. 28, and Kate Spade saw comparable sales from its China joint venture rise 28 percent in the quarter ended on Sept. 28. Gucci, by contrast, says its China revenue fell in each of the last two quarters.
Total luxury sales last year increased about 2 percent, to $19 billion, in mainland China as a government clampdown on flashy gifts to officials curbed growth, Bain estimates. Chinese consumers "feel an affinity to the U.S.," says Citigroup analyst Oliver Chen. With Coach playing up its New York identity, Michael Kors emphasizing its high-fashion DNA, and Kate Spade offering "whimsical" designs, "there is strong growth potential for these brands," Chen says.
The Americans and Europeans don't always target the same customers. Most Coach bags sell for less than $400, while Vuitton last year introduced the $3,850 W and $5,350 Capucine handbag lines in an attempt to move upmarket (though it has some offerings that sell for less than $500). Still, the availability of cheaper luxury goods is making Chinese consumers more price-sensitive, says Avery Booker, a partner at China Luxury Advisors in New York. For American companies, Booker says, "it's really proving to be their time in the mainland."
Before it's here, it's on the Bloomberg Terminal.
LEARN MORE