India Wants to Build Its Own Chips to Satisfy Electronics Demand
The government allots $10.2 billion to build chip plants
by and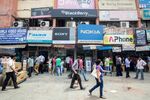 India's IT services companies are tops in outsourcing, with Tata Consultancy Services and Infosys competing globally with IBM and Accenture. The cities of Bangalore and Hyderabad are well established as research centers for such multinationals as Microsoft, General Electric, and Intel.
But when it comes to hardware, India is behind. In 2013 it imported $33.5 billion worth of electronics, from semiconductors to smartphones. That's more than it spent on any imports except oil and gold. With India's large and growing middle class buying more digital devices, the reliance on imported semiconductors and other hardware is likely to increase. By next year, according to market analysts Frost & Sullivan, such imports will top $42 billion. "Our manufacturing has not kept pace with our consumption," says PVG Menon, president of the Indian Electronic & Semiconductor Association. India does some assembly of TVs, mobile phones, computers, and set-top boxes.

The government of Prime Minister Manmohan Singh is trying to address this technology gap. The Indian cabinet on Feb. 14 approved plans for two semiconductor manufacturing projects, requiring an investment of $10.2 billion, with IBM, Geneva-based STMicroelectronics, and Israel's Tower Semiconductor taking part.
The plant proposals aren't new, but with elections coming and the ruling Congress Party struggling to retain voters, policymakers have finally given their blessing. The projects will be led by Jaiprakash Associates and HSMC Technologies India. They'll own the plants but rely on foreigners (in one plant IBM and Tower Semiconductor, in the other STMicro and SilTerra Malaysia) for technology expertise. Only Tower would confirm its interest. The deals are scheduled to be signed this summer. The government says the projects will create 22,000 jobs and that it will subsidize 25 percent of the total spent on the plants and extend interest-free loans of 51.2 billion rupees ($823.5 million) to each project.
India hasn't had much success nurturing electronics manufacturing. Its inefficient labor markets, unreliable power supply, and creaky transportation infrastructure have discouraged investments from multinationals.
Even companies that assemble TVs in India, such as Samsung Electronics and LG Electronics, import most of the valuable equipment and then slap them together in the country. "What happens in India is pretty low-end," Menon says. And when it comes to semiconductors, "today we have zero capability. All the chips we use are imported."
In Asia, Taiwan Semiconductor Manufacturing and South Korea's Samsung and SK Hynix dominate chipmaking. While some Japanese companies, notably Toshiba, are still in the game, others, including Panasonic, have decided to scale back because building state-of-the-art plants is so expensive. While foreign companies make chips in China successfully, local companies have tried, with little success, to build chip industries from scratch. Shanghai-based Semiconductor Manufacturing International has struggled: Its stock dropped 20 percent on Feb. 17 and 18 after it forecast lower revenue.
Optimists argue that it's too early to dismiss India's chances. In China, costs are rising, so many multinationals are shifting elsewhere. India has advantages, says Anand Srinivasan, an analyst with Bloomberg Industries, including "a large labor pool [and] engineering talent that is cheaper compared to the Western world." The demand is there, too. "India has one of the biggest domestic electronics markets, and that is set to get even bigger," says Niju V., director of automation and electronics at Frost & Sullivan India. "And all of that will need a chip. If we don't get on to it in the next 10 to 12 months, India will miss the bus forever."
Before it's here, it's on the Bloomberg Terminal.
LEARN MORE