Big Ships Play Texas Chicken in Congested Houston Channel
The U.S. energy boom has turned a tiny bayou into one of the world's most crowded waterways
By and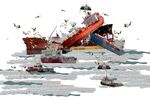 It takes an expert pilot to pull off the Texas Chicken. The maneuver requires two ships to chart a course for a head-on collision, then swerve right, and use each other's wave pressure to move safely past. The Texas Chicken comes in handy when navigating the Houston Ship Channel, a narrow waterway that connects the city's downtown with Galveston Bay and the Gulf of Mexico.
Hundreds of vessels, from barges to tankers, move through the channel every day. "We're still trying to stuff these bigger ships up these tiny ditches," says Captain Mike Morris, presiding officer of the Houston Pilots, the corps of 95 mariners licensed to guide ships on the six-hour trip up the channel. "Everywhere you look in the port, we're expanding."
Signs of America's energy boom are visible all along the 52-mile shipping lane. Construction cranes and excavators line the banks. Pipes large enough for a person to crawl through wait to be buried. Other markers of the tide of investment sweeping into the area aren't visible from the water: Truckers are getting $5,000 signing bonuses, students are flocking to midnight welding classes, and the recreational vehicle parks are filling up with out-of-towners.
Much of the record U.S. growth in oil and gas output is transiting through Houston, the country's largest export gateway and home to the greatest concentration of refineries and petrochemical plants in the U.S. An average day on the channel in 2013 saw 38 tankers, 22 freighters, a cruise ship, 345 towboats, 6 public vessels, 297 ferries, 25 other transits, and 75 ships in port, Coast Guard data show. "Sometimes you can meet and be overtaken by a handful of ships, 10 to 15 of them," says Tim Gunn, a tugboat captain for Buffalo Marine Service who has navigated these waters for 13 years. "When I first started it seemed like two or three."
At the turn of the 20th century, Houston was a provincial cotton-trading hub with only slightly more inhabitants than its coastal neighbor to the east, Galveston, home to the region's deepwater port. Buffalo Bayou, less than 10 feet deep, was the only navigable waterway that spanned most of the distance between the two cities. After a hurricane battered Galveston in September 1900, U.S. Representative Thomas Ball successfully lobbied Congress to dredge the bayou and Galveston Bay to a depth of 25 feet. "At that time, Houston was still a small town," says Janiece Longoria, chairman of the Port of Houston Authority. "Houston owes all its bounty to the ship channel."
The resulting waterway is 4 miles longer than the Panama Canal. About 8 percent of U.S. refining capacity lines its shores. The area is also home to the biggest petrochemical complex in the country. A network of pipelines connects the facilities to oil fields throughout the Midwest and Texas and the storage depots at Cushing, Okla. Companies' access to the waterway is so vital that the port authority estimates its closure would cost an estimated $330 million a day in lost commerce.
The big question looming over the channel is how well its century-old infrastructure will accommodate the $35 billion in new projects and expansions that energy and chemical companies plan through 2015. That estimate is drawn from a 2012 study by Greater Houston Port Bureau, which figures investments by ExxonMobil, Kinder Morgan Energy Partners, Enterprise Products Partners, and others will create 265,800 jobs.
Just north of the channel in Galena Park, sparks fly from a welder's torch as workers piece together storage tanks for Kinder Morgan's new condensate splitter, the industry term for plants that distill a light form of crude oil into byproducts such as naphtha, distillate, and kerosene. The first splitter tower lies on its side, resembling the Saturn rockets on display at the nearby Johnson Space Center. The $370 million facility is expected to start producing later this year. Some 12 miles east, in Baytown, ExxonMobil has filed paperwork for a multibillion-dollar expansion of its refinery and chemical complex, which occupies 5 square miles—an area almost three times bigger than downtown Houston.
Expecting congestion on the channel to only get worse as U.S. oil output climbs, a joint venture of Chevron and Phillips 66 is considering other sites on the U.S. East Coast, the West Coast, and Mexico for new chemical plants. "Given that we've seen some bottlenecks today, when you project that there'll be even more production and more demand on the system, will it be able to respond?" asks Ron Corn, senior vice president of specialties, aromatics, and styrenics for Chevron Phillips Chemical. Such considerations influenced a decision by Phillips 66 to locate a new liquefied petroleum gas export terminal in Freeport, Tex., about 40 miles southwest of Galveston.
Those navigating the Houston channel must also put up with the vagaries of Mother Nature. Fog during the winter months can paralyze traffic on the waterway. Coast Guard statistics show that fog closed the channel for 320 hours in 2013, equal to almost two weeks. Then there's the never-ending fight against the silt—the equivalent of 1 million dump trucks' worth gets removed every year, says Charlie Jenkins, the port authority's vice president for strategic planning. Despite that, only about 5 percent of the channel is at its authorized maximum width and depth.
The annual tab for dredging comes to about $50 million a year, $20 million more than the federal government allocated for 2014, says Jenkins. Legislation introduced in the House in the past two years that would raise spending on port maintenance has stalled.
Until the funding arrives to beat back the sandbars, the challenge of navigating the obstacle course falls to the Houston Pilots. The pilots know by heart the deep and shallow spots that aren't on the nautical chart, says J.J. Plunkett, the group's port agent, while riding on one of Buffalo Marine's tugboats. They know how the changing steepness of the shoreline affects the wake. They decide when to shut down the channel because of fog, leaving ships to line up at anchor in the bay. "If I could build a time machine, I'd go back to the day someone said, 'Boys, let's dig in 50 miles,' " says Adrian Garcia, the Harris County sheriff. "I want to know what they were thinking."