Ex-ABN Amro Lawyer Sues for Bias Over Black Sheep Remark
Kit Chellel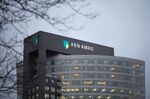 ABN Amro Group NV's former top lawyer in the U.K. sued the Dutch lender for race discrimination over her treatment by an executive who allegedly said "let's talk about all things black" and claimed he couldn't see her in a photograph.
Angela Cobbina, 41, who is black, said in court documents at a London employment tribunal yesterday that she was the target of a campaign to force her out of the company before being fired as U.K. head of legal in September.
Paul Schuilwerve, then the chief executive officer of ABN Amro's U.K. unit, made the comments in a June 2013 meeting in which a colleague described himself as a black sheep, Cobbina said.
"Speaking of that, what about Blackfriars?" Schuilwerve said, according to Cobbina's witness statement in the case. "Let's talk about all things black. Is Blackfriars the same as Blackadder?" ABN Amro said her allegations were groundless.
British employment tribunals, where awards are usually capped at about 70,000 pounds ($116,000) can hand out unlimited damages in discrimination cases. Finance industry workers fired by Credit Suisse Group AG, OAO Sberbank and Oppenheimer Holdings Inc. have recently won cases at London tribunals arguing they were treated differently because of their age or gender.
Cobbina was dismissed as part of a bank reorganization, ABN Amro said in a statement.
Groundless Allegations
"Ms. Cobbina has made serious and groundless allegations against ABN Amro and some of its senior managers Alex Evans, a company spokesman, said in the statement. ''ABN Amro is committed to diversity across its global operations and at every level of the organization. We are confident that this will be the judgment of the employment tribunal and that these claims will be dismissed.''
Schuilwerve, now managing director at the bank's commercial and merchant banking division in Amsterdam, declined to comment. He isn't a defendant in the case.
Cobbina's lawyer, Emma Sanderson, also declined to comment.
ABN Amro was formed in 2008 after the Netherlands took over the Dutch banking and insurance units of collapsed bank Fortis, which had joined a 71.9 billion-euro ($98.2 billion) takeover of ABN Amro Holding NV with Royal Bank of Scotland Group Plc and Banco Santander SA in 2007.
Cobbina, who previously worked at the law firm then known as SJ Berwin in London, said she had been employed at ABN Amro's London office for about four years, and was the only black member of the U.K. executive committee.
Group Photo
She said in her witness statement that, after seeing a photo of her and other employees, Schuilwerve remarked: ''We cannot even see you in the picture."
"I felt upset, humiliated and belittled" by the comments, she said in the witness statement.
Cobbina said she was treated differently than other colleagues, had her work questioned and was the target of attempts to identify misconduct. In March 2013, she was told she wouldn't be awarded a bonus because of poor performance,
Testifying yesterday, Cobbina was asked by ABN Amro's lawyer why she didn't make an official complaint at the time. "I didn't want to appear overly sensitive," she said.
ABN Amro said Cobbina was seeking about 300,000 pounds in her sex and race discrimination claim. The hearing is scheduled to last for 10 days.
Before it's here, it's on the Bloomberg Terminal.
LEARN MORE