China's President Changes the Rules, Strengthens His Hand
The Chinese president tightens his control of the army and economy
By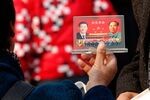 In the 12 months since Xi Jinping assumed the presidency of China, he has amassed more power more swiftly than any Chinese leader since Deng Xiaoping, foreshadowing changes in the way China governs itself and deals with the rest of the world. His crackdown on corruption is expected to ensnare more senior officials and put others on warning. He has moved quickly to assert command over the domestic security apparatus as well as the army. "He's trying to create a supreme leader [position for] himself," says Bo Zhiyue, professor and senior research fellow at the East Asian Institute of the National University of Singapore.
While the previous two generations of leaders, headed by former presidents Hu Jintao and Jiang Zemin, hailed from relatively humble backgrounds and trained as technocrats, Xi is a princeling, the son of a former top leader, who has long been groomed for power. "Unlike them, he is not an outsider to the system. He has a very well-established family background and the self-confidence that comes with it," says Ding Xueliang, a professor of social science at the Hong Kong University of Science & Technology.
Xi has burnished his populist image by resurrecting Maoist doctrines like the "mass line"—cadre-speak for keeping the party answerable to the people. The philosopher Confucius, who stressed the importance of an honest civil service and the duty of rulers to set a high moral example has been invoked by Xi. "Western capitalism has suffered reversals, a financial crisis, a credit crisis, a crisis of confidence, and their self-conviction has wavered," Xi said in a speech late last year touting the sage's wisdom while visiting Confucius' birthplace, according to pro-government Hong Kong newspaper Ta Kung Pao. "Western countries have begun to reflect and openly or secretively compare themselves against China's politics, economy, and path," he continued.
The president's ability to connect with ordinary citizens is a strong political asset. His impromptu visit to a neighborhood dumpling eatery in Beijing in late December became an Internet sensation. So did his Feb. 25 stroll down a Beijing street popular with tourists. He regularly hobnobs with army troops, even donning combat fatigues. On national broadcaster CCTV, his activities dominate most evenings' top news segment, notes Chinese University of Hong Kong professor Willy Lam.
Xi, expected to rule for a decade, is shaking up the old order by breaking tacit agreements that long existed among the top leaders. His corruption crackdown may net retired security czar Zhou Yongkang, according to Ding. Zhou is a former member of China's Politburo Standing Committee, an elite group that was considered untouchable. Xi "sees that the whole system could be eroded by corruption, that it is the biggest challenge facing China," says Ding.
Another departure from the past is Xi's chairmanship of a new reform group covering law, culture, and most important, the economy. That position would normally be reserved for Premier Li Keqiang, since the prime minister in China typically handles the economy. "Deng Xiaoping introduced collective leadership because he believed in institutions and was opposed to the cult of personality. Now, Xi is superseding some longstanding traditions of the party in order to consolidate his power," says Lam, who is writing a book on Xi. "Even though the general secretary is first among equals, he is not supposed to overrule others in their areas." A year ago, Li was quite vocal about his planned economic reforms, which analysts dubbed Likenomics. Li now seems to be fading into the background, says Lam.
In international affairs, Xi is breaking with what Deng Xiaoping called taoguang yanghui, yousuo zuowei—"keeping a low profile and achieving something." He has taken a more forceful approach in territorial disputes with Vietnam and the Philippines, and through Beijing's creation of an air defense identification zone overlapping Japan's. "This may fit [Xi's] personality, but it also fits with the times. China's leaders feel the need to show China now is a big country," says Douglas Paal, vice president for studies at the Carnegie Endowment for International Peace.
China analysts will be closely following the proceedings of the annual meeting of the National People's Congress in early March to see if Xi moves to strengthen his position further, says Robert Lawrence Kuhn, author of How China's Leaders Think. "The previous leaders avoided doing things that would disturb the balance of power, both domestically and in foreign relations," says Hong Kong University's Ding. "But Xi from Day One has expressed a willingness to really change things, change the rules of the game. That can be constructive and good, or it can create disorder."
BOTTOM LINE -
The bottom line: To stamp out corruption and reform the economy, Xi Jinping may break with Deng Xiaoping's government by consensus.
Before it's here, it's on the Bloomberg Terminal.
LEARN MORE