The Life and Times of a Sirloin Steak
Required labels listing the origins of meat cause an international feud
By and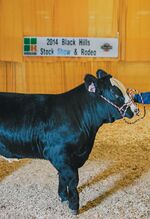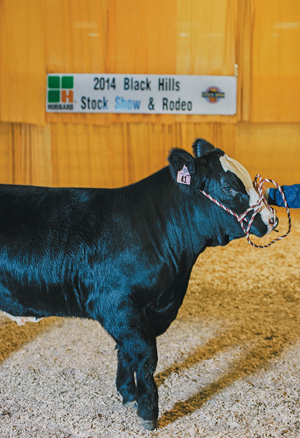 Since November the federal government has required a new label to be included on meat sold in U.S. supermarkets: "Born, raised, and slaughtered in the United States," it typically reads. If a steak was made from a steer reared in Canada or Mexico and brought to the U.S. for slaughter, the label has to say so. You may not have noticed this tiny type alongside the usual nutrition facts and health warnings about eating undercooked meat. Yet this Country of Origin Labeling, or COOL, has touched off threats of a trade war from Mexico and Canada and is the subject of a feud among U.S. ranchers over how much they should have to tell consumers about what's for dinner.
The dispute pits pro-label cattlemen who want to tout homegrown beef against anti-label feedlots and meatpackers that move animals between Mexico and Canada and the U.S. to keep groceries stocked and prices low. They say it's a nightmare trying to keep track of each steer's life story. The lobbying on both sides has been so intense that it threatened to derail the five-year, half-trillion-dollar farm bill signed by President Obama on Feb. 7.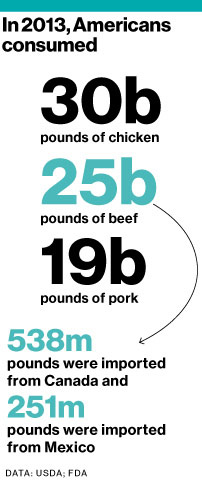 The conflict has been simmering at least since 2002, when Congress said only beef raised entirely in the U.S. could bear a "U.S.-made" label. (The rules also apply to other meat and fish and fresh produce, but the beef industry has pushed back most vocally.) The idea was to "increase demand for cattle from U.S. ranches and decrease demand for cattle of foreign origin or mixed origin," says Bill Bullard, a former rancher and chief executive officer of the Ranchers-Cattlemen Action Legal Fund (R-Calf USA), a group that represents U.S. cattle growers who favor labels. The meatpacking industry warned the new rules would stigmatize foreign beef, alienate trading partners, and make meat less plentiful and more expensive. They persuaded lawmakers to delay the law.
When labeling finally went into effect in 2009, it didn't require meat suppliers to account for the specific lineage of each animal—they could broadly list their beef as coming from Canada, Mexico, and the U.S. Even so, Mexico and Canada protested to the World Trade Organization, saying the labels were a barrier to free trade that reduced the value of their beef and imposed burdensome regulations for no good reason. The WTO agreed and ruled against the U.S. Instead of repealing the disclosure requirements, however, the Department of Agriculture responded in May 2013 by putting in place the more stringent current labels, arguing that giving consumers detailed information justified the additional cost to meat producers. That's when the real fight began.
As Congress haggled over the long-delayed farm bill last fall, COOL opponents, including Tyson Foods, Cargill, and other meatpackers, pushed to have the labels killed. They pointed to government estimates that complying with the rules could cost $192 million. In October, Tyson said it had stopped buying slaughter-ready Canadian cattle to avoid having to segregate the foreign animals. The industry also said the labeling rules, which don't apply to processed meats, are arbitrary and confusing. "Tenderloin must be labeled, but bacon is exempt," says Janet Riley, a spokeswoman for the American Meat Institute.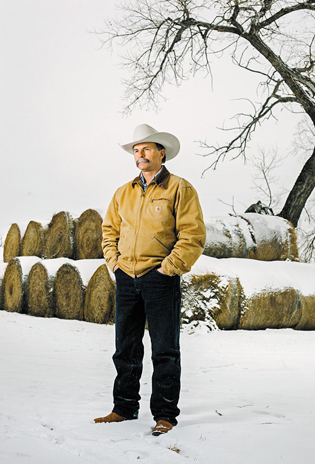 At the same time, R-Calf and its allies, including the U.S. Cattlemen's Association and the Consumer Federation of America, were playing up the labels as a choice between the multibillion-dollar meatpacking industry and moms buying food for their kids. "Every piece of clothing on your body, you can look at the label and know where it came from," says Stayton Weldon, an R-Calf member who raises 300 head of cattle on 2,600 acres near Cuero, Tex. "But the most important thing is what you eat—and why the hell shouldn't you know where that came from? That's your health."
Label supporters had the backing of two influential advocates for U.S.-made agricultural products: the American Farm Bureau Federation, the largest organization of U.S. farmers and ranchers; and the National Farmers Union, the second largest. By January, COOL had the blessing of Congressional Democrats and a handful of Republicans, many from states with pro-label ranchers.
In a last-ditch move, opponents threatened to pull their support for the farm bill—taking dozens of members of Congress with them—unless the labels were removed. "That made me very nervous," says Representative Kristi Noem, a South Dakota Republican who endorsed COOL but counts its opponents among her constituents. "It made it pretty hairy at the end." But the industry had overreached. After months of negotiations, weary leaders weren't about to unravel the bill, and it passed with labels intact.
The fight isn't over. Canada and Mexico are pursuing their complaint with the WTO. And the American Meat Institute and other livestock groups have sued to block the labels. For now, Bullard and his members are savoring the moment. "I wouldn't have bet 50¢ that the language would stay in," says Bryan Hanson, a South Dakota rancher and R-Calf's president. "I'm awfully glad it did."
BOTTOM LINE -
The bottom line: Meatpackers are suing to block a federal rule requiring Country of Origin Labeling on beef sold in the U.S.
Before it's here, it's on the Bloomberg Terminal.
LEARN MORE