Asap54 App Helps Fashion Shoppers Find a Match
Daniela Cecilio's app helps users comparison-shop for upscale fashions
By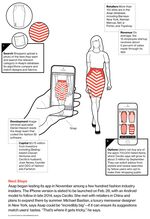 Innovator: Daniela Cecilio  
Age: 33 
Asap's São Paulo-born CEO founded the luxury fashion shopping service last year in London.
Form and function: Asap54 is an image recognition app that can match photos of clothing and accessories to identical or similar products stored in its database, making items easier for shoppers to find and directing them to retailer sites.
Before it's here, it's on the Bloomberg Terminal.
LEARN MORE