Thai Yingluck Ouster May Hinge on Courts as Protests Stall
Chris Blake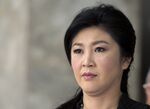 Thai Prime Minister Yingluck Shinawatra and ruling party lawmakers face a series of legal cases aimed at accomplishing what months of opposition-led street protests could not: Ejecting them from office and political life.
The country's anti-corruption agency had called Yingluck to appear today, saying it has enough evidence to charge her with negligence in overseeing a rice-purchasing program the agency says is riddled with graft. It is also ready to charge lawmakers from her Pheu Thai party with attempting to overthrow the form of government, after they sought to change the selection process for members of the Senate.
Yingluck remained in her home town in the North of the country and sent her lawyers to meet with commissioners today.
With the number of street protesters dwindling and the military refusing to publicly choose a side, Yingluck's opponents are looking for a repeat of 2008, when Pheu Thai's predecessor was removed from office by a ruling its members call a judicial coup. Yingluck's supporters have vowed to respond to any eviction with protests and a possible government in exile, risking further entrenchment of nearly a decade of unrest. Twenty-two people have been killed and 766 injured in violence since October.
Popular Resistance
"Despite all the pressures for a new judicial coup, the courts are in much the same situation as the military: It's relatively easy to bring down a government and very difficult to put anything plausible or legitimate in its place," said Duncan McCargo, professor of political science at the University of Leeds. "Removing Yingluck could trigger a scale of popular resistance that Thailand has not seen before in its recent modern history."
The National Anti-Corruption Commission is investigating at least 15 cases against Yingluck or her party members, ranging from allegations of corruption in water projects to harming national security by allowing television stations to air a speech by Yingluck's brother, Thaksin Shinawatra. Thaksin was ousted in a 2006 coup and lives abroad to avoid a jail term.
The rice case against Yingluck, filed by an opposition lawmaker, has progressed the most. It alleges the program to buy the crop from farmers at above-market rates was blighted by corruption, and the prime minister was negligent for not ending it. If indicted and found guilty, Yingluck faces removal from office and a five-year ban from politics. The NACC has not said when it will reach a decision on whether to indict her.
Playing Politics
Yingluck has denied the claims and accused the agency of playing politics, noting that a rice corruption case involving the previous government led by the now-opposition Democrat Party has not progressed after several years and that the case against her took three weeks to investigate.
"If there were indeed true justice without any hidden agenda, the NACC would not have hurriedly investigated and delivered a verdict in such a manner that has allowed society to deem it as beneficial only to those who want to topple the government," Yingluck said in a Feb. 20 statement on her official Facebook page.
Agency spokesman Vicha Mahakhun said Feb. 25 that the body had been investigating Yingluck for more than a year and that it acted without any bias and was unmoved by political pressure. Vichai said that Yingluck had sent her lawyers to meet with commissioners today and she now has 15 days to present her case, though it is possible to extend that period if she needs more time to find evidence.
Checks, Balances
In a separate case, the agency has said it has enough evidence to charge 308 lawmakers for supporting an amendment that would have made the Senate fully elected, which it was under the nation's 1997 constitution. A new charter in 2007, written by a military-appointed assembly after the coup, says that 73 out of 150 senators are to be appointed.
The Constitutional Court ruled the amendment would have undermined checks and balances and could be seen as an attempt to overthrow the system of government. Pheu Thai refused to accept the ruling and said it would seek the prosecution of the judges.
Thaksin and his allies have a history of tensions with the country's legal institutions. A military-appointed court in 2007 disbanded Thaksin's Thai Rak Thai party for breaking election laws, banning him and more than 100 party executives from politics for five years.
Red Shirts
Amid the seizure of Bangkok's airports by anti-government protesters in 2008, the Constitutional Court found Thaksin's allies guilty of vote buying, disbanding their party and banning another 30 executives. The ruling, which came just weeks after the court ordered Thaksin ally Prime Minister Samak Sundaravej to step down for hosting a cooking show, opened the door for the Democrats to take control of government.
Thaksin's supporters in the so-called red-shirt movement say the removal of governments they voted into office, the current cases against the government and the inability of the Election Commission to complete a disrupted poll held Feb. 2 show that their voices are not respected.
The aristocratic elite is threatening the democratic rights of people, red shirt chairwoman Thida Thavornseth said at a weekend rally of the group's leaders, according to the Bangkok Post. She said the red shirts must be ready to stand up to anti-government protesters, independent agencies, the judiciary and military.
A group of about 250 red shirts rallied outside the anti-corruption commission office today, saying they would not allow commissioners to enter. The commissioners eventually met with Yingluck's lawyers at another location.
'Do-Gooders'
Academics and analysts such as Sunai Phasuk, a senior researcher at Human Rights Watch, say there are questions over the impartiality of the courts and independent watchdogs, which were given increased power in the post-coup constitution.
"The coup claimed to replace bad politicians with the do-gooders," Sunai said. "But it put in place the judiciary, the bureaucracy, that have very intrusive power."
The 2007 charter allows the Senate to select Constitutional Court judges, election commissioners, anti-corruption committee members and members of several other watchdog agencies. Appointed senators are in turn picked by a committee made up of the heads of those same bodies.
Sunai said ruling the charter amendment on the Senate unconstitutional and charging the lawmakers who backed it showed these bodies lack accountability and have become a part of the country's political mess.
"The coup has added another evil, another monster, which is now out of control," Sunai said. "This monster that has been created by the coup is breeding itself, is regenerating itself."
Military Crackdown
Phone calls yesterday to Constitutional Court Secretary General Chaowana Traimas were not answered.
The leader of the current protests, Suthep Thaugsuban, and former Prime Minister Abhisit Vejjajiva have been charged with murder for their part in a deadly military crackdown in 2010 on red shirts demanding the Democrat-led government call new elections. Both deny the charges.
The only way Yingluck's government can survive the legal tests is if it makes the cost of its removal "unconscionable," said Michael Connors, an associate professor at the Malaysia campus of the University of Nottingham.
"The caretaker government is now saying 'We don't go without a fight,'" Connors said. "The balance of mass mobilization from both sides, divisions in state agencies and the possibility of endemic violence will weigh heavily on legal determinations."
Before it's here, it's on the Bloomberg Terminal.
LEARN MORE