Credit Suisse Chief Said Small Group Led U.S. Tax Evasion
David Voreacos, Alan Katz and Elena Logutenkova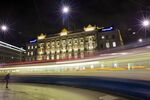 Credit Suisse Group AG's Chief Executive Officer Brady Dougan, under fire from U.S. lawmakers, apologized and deflected blame onto a small group of employees for helping clients hide billions of dollars from the Internal Revenue Service.
"Some Swiss-based private bankers went to great lengths to disguise their bad conduct from Credit Suisse executive management," Dougan said at a Senate subcommittee hearing in Washington today. "While that employee misconduct violated our policies, and was unknown to our executive management, we accept responsibility for and deeply regret these employees' actions."
Pressure is growing on Dougan as Congress pushes the Justice Department to advance a three-year probe into U.S. tax evasion at the bank and as securities regulators investigate possible accounting gimmicks to disguise a decline in private banking business. The subcommittee, in a report released yesterday, said 1,800 Credit Suisse employees helped Americans open 22,000 accounts, most of which were hidden from the IRS.
The Justice Department, which is conducting a criminal probe, has turned over the names of only 238 bank clients, according to the report, which Senator Carl Levin, a Michigan Democrat who chairs the Senate Permanent Subcommittee on Investigations, called "unacceptable."
Secrecy Laws
Levin berated Dougan and general counsel Romeo Cerutti for failing to turn over account data because they fear they could be prosecuted in Switzerland for violating secrecy laws.
"You folks have not been willing to give us more than 238 of those names," said Levin. "Your bank is using the Swiss position in arguing against the enforcement of subpoenas, saying it puts you in a difficult position. That's just not going to cut it."
The Credit Suisse executives said the bank has already provided client-related information to U.S. authorities to the full extent allowed by Swiss law and is ready to provide more. The lender also urged the Senate to ratify an amendment to the U.S.-Swiss double taxation treaty, negotiated in 2009, which would allow the Swiss to provide more information account information. President Barack Obama sent the protocol to the Senate in January 2011, where it has languished.
More Money
The subcommittee indicated that Credit Suisse hid about $10 billion from the IRS, more than twice as much claimed by the Justice Department in a 2011 indictment of seven Credit Suisse bankers. Dougan disputed the report's finding, saying the number was closer to $7 billion.
"This was a very small business from our point of view, less than 1 percent of the global profitability of the global bank," he said.
The subcommittee also criticized the Zurich-based bank for failing to discipline any senior executives. Of the 1,800 Credit Suisse employees serving U.S. clients only 10 have been disciplined and none was fired, according to the report.
Switzerland's second-biggest bank helped clients cheat the IRS by opening accounts under false names and shell corporations, avoiding the mail when delivering account statements and servicing clients in the two countries. One client was given an account statement hidden in a Sports Illustrated magazine, according to the report.
Airport Office
Credit Suisse bankers wooed wealthy American clients at bank-sponsored events such as an annual Swiss Ball in New York or golf tournaments in Florida and Nassau, Bahamas, according to the report. Almost 10,000 U.S. clients visited a branch office at Zurich airport given the code name "SIOA5."
Dougan told the committee that "the airport office was needed because many U.S. clients traveled to Switzerland to go skiing" and didn't want to go into Zurich.
One client with a $2.6 million account recounted his annual meeting with a Credit Suisse banker. When he arrived at the bank, the client took an elevator with no buttons that was controlled remotely. He met the banker in a nondescript, white meeting room. After each meeting, the client signed an order to destroy account statements they reviewed and declined offers to withdraw cash, according to the report.
'Beachfront Property'
Senator John McCain, an Arizona Republican on the committee, said it's not plausible that senior management wasn't involved, considering the "systemic" misconduct.
"If you believe that, I have some beachfront property in Arizona," McCain said yesterday in a briefing on the report.
The bank said it found evidence that a group of about 15 to 20 private bankers who were focusing on larger accounts of U.S. residents had violated bank policy.
"Our investigation identified evidence of violations of bank policy and U.S. law by a small number of bankers," Dougan said at the hearing. The investigation found little evidence of improper conduct elsewhere at the bank, he added, noting that the bank has consistently cooperated with the U.S. probes.
The U.S. crackdown on offshore tax evasion accelerated after 2009, when UBS AG, the largest Swiss bank, avoided prosecution by paying $780 million, admitting it fostered tax evasion and turning over the names of 4,700 account holders.
Legal Tools
U.S. Deputy Attorney General James Cole also testified to the committee, touting the Justice Department's investigation into offshore tax evasion since the UBS case.
He said 73 taxpayers and 35 enablers have been charged, while 43,000 taxpayers have disclosed their offshore accounts to the IRS, admitted wrongdoing and paid $6 billion in back taxes and penalties. He also said 106 Swiss banks are seeking non-prosecution agreements from the U.S. in exchange for detailing how they enabled tax evasion.
Levin criticized the failure of the department to pursue the names of U.S. holders of Swiss accounts more aggressively by using such law enforcement tools as grand-jury subpoenas.
"I want to tell you how much I share your frustration in trying to get the names of American account holders," Cole said. "This has been a source of frustration from the day I took office."
Senator McCain faulted the Justice Department for securing only one guilty plea of a Swiss bank, Wegelin & Co.
"The fact is that since UBS you have been incredibly slow over a five-year period in getting one guilty plea," McCain said. "If you think that's progress, fine. I don't."
Criminal Charges
When Cole pointed out the criminal charges against more than 100 people, McCain said: "You're doing a job that frankly has not shown any progress, that's the point, Mr. Cole."
Under questioning by Levin, Cole said he couldn't talk publicly about the resolution of the Credit Suisse case.
Levin said Cole hasn't been aggressive enough with foreign banks violating U.S. law.
"We ought to raise the fear of God that if you're going aid and abet the violation of American law, you ought not to be able to operate in the United States," Levin said. "I don't see that kind of passion coming from you."
When Cole said he couldn't discuss whether he had ever asked the Federal Reserve to revoke a banking license, Levin said: "The problem is we just don't sense that kind of urgency here."
Before it's here, it's on the Bloomberg Terminal.
LEARN MORE