American Companies in China Cite Corruption Challenges in Survey
by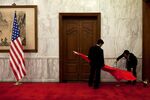 As China's President Xi Jinping continues to push a sweeping campaign against official graft, a survey of American business shows corruption is a big concern for companies.
The problem of corruption and fraud is one of the top five challenges for American companies in China, says the "China Business Report 2013-2014," released Feb. 25 by the American Chamber of Commerce in Shanghai and Control Risks, a business advisory group. Other top challenges include local protectionism, human resources constraints, and rising costs, with the last cited as the biggest concern for the third year in a row, with 89 percent of the companies surveyed calling it a problem.
The chamber polled 399 of its American member companies for its annual survey. And while 86 percent said they were either "optimistic" or "slightly optimistic" about their operations in China over the next five years, 69 percent said that corruption is a problem when doing business, the same number as last year, with almost one-fifth saying it is a serious hindrance. Eighty-two percent said the frequency with which they encounter corruption and fraud was at the same or a higher level than the previous year.
Companies in the retail industry were affected the most by corruption, with almost one-third saying it seriously hindered their business. Around one-quarter of the companies in the auto and auto parts sector and the health-care business were also adversely affected.
So what's the dirty business look like? The most common problem encountered was sales kickbacks to customers, with 55 percent citing it as a problem. Fifty-three percent reported problems with employee fraud, and a little less than one-quarter mentioned corruption in the government procurement process as an issue.
"The Chinese leadership has vowed to crack down on corruption. This is a good thing, but it will take time to have an impact," said Kent Kedl, managing director for Greater China and North Asia at Control Risks, in a statement. "There is also the perception by some in the foreign business community who feel that key regulatory and policy issues favor local companies over the foreign ones."
A separate report last October from Berlin-based anticorruption organization Transparency International showed that among enterprises in emerging market countries, Chinese companies were the most prone to corruption.
Before it's here, it's on the Bloomberg Terminal.
LEARN MORE