Maradona Says He's a Soldier for Venezuela Against Imperialists
Daniel Cancel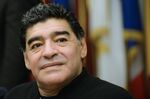 Argentine soccer icon Diego Maradona said he's willing to a be a soldier for Venezuela in its battle against "imperialist" attacks.
Protests over rampant crime, repression and President Nicolas Maduro's economic policies have led to the death of at least 10 people in Venezuela this month. Maradona, who was friends with former President Hugo Chavez, said he signed a contract to be a commentator for the World Cup for Venezuela's state-run television network, Telesur.
"We're seeing all the lies from the imperialists, and I'm willing to be a soldier for Venezuela for whatever is needed of me," Maradona said in a video posted on Telesur's website. "Chavez would have wanted this."
Maradona, who has received medical treatment in Cuba for substance abuse and counts Fidel Castro as a close friend, accompanied Chavez in 2005 in Mar del Plata, Argentina to protest former U.S. President George W. Bush's plans for a free-trade agreement in the Americas.
The 53-year-old Maradona, along with Brazil's Pele, is considered one of the greatest soccer players of all time. He led Argentina to a World Cup victory in 1986 while scoring with an infamous hand ball against England. In club play, he had his best years with Napoli in the Italian league.
Maduro, who won the Venezuelan presidency after Chavez died from an undisclosed form of cancer in March 2013, says the U.S. is behind destabilization efforts and is trying to orchestrate a coup through local opposition leaders.
The U.S. rejected the allegations. Maduro's government "ought to focus on the legitimate grievances of its people," release detained protesters and stop impeding journalists rather than focus on the U.S., White House spokesman Jay Carney told reporters in Washington today
"The truth is that these gentleman, if we can really call them that, disgust me," Maradona said. "I believe in Venezuela. Long live Maduro, and Chavez, from the heavens, is accompanying you."
Before it's here, it's on the Bloomberg Terminal.
LEARN MORE