Even $2.6 Trillion Can't Buy You Love in Japan
by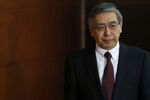 Your move, gentlemen. That's the message Bank of Japan Governor Haruhiko Kuroda tried to communicate this week to a Japanese political establishment that doesn't seem to be listening.
For 15 years now, a revolving door of prime ministers, finance officials and lawmakers have blamed Japan's central bank for all of the economy's woes. If only the BOJ did more, the thinking has long been, deflation would be history, Japanese companies would rule the world again, and living standards would skyrocket. This mindset informed Prime Minister Shinzo Abe's decision to hire Kuroda one year ago. Kuroda didn't disappoint, unleashing the very monetary shock-and-awe campaign Tokyo wanted. When he unveiled an unprecedented easing program last April, the BOJ pledged that the monetary base would rise to 270 trillion yen ($2.65 trillion) by the end of 2014.
Funny thing, though: All that cash hasn't solved Japan's problems. The virtuous cycle that aggressive BOJ policies were supposed to unleash still hasn't begun. A 20 percent drop in the yen isn't raising living standards, as hoped. Nor has it convinced companies to fatten paychecks. Whatever inflation Japan is feeling is the bad kind: Energy imports are boosting consumer prices and denting business and consumer confidence.
Instead, Kuroda's main achievement in his first year has been to settle a debate once and for all. Japan's big problem clearly isn't the amount of yen in the system but how it's used. Unless people borrow and banks lend, monetary policy lacks the multiplier effect that can revive economies. Besides, deflationary forces still abound -- from Japan's aging population to China's rising influence. Just as money can't buy you love, a wall of yen can't buy Japan prosperity. "Kurodanomics" just isn't enough.
That's why Kuroda pulled off a cagey move this week, turning the spotlight back on Abe. Sure, the BOJ governor tweaked some lending programs to give markets a sense he's not being complacent, and served up the usual central banker gibberish about striving for price stability. But the real takeaway from this week's BOJ policy meeting was that the prime minister needs to do his part. He must implement the structural reforms at the heart of his "Abenomics" program -- rewriting corporate taxes, lowering trade barriers, stimulating innovation, empowering women and opening the labor market. Otherwise, Japan's best chance in years to restore vibrant growth will likely fail like every other over try the last two decades.
The recent volatility in Japanese shares is a sign that investors share Kuroda's anxiety. Investors are caught between feeling conned by Abe's big talk and obligated to give his policy pledges more time. If Abe's team doesn't act soon, lots of the foreign capital that helped drive the Nikkei up by 57 percent last year will leave.
That's not to say Kuroda won't add even more yen to the economy by broadening his quantitative-easing program -- QEII, Japan-style. If Japanese shares continuegyrating and raising even more doubts about Abenomics, he may have no choice. But Kuroda clearly seems to letting Abe know that after 12 months of the BOJ doing all the heavily lifting, it's time the government did its part.
What's often forgotten about Japan is how the BOJ's zero-rate policies over the last 15 years enable the government. All that monetary largess deadens the urgency for politicians and bureaucrats to retool Japan's growth model, just as weaker yen takes the onus off companies to raise competitiveness. Kuroda probably senses free money isn't the answer; only a true shakeup of Japan Inc.'s fossilized ways will revive the economy. Your move, Abe-san.
(William Pesek is a Bloomberg View columnist. Follow him on Twitter at @williampesek)
To contact the author on this story:
Willie Pesek at wpesek@bloomberg.net
To contact the editor on this story:
Nisid Hajari at nhajari@bloomberg.net
Before it's here, it's on the Bloomberg Terminal.
LEARN MORE