Craft Sportswear Spills Its Speed-Skating-Suit Secrets
by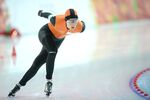 The key to great Olympic uniforms is in the ears. That is to say: The apparel-maker should listen closely to the athletes.
That's the main reason the speed-skating suits of Craft Sportswear, a tiny Swedish brand, have made it onto the podiums in Sochi, according to Chief Executive Officer Jonas Peterson.
In addition to the dominant Dutch speed-skaters, Craft outfitted a powerful contingent of cross-country skiers from Sweden, Finland, and Poland. The company's stretchy suits have been worn by 36 medalists so far—roughly 15 percent of the winners, to date.
Peterson, who just left the Games for sales meetings in Munich, took a few minutes to reflect on his company's David-and-Goliath-style Olympic success. By his estimates, being small and agile has been a major advantage.
"We are not a huge monster like the other brands where they just pass a bag to an athlete and say: 'Wear this,'" he says. "We are really in a very close relationship with them."
Peterson won't comment on the Under Armour apparel that caused such sturm und drang in the disappointing ranks of U.S. skaters, but he did discuss his company's approach to performance wear.
The Craft design team didn't worry much about ventilation in its skating suits, he says, because the events were relatively short. Cooling vents in Under Armour suits, by comparison, were said to fill up with air like parachutes. For cross-country skiing, Craft produced two different outfits of varying thicknesses so its athletes could choose which to wear, based on race-day temperatures.
Another factor in Craft's success is aerodynamics—not just how air flows around the fabric, but how the fabric keeps the athlete in an optimal, hunched-over position.
"It's much more stiff," Peterson says. "Standing straight up in that suit is almost impossible. That's why every time they finish and put their hands in the air—especially the Dutch skaters—they are unzipping."
It's worth noting that Craft has experienced its own wardrobe scares. Before the 2006 Games, it rushed extra gear to Torino when some athletes questioned its new designs.
"I know perfectly well how the people at Under Armour are feeling right now," Peterson says. "It's always a risk. You try to eliminate as much risk as possible by having a close relationship with the athletes."
Craft is expecting to gain many more of those relationships out of the Sochi Games. According to Peterson, the medal blitz is already paying off in sales meetings, and some Olympians have secretly started wearing Craft gear—with logos removed.
"We're obviously not going to be selling 2 million speed-skating suits, but the credibility of our brand is growing like crazy," he says.
The goal is to keep serving top athletes while building business from weekend warriors. Only about 5 percent of Craft sales, at the moment, come from the U.S. That said, it's tough to tell how much clout Craft can bring to the sportswear game. New Wave Group, the Swedish conglomerate that owns the brand, doesn't break out results.
Before it's here, it's on the Bloomberg Terminal.
LEARN MORE