Willow Garage's Last Days
An early Google backer pulls the plug on his influential robotics research lab
by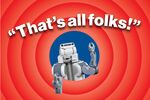 In 2006, Scott Hassan, a prolific software engineer, started a research lab dedicated to robotics called Willow Garage. Since then, he's funded the lab with about $20 million of his own money each year, hiring dozens of the world's leading robotics engineers and giving them almost total freedom to pursue their often off-the-wall ideas. Willow Garage developed an operating system that's become the standard software for most of the robotics industry. It also begat several startups that have been bought by tech companies including Google.
But any discussion of Willow Garage must now take place in the past tense. In January, Willow transferred the support duties for its robots to another company and Hassan began to devote all of his time to running Suitable Technologies, a company he started and one of Willow Garage's many offshoots. Researchers at the lab who hadn't already left for startups have been looking for jobs across the tech industry. (A small crew remains to sell off the robots Willow had built.)
The demise of Willow Garage closes an unusual chapter in Silicon Valley's history: It was the rare privately funded research lab that actually did big things. For seven years, Willow Garage was a hotbed of robotics research, a place where academics and engineers came together to begin thinking about real-world applications for autonomous machines, including humanoid robots. "Willow Garage, albeit short-lived, was a unique company and a major catalyst for the field of robotics," says Ken Goldberg, director of the University of California at Berkeley's Laboratory for Automation Science and Engineering. While it was by no means the first place to design robots, Willow Garage achieved what many predecessors failed to do when it built accessible versions of robotics software and hardware that could work together. Ultimately, though, it couldn't survive its own disruptive model or its founder's whims to spin out the best ideas as separate ventures.
Hassan studied computer science as an undergraduate at the State University of New York at Buffalo. He pursued a master's in computer science at Washington University in St. Louis and at Stanford University without ever completing his degree. At Stanford he ended up working with Google co-founders Larry Page and Sergey Brin and wrote a lot of Google's original code. He also built software that let people create and manage electronic mailing lists, a project he sold as eGroups.com to Yahoo! for $413 million in 2000. Hassan invested some of that money into Google, allowing Page and Brin to limit the funding they took from venture capitalists and maintain large stakes in their fledgling search engine. Page and Brin rewarded Hassan with shares of Google, which made him very wealthy when the company went public in 2004. (Hassan, who rarely does interviews, did not respond to requests for this article.)
At first, Hassan wasn't sure what to do with his fortune. He snagged some prime office space in Menlo Park, Calif., and began courting clever people to do something, anything, so long as it was groundbreaking. "My job was to fill the building with interesting stuff," says Steve Cousins, a former researcher at IBM and Xerox PARC whom Hassan hired as Willow's CEO. "We came up with this mantra: 'Impact first and return on capital second.' "
One of the lab's priorities was to develop open-source software called robot operating system, or ROS, that could control the basic functions of a robot. ROS's open-source nature appealed to engineers who could tinker with the code, allowing them to make rapid advancements by building off one another's work. Not everyone loved ROS. Colin Angle, co-founder and CEO of IRobot, was particularly critical, arguing that open-source robotics software would let other countries piggyback off potentially blockbuster intellectual property. But ROS quickly became the standard operating system for robots of all kinds, spreading not just to other robotics companies but to robotics graduate research departments. Willow Garage interns would take versions of ROS back to school and share them with fellow robotics geeks. "They became like little disease vectors infecting their labs with the software," says Cousins. Dozens of robots now run on ROS, including Baxter, a machine meant to handle repetitive tasks that Rethink Robotics, a Boston-based robot manufacturer, began selling in 2012.
The other main project at Willow was the PR2, a humanoid robot with arms and a head. Despite costing about $400,000 each, a dozen PR2s were given away by Willow Garage to researchers who came up with interesting ways to use them. By sharing its software and hardware, the lab was essentially laying the groundwork for robotics research so that others could build on it, rather than have to repeat it. "Willow's mission was more to build an ecosystem for robotics than to pump out products," says Dmitry Berenson, a robotics professor at Worcester Polytechnic Institute.
If engineers weren't working on the ROS or PR2, they were delving into areas such as improving robots' vision or sense of touch. (The coddled staffers were treated to free gourmet meals and could be found eating rack of elk next to a robot folding laundry.) As ideas cropped up, Hassan began funding some of the best as separate companies. "Eventually, the floodgates opened, and a lot of people got the startup bug," says Cousins.

Hassan began spending more of his time on a roving videoconferencing system that resembles a remote-controlled iPad on wheels. Employees can use the device to roll into meetings when they're out of the office or cruise over to a co-worker's desk for a chat. Hassan took about 10 people with him to start Suitable Technologies, which last year began selling the video system as a product called Beam. "When all those good people left, it was emotional for the rest of us," says Cousins. "It was like, 'What will we do now?' " He left in 2013 to found his own robotics company, Savioke.
Google has emerged as the inheritor of the Willow Garage legacy and employs many of its former engineers. Of the eight startups and foundations that spun out of the lab, Google now owns two: Industrial Perception and Redwood Robotics. "It isn't your typical Silicon Valley success story," says Cousins. "But we wanted to seed an industry and have an impact on the robotics world, and I think we did that."
Before it's here, it's on the Bloomberg Terminal.
LEARN MORE