Obamacare's Arm's-Length Allies: H&R Block and Jackson Hewitt
H&R Block, Liberty, and Jackson Hewitt let customers sign up
By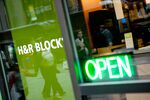 Tax-preparation services are turning out to be a great help to the Obama administration in its efforts to sign up uninsured Americans for coverage under the Affordable Care Act. Customers who come into H&R Block, Liberty Tax Service, and Jackson Hewitt offices to file their returns are asked if they'd like to take a few minutes to see if they qualify for Obamacare. Intuit's TurboTax and other online tax-prep services have also gotten in on the act.
What's interesting is that the federal government has nothing to do with this. The companies are doing it on their own—and promoting it as a customer service. "We haven't really consulted with the Department of Health and Human Services," says Mark Ciaramitaro, H&R Block's vice president for health services. "We came to this conclusion ourselves based on our clients' stated needs."
The tax preparers don't take sides on whether the Affordable Care Act is a good or bad law. "Our role in this is pretty simple," says Brian Haile, senior vice president for health policy at Jackson Hewitt. "If you don't like Obamacare, we understand, but it's part of the tax code. There are tax consequences for those choices, and we want to make sure you understand what those consequences are."
A lot of customers who'd like to get covered are daunted by the paperwork. Haile says he learned from an earlier job as the Medicaid eligibility chief for Washington, D.C., that people were more likely to enroll if the application was combined with the one for food stamps, since putting food on the table is an urgent priority. Coupling Obamacare with the paperwork for a tax refund works the same way.

Another incentive: the larger-than-expected fines for ignoring the law. Because Obamacare is so complicated—and the government has done such a poor job of explaining it—many Americans think the tax penalty for failing to sign up for coverage in tax year 2014 is only $95. For most families, however, it's either $95 or 1 percent of their income above $20,000, whichever is greater. So a couple with an income of $50,000 would have to pay $300.
For those who decide to give Obamacare a whirl, things move quickly because most of the necessary information is already on their tax forms. Haile says his goal is to have the insurance application process take 5 minutes to 6 minutes. Now the free service averages 6.1. Documents are filled out electronically, then submitted on paper.
Jackson Hewitt's Haile and H&R Block's Ciaramitaro say the rate of sign-ups has been building steadily, although for competitive reasons none of the firms will disclose how many customers have taken advantage of the service. Ciaramitaro says he doubts H&R Block's numbers will be big enough to make a "material" contribution to the 6 million people the Congressional Budget Office expects to sign up by March 31. "That's not the number we care about," he says. "It's whether we can help one of our clients." Stan Dorn, a senior fellow at the Urban Institute think tank in Washington who has studied the issue, says, "My guess is certainly tens of thousands, maybe hundreds of thousands" of people have signed up this year with the help of tax-prep firms.
On Feb. 18 the Urban Institute released a study conducted with the Robert Wood Johnson Foundation called Tax Preparers Could Help Most Uninsured Get Covered. It found that three-quarters of people who qualify for subsidies under Obamacare file federal income tax returns—and most use one of the big tax-prep firms. That makes them an ideal target audience. Dorn says Jackson Hewitt goes the furthest in helping people fill out forms, not just directing them to other sites. "If at any point in the process you rely on the client to take the initiative," he says, "they're not going to follow through."
BOTTOM LINE -
The bottom line: Jackson Hewitt signs people up for health coverage in six minutes—much faster than still-buggy Obamacare websites.
Before it's here, it's on the Bloomberg Terminal.
LEARN MORE