The Markets Go Mad for Obamacare
The markets go mad for Obamacare
By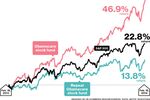 Although President Obama signed the Affordable Care Act into law almost four years ago, much of Washington still treats the fate of his signature legislation as an open question. Last fall's government shutdown was a Republican attempt to stop the law before federal exchanges began signing up customers. Even as the number of enrollees climbs into the millions, conservatives continue to insist that Obamacare will collapse. Lately, Republicans have rallied around Florida Senator Marco Rubio's proposal to sabotage the law by abolishing "risk corridors," a provision that induces insurance companies to participate in the exchanges by limiting their financial risk. (Rubio casts this as a taxpayer-funded "bailout.")
A new online broker, Motif Investing, is offering Obamacare's friends and foes alike a chance to put their money where their mouth is. Co-founded by a former Microsoft executive, Hardeep Walia, and backed by Goldman Sachs and other investors, Motif allows customers to bet on narrowly tailored concepts. "A lot of people think conceptually about investing," he says. "We take ideas and translate them to what we call a 'motif'—an intelligently weighted basket of up to 30 stocks, built around an idea that people can understand." Examples of these baskets include Chinese solar, 3D printing, and "caffeine fix"—an assortment of coffee, soda, and energy drink companies.
Two of the hottest motifs right now are Obamacare and repeal Obamacare, Walia says. They represent, respectively, the idea that the law will succeed and that it will fail. The Obamacare motif is made up of hospitals, generic-drug makers, pharmacy-benefit managers, and companies specializing in electronic medical records, all of which stand to gain from the Affordable Care Act's emphasis on cost control and its guarantee of payment. "Before the law, 30 percent of hospitals' revenue was unbilled because you could walk into an ER and not pay," Walia says. "They're now paid by the U.S. government." The Obamacare motif is up 46.9 percent in the past year, doubling the performance of the Standard & Poor's 500-stock index (up 22.8 percent).
Repeal Obamacare is composed of companies that would benefit from the law's demise, mainly medical device manufacturers, which the ACA saddles with a 2.3 percent excise tax; assisted-living and home health-care providers, which will suffer from reduced Medicare and Medicaid reimbursement rates; and medical diagnostics equipment and services providers, which may encounter reduced demand as a result of the law's efforts to curb unnecessary testing. The repeal Obamacare motif has risen just 13.8 percent in the past year.
What's most striking isn't the performance of the two funds, but where investors are choosing to place their money. "We don't have convictions or views on the law itself," says Walia. "We give you both sides of the equation." But one is clearly more popular: He says Motif investors have bet 45 times more money on Obamacare's success than on its failure.
This trend reflects the beliefs of the investment community, where—unlike in Washington—the permanence of the health-care law is taken for granted and the prospect of repeal is given practically no credence. "Investors can't imagine a scenario where the changes the Affordable Care Act started will be repealed and taken away," says Bob Kocher, a partner specializing in health care and IT at the venture capital firm Venrock. "There's a ton of money flowing into things that help health-care [companies] take advantage of the insurance market changes, the coverage expansion, the payment model changes, and the data liberation that are derivative of the law."
Since the U.S. Supreme Court upheld the law's constitutionality in June 2012, investment in the health-care sector has soared. According to a study by Bloomberg analyst Eric Balchunas, exchange-traded funds focused on health care have seen their assets more than double, to $16 billion from $7 billion. All 17 of the health-care sector ETFs have grown, and nine have doubled in that period. "It's impossible to know how much of that money is purely to position for Obamacare vs. investors just being bullish on other health-care trends," Balchunas says. "But clearly Obamacare has provided a major catalyst to the investment case for this red-hot sector."
The bullish sentiment isn't universal. On Jan. 23, Moody's lowered its outlook to negative for U.S. health insurers, blaming the Affordable Care Act's rollout problems. In a release, the company cited "uncertainty over the demographics of those enrolling in individual products through the exchanges," particularly the lower-than-anticipated percentage of young people who have so far signed up.

"That was like a press release made for Fox News," says Dan Mendelson, chief executive officer of Avalere Health, a Washington consulting firm, who argues that Obamacare's rocky start won't have much impact on large insurers. "The exchanges are a very small portion of the overall income of public insurance companies," he says. A week after the Moody's downgrade, WellPoint CEO Joseph Swedish told analysts that the exchanges' early stumbles hadn't affected profit estimates.
Mendelson points out that the Affordable Care Act had begun to transform the health-care sector long before the exchanges opened for business. The focus on quality of care, the incentives for hospitals to reduce readmission rates, and the move toward high-deductible plans are just some of the industry changes prompted by the law that Mendelson says will endure. "You can't go back and undo all the managed-care mergers that resulted from this law," he says.
Private equity firms have also made major bets on the success of the health-care law. Welsh, Carson, Anderson & Stowe is lead investor in NaviHealth, a Tennessee startup headed by Tom Scully, a Welsh Carson partner and former administrator of the Centers for Medicare and Medicaid Services under George H.W. Bush. NaviHealth works with insurers to manage patients' recovery when they're discharged from medical facilities after surgery—a service rewarded by the health-care law. "There's a very strong level of interest by private equity companies and a good level of understanding of what the law is doing," says Mendelson. "Most investors rationally and correctly assume this law has changed the health-care landscape and see this as a step along the evolutionary scale."
There are signs that Obamacare denialists are reconciling themselves to the changes the Affordable Care Act has brought about. On Jan. 27, Senators Richard Burr, Tom Coburn, and Orrin Hatch released an outline of a Republican health-care plan, the Patient Choice, Affordability, Responsibility, and Empowerment (CARE) Act. Bowing to conservative politics, the bill would repeal Obamacare—but then it would restore many of that law's most popular features, including allowing children up to age 26 to stay on their parents' plan and forbidding insurers from discrimination against patients with preexisting conditions. Now that Obamacare has taken hold, and taken off, even its most vocal detractors are trying to buy in.
BOTTOM LINE -
The bottom line: An online broker offers funds that let investors put money in companies that have a stake in the future of Obamacare.
Before it's here, it's on the Bloomberg Terminal.
LEARN MORE