Ikea Furniture Spawns Accessory Ecosystem Like Apple's
Furniture upstarts profit from extras for bedrooms and kitchens
by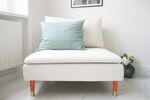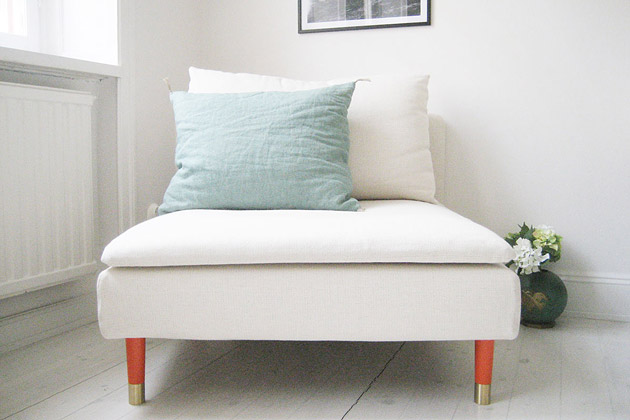 At Ikea, you can fill your house to Scandinavian perfection with 9,000-plus products that fit almost every budget. What you won't find: anything your neighbor hasn't already seen.
For shoppers with extra cash and a desire to stand out, growing numbers of entrepreneurs are offering add-ons to gussy up Ikea's ubiquitous offerings. Their creations range from $989 slipcovers for Ektorp sofas—twice the price of the couch itself—to $17 screw-on feet that transform a winged chair from midcentury throwback to hipster chic. "Our goal is not to compete with Ikea on price," says Lesley Pennington, founder of Bemz, a Stockholm company that sells coverings for Ikea couches, chairs, and beds in 35 countries. "Our goal is to offer an individual, unique product for a mass-market product like an Ikea sofa."
Just as Apple's iPods and iPads have created an ecosystem of companies that make docks, headphones, and apps, Ikea is giving rise to scrappy upstarts aiming to piggyback on its success. The world's largest furniture retailer says the design, manufacture, and sale of its goods accounts for some 2.7 million jobs worldwide. Faced with such a dominant player, it can make more sense for newcomers to dress up Ikea products than to make actual furniture that competes with it. For buyers who yearn for sophistication but are hooked on $249 sofas, these entrepreneurs offer a bit of originality without breaking the bank. For Ikea, the trend helps drive sales and loyalty among customers. "It's likely only with very strong brands this can happen," says Lena Larsson, head of HUI Research, a retail consultant in Stockholm. "Other companies are riding on the strong brand whose image is, so to speak, spilling over to them."
Pennington, who started Bemz a decade ago, was inspired by the time she spent working at Apple, where she helped create a panoply of extras around the company's products. She says Bemz's revenue last year increased about 20 percent, to $8 million. At least a dozen other companies are similarly tying their fortunes to Ikea. In Sweden, Prettypegs sells legs for Ikea couches and chairs, and Superfront makes facings and tops for Ikea cabinets. Amsterdam-based Mykea sells stickers for customizing Ikea furniture. In Melbourne, Comfort Works will make slipcovers of your designs and fit them to Ikea chairs and sofas. Ikea spokeswoman Ylva Magnusson says that although the trend raises some concerns about safety and product integrity, the company is pleased that others are promoting its wares.

Despite Ikea's global following, it has plenty of detractors who dread visits to its crowded, labyrinthine stores and grind their teeth over missing parts and cryptic instructions for its self-assembly products. Some of those doubters have been won over by the makers of add-ons. "The only reason why we bought an Ikea couch" was that it could be fitted with legs from Prettypegs, Katrina Ewers Bjerre wrote on her Facebook page in January. "And our dog Grace is happy with her new couch."
Ikea's business is built around the idea of buying and transporting products in bulk and using its size to keep costs down. So it makes little sense to offer hundreds of textile choices for sofa covers, the way Bemz does. "People want to put their personal stamp in a simple way," says Prettypegs co-founder Jana Cagin, who started the company with her fiancé in 2012 after she found Ikea's sofas stylish but the legs too standardized.
With Ikea releasing 2,000 new products a year and aiming to double sales to €50 billion ($68.5 billion) by 2020, the upstarts are counting on a growing customer base. "People who may not even open the Ikea catalog really want our products," says Sander Aarts, a furniture craftsman and co-founder of Superfront, which boasts 10,000 ways to modify Ikea's Metod kitchens, Pax wardrobes, and Bestå sideboards. He says Superfront, which started a year ago, made a profit in its second month of business and now ships to eight countries. "There are people coming in every day," he says while showing off his Ikea kitchen adaptations at Superfront's showroom in central Stockholm, "wondering why they didn't come up with this themselves."
Before it's here, it's on the Bloomberg Terminal.
LEARN MORE