Your Boeing 747 Needs a Personal Elevator
Jetways? Privately owned widebodies may get their own lifts
By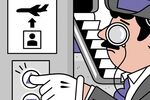 Anyone who can afford to purchase a personal luxury jumbo jet shouldn't have to climb steps to board his $500 million plaything. At least that's the pitch from Greenpoint Technologies, which is developing a personal elevator that descends from the belly of a customized Boeing 747-8 to whisk presidents, princes, and tycoons from the tarmac to the plane's main deck.
Greenpoint's Aerolift is aimed at customers who are spending up to $250 million to outfit one of Boeing's iconic humpbacked, four-engine aircraft with wood paneling, bedroom suites, and home theaters. That's on top of the $356.9 million list price for the unmodified 747. There's a "cool factor of pulling up to my 747, and out pops an elevator," says Bret Neely, vice president of sales for Kirkland (Wash.)-based Greenpoint, which creates custom interiors for Boeing's VIP jets. "We're trying to sell prestige here as well."
There is a practical side to the four-person elevator, whose design Greenpoint patented in January: It spares infirm and security-conscious passengers from trudging up a steep flight of rolling stairs, Neely says. VIP aircraft tend to park away from the jet bridges at airport terminals. Greenpoint developed the device at the request of a wheelchair-bound customer shopping for a 747-8 who previously was forced to perch precariously atop forklifts and catering trucks to board smaller jets.
Neely isn't discussing pricing, citing confidentiality agreements with Boeing and buyers. Christine Hadley, Greenpoint's senior manager for marketing, would say only that the total cost to install an Aerolift would run in the "tens of millions of dollars."
A belly-mounted elevator seems a natural fit for the "small but very profitable market" of high-end private jets, says Richard Aboulafia, an analyst at aerospace consultant Teal Group. "One of the missing pieces in making jet travel luxurious is that interface between terminal and airplane."
A decade ago, an elevator would have been too heavy. That barrier fell, thanks to new, lightweight composite materials. Working with Boeing, Greenpoint found the one place on a jumbo's underbelly where it could install the device without disturbing flight controls, fuel systems, and landing gear.
The elevators are designed solely for the latest 747 model, the 747-8, and not Airbus's rival A380 superjumbo. Since 2011, Boeing has delivered eight VIP versions of the 747-8 to completion centers such as Greenpoint for extensive makeovers of cabin interiors that take two years, says Karen Crabtree, a spokeswoman for the planemaker. The posh add-ons can include granite kitchens and even fireplaces. The first of those ultraluxe jumbos is to be handed over to customers this year. Private use by the wealthy wasn't the intended mission for the plane, which typically carries 467 passengers. But sales of Boeing's largest aircraft remain stalled, so anything that spurs demand is helpful, Aboulafia says: "With the 747-8, every plane counts."
So far, Greenpoint has one elevator customer; it needs another to make a product launch financially feasible. "We have a couple of customers that are looking at purchasing 747-8s and want the Aerolift on board their aircraft," Neely says. "If that occurs, we'll go forward."
Before it's here, it's on the Bloomberg Terminal.
LEARN MORE