Comcast's Ambitions Go Beyond Cable—to Digital
Ruling cable is only part of Comcast CEO Brian Roberts's broader plan to engineer a digital future
By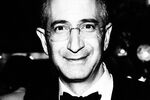 Ever since Feb. 13, when Comcast announced its agreement to buy Time Warner Cable for $45 billion, consumer advocates have been gnashing their teeth over what they see as the horrifying prospect of the country's two largest—and least beloved—cable-TV providers joining forces. The resulting Internet and TV colossus will stifle competition, they warn, leading to less choice and higher bills for consumers. "No one woke up this morning wishing their cable company was bigger or had more control over what they watch and how they get online," Craig Aaron, president of Free Press, a consumer advocacy group, said in a statement.
Comcast Chief Executive Officer Brian Roberts just might agree. That could explain why, in recent years, Roberts has been aggressively pushing Comcast to evolve into something far more than a cable company. While the sheer heft of the Time Warner Cable acquisition has commanded headlines, what's really emerged under Roberts's choreography is a three-headed omnivore: one part cable-TV distributor, one part mass content creator, and one part high-speed Internet provider. Roberts has said in the past that a radical transformation is about to sweep over the television industry. And evidence continues to mount that he's remaking Comcast to profit from the coming disruption however the future of TV ultimately shakes out.
"Our company wants to evolve and help lead the change," Roberts said during an investor call announcing the Time Warner Cable deal. "I think we're uniquely in a position to do that."
James McQuivey, a vice president and principal analyst at Forrester Research, argued in a Web video after the deal's announcement that the acquisition signals Comcast's broader intention to leave behind "the safe confines of the cable business" and make the leap into something bigger. McQuivey says Comcast is aiming to become what he calls a global "digital platform." By that he means an online video distributor capable of delivering a diverse menu of live and on-demand programming choices across multiple devices such as TVs, tablets, and mobile phones to consumers around the world.
Some industry observers say Comcast is already well-positioned to achieve that. Rich Greenfield, an analyst at trading firm BTIG, noted in a recent report that Comcast could soon roll out a digital multichannel video platform of its own, targeting consumers "in markets outside Comcast's newly enlarged footprint."
The transformation, McQuivey predicts, will put Comcast on a collision course with Google, Apple, Facebook, Microsoft, Amazon.com, and Verizon Communications, which have similar ambitions. McQuivey cautions that even after subsuming Time Warner Cable, Comcast might still be too small to win the coming contest for digital distribution dominance. It's "a huge shift," McQuivey says, "and one that Comcast has to bet the farm on."
Roberts's Time Warner Cable buyout comes three years after his company spent $13.75 billion to purchase a controlling stake in NBCUniversal from General Electric. Last year, Comcast paid $16.7 billion to acquire the rest of the entertainment giant. If the new deal wins regulatory approval, the resulting company will have enormous strengths, especially in traditional distribution, delivering cable TV to nearly 30 percent of all U.S. households that pay for TV. "The combination gives us exposures to 19 of the top 20 markets and 43 of the top 50," Roberts told investors.
But the expanded company will also be a major provider of original programming, via its array of TV networks, which include NBC, USA, Syfy, Telemundo, E!, and MSNBC. And finally, Comcast will be a huge seller of high-speed Internet access, providing broadband services to roughly 38 percent of the U.S. domestic market, according to the New York Times.
In the short term, Comcast's role as a top provider of broadband services should insulate it from one of the chief problems facing the traditional pay-TV industry: so-called cord cutters. That small but growing segment of consumers eschews traditional cable- or satellite-TV packages in favor of cobbling together home entertainment from various sources delivered over the Internet, such as Netflix, Hulu, and Aereo. To enjoy these new options, cord cutters still need a high-speed Internet connection. So no matter what digital services consumers flock to in the years ahead, Comcast will likely still be there to collect big monthly fees from a large proportion of them.
The broadband fees, in turn, should provide Comcast with a reliable fountain of funds to invest in developing a next-generation digital platform to compete with the likes of Google and Apple. "The cash flow gives them time to transition, as the core legacy business goes down," says Ken Doctor, an industry analyst with Outsell. "The money gives them the potential of buying the companies that could be competitive with them or buying businesses that could give them key technology."

In 2012, Comcast teamed up with Verizon to work on an advanced digital entertainment delivery system. The product never made it to market. Last year, Verizon backed out of the partnership; in January it then announced it was buying Intel's experimental streaming TV service, OnCue Cloud TV. That could set the stage for Verizon to unveil a national Internet-TV service that would compete with today's cable-TV providers, including Comcast.
If Comcast develops a new Internet-TV platform, analysts say, it would likely be based on the company's existing Xfinity brand. Comcast currently offers its cable-TV subscribers set-top boxes that run on the company's proprietary operating system called the X1 Platform, which delivers content via the cloud rather than the traditional hard drives still used elsewhere in the industry. Not long ago, Comcast rolled out a mobile app called Xfinity TV Go, which allows users to stream dozens of channels inside and outside the home on their mobile devices. In 2012, Comcast launched Xfinity Streampix, a streaming on-demand video service, available for free to some cable-TV subscribers and for $4.99 a month to anybody else with an Internet connection.
Over the past year the company has been expanding its on-demand catalog of TV shows and movies. With its sizable margins—in 2013, Comcast earned $21.4 billion before interest, taxes, depreciation, and amortization on sales of $64.6 billion—the company has plenty of cash to build a more robust arsenal of on-demand programming. "The better Comcast does in advancing this aim, the more potential competition there is for subscription video-on-demand players such as Netflix, Hulu, and Amazon Prime," says Michael Nathanson, an analyst at MoffettNathanson.
To start a multichannel Internet-TV platform, Comcast would still need to hammer out carriage agreements with other powerful content providers such as Walt Disney, 21st Century Fox, and Viacom. But by adding Time Warner Cable's 11 million subscribers, Comcast could increase its leverage in negotiations with those companies over programming fees for traditional cable distribution. Presumably, that leverage would then carry over to an Internet-TV platform, letting Comcast enter the market with a price advantage over whatever rivals initially emerge.
Still, to succeed as a global digital platform, Doctor says, Comcast must do a much better job of pleasing its customers. According to the American Customer Satisfaction Index, Comcast and Time Warner Cable are the two worst-ranked companies for customer satisfaction in the cable business. Doctor says the other challenge will be to improve the development of its products, such as the user interface of its Xfinity services. It's a problem the company already seems keen to address. Comcast's executives say the company now has more than 1,000 engineers working on software improvements for X1. "They've got it right, directionally, which is all-access, on-demand," Doctor says. "They're ahead of Verizon and AT&T. But I use Xfinity. It's still very clunky." For now, at least.
Before it's here, it's on the Bloomberg Terminal.
LEARN MORE