Cambodian Garment Workers, Bloodied in Crackdown, Continue Wage Struggle
Christina Larson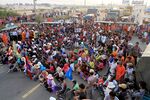 Just over a month after a brutal police crackdown on striking Cambodian garment workers left at least five people dead, the country's unions are calling for another strike in March, increasing the likelihood of further violence.
At issue is the still-unresolved question of the workers' minimum monthly wage. Roughly 700,000 workers, a majority of them young women from Cambodia's countryside, stitch clothes and shoes in Cambodia's fast-growing garment sector. The $100 minimum monthly wage proposed by the Ministry of Labor represents an increase of $20 above the wage level in 2013 but falls short of the $160 sought by the unions.
The minimum wage has not kept pace with Cambodia's steep inflation since 2000, according to independent economist Kem Ley, who formerly worked with the United Nations Development Program, and sharp wage hikes would be required to catch up. The Garment Manufacturers Association of Cambodia (GMAC), which represents factory owners, maintains that money isn't available to pay for hefty wage increases without accompanying layoffs.
Representatives from major fashion brands that source products from Cambodia, including H&M and Gap, met in Phnom Penh on Wednesday with the country's commerce and labor minister to express their concerns. "We can see frequent industrial conflicts coming here. For H&M to continue to develop in Cambodia … we need stability, we need healthy industrial relations, a functioning wage mechanism, and strong partnerships with all suppliers," an H&M representative told Cambodia Daily. "We need a sourcing country that is predictable [and] stable."
As factory wages have risen in southern China—the minimum monthly wage in Shenzhen has doubled since 2008, to $295—international brands have increasingly sought to contain labor costs by moving manufacturing operations to other Asian nations where wages are lower. But workers' expectations rise quickly, and unmet expectations lead to unrest. Last year Cambodia's garment factories suffered 131 strikes, the highest number since GMAC started keeping records.
The Cambodian military police conducted a violent crackdown on striking workers in early January, solving no underlying problems while prompting a lot of questions. "The challenge we've got as a global company at Gap is that, like some of the other buyers, we have customers around the globe who ask questions [about] where we're producing and how we're producing," a Gap representative said at the meeting on Wednesday. Unfortunately, while the questions are obvious, the solutions aren't.
Before it's here, it's on the Bloomberg Terminal.
LEARN MORE