Parents in Baton Rouge Try to Drop Out of School
Affluent residents want to form their own town and school district
By
Like many middle-class parents in East Baton Rouge Parish, La., Carla Miller sends her two children to a private high school. She'd like them to go to the public schools in Baton Rouge, but she won't send them because of the violence, low attendance, and less-rigorous classes. Spots in the well-regarded magnet programs are hard to get. Miller says that wouldn't be the case if the property taxes she pays stayed in her neighborhood instead of helping to subsidize underperforming schools in other areas. "We are tired of basically being a cash cow for the rest of the parish," she said in an e-mail.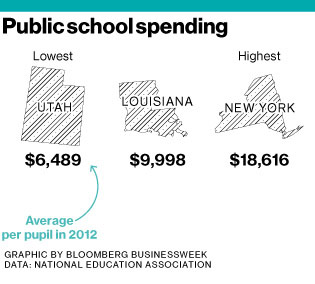 Miller is one of thousands of residents from the mostly white, southern part of the parish who support Local Schools for Local Children, a group that wants to pull out of the 42,000-student school district they share with mostly black neighborhoods nearby, where many families live in poverty. The group's members are gathering signatures for a ballot measure that will decide whether to create a city, called St. George, which they say is the first step toward forming their own schools funded with property taxes from their homes. "If the school system had improved over the last 20 years, with the never-ending bond issues we have been paying, instead of further deteriorating, this would never have been an issue," Miller said.
Six out of 10 students in the East Baton Rouge district attended a school the state identified as failing or almost failing in the 2011-12 school year, and the dropout rate was 20 percent, according to Baton Rouge Area Chamber, a business group. Families looking to pull out of the district point to those numbers to explain why they're frustrated. But other parents with children in these schools fear that splitting up the district will leave it in even worse shape. "It's going to devastate us," says Tania Nyman, who has two elementary-age children in Baton Rouge magnet schools. "They're not only going to take the richer white kids out of the district, they are going to take their money out of it."
A December report by three Louisiana State University economists found that per-pupil spending in the schools left after a breakup would drop to $8,870 from $9,635, a painful cut in a district where 82 percent of students are poor enough to qualify for free or subsidized school meals. In the breakaway district, spending would rise to $11,686 per student. "Every affluent community in the state will want to create their own little school system," says Carnell Washington, president of the East Baton Rouge Federation of Teachers. "They are taking money away that would help the entire school system and the entire city."
Local Schools for Local Children says it's collected 10,000 of the 20,000 signatures it needs to get its measure on the ballot. If it's approved, Baton Rouge would follow other cities in the South where wealthy areas have seceded from the public schools. In Alabama, which makes it relatively easy to create districts, two Birmingham suburbs have left the countywide system in the past two years. After the majority-black Memphis schools merged last year with the majority-white county district, Tennessee's Republican-dominated legislature lifted a decades-old ban on creating new systems, and six suburbs seceded, approving sales tax increases to pay for their schools. Parent groups in Atlanta and Dallas are considering similar proposals.
Carving out such districts would have been difficult 20 years ago, when federal court orders imposing desegregation were in place across the South. About half of the almost 500 districts under desegregation orders in 1990 were released by 2009, including Baton Rouge's, according to a Stanford University study.
Supporters of the separate school system in Baton Rouge twice failed to get the Louisiana legislature to take up the question. So last year they started working to form a city, saying it would better their chances. "In order for young families with children to stay in this area, the public school system needs to improve," says Philip Dold, a pipeline operator with two toddlers who supports the new district. Together with his wife's salary as a nurse, he says the family earns $80,000 to $100,000 a year. "We love south Baton Rouge and want to stay and raise our children here, but private school tuition would be a huge part of our budget," he says. "I'm not racist, or rich. I'm just a concerned parent."
BOTTOM LINE -
The bottom line: Spending in a breakaway Baton Rouge district would rise to $11,686 per pupil—and drop to $8,870 in schools left behind.
Before it's here, it's on the Bloomberg Terminal.
LEARN MORE