China Tackles $1 Trillion Data Gap as Xi Changes Metrics
Bloomberg News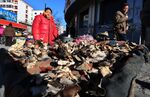 The gap in reported economic output between China's provinces and national statistics narrowed for the first time in six years as Communist Party leaders vowed to reduce the focus on growth in evaluating local officials.
The combined nominal economic output of the 31 provinces expanded about 9.2 percent in 2013 to 62.9 trillion yuan ($10.4 trillion), according to data reported by local governments since December and compiled by Bloomberg News. That exceeded the national figure by 6.06 trillion yuan, or 10.7 percent, after an 11 percent margin in 2012.
The data suggest regional officials are heeding directives from President Xi Jinping and his team to shift their attention toward more sustainable expansion, including reducing debt and pollution. Still, the excess of the provincial total over the national figure remains more than the size of Indonesia's economy, pointing to the room for further improvements.
"Regional authorities are showing more realistic data," said Dariusz Kowalczyk, senior economist and strategist at Credit Agricole CIB in Hong Kong. The numbers "may reflect the change in emphasis in assessment of regional authorities away from growth towards other factors, which reduced the incentive for them to inflate the numbers."
It's the first time since 2007 that the combined provincial figures have shown a slower nominal growth rate than the central government's data. Last year's 9.2 percent expansion compares with 9.5 percent in country-wide figures from the National Bureau of Statistics, while the 10.6 percent increase in provincial output in 2012 exceeded the 9.8 percent seen in NBS numbers.
Inflation Adjustment
The last time regional growth was slower than national figures, China's inflation-adjusted expansion subsequently slowed to 9.6 percent in 2008 from 14.2 percent in 2007.
The statistics bureau said last month that China's economy grew 7.7 percent last year on an inflation-adjusted basis, the same pace as in 2012. The government doesn't disclose the GDP deflator it uses to calculate the expansion number. Neither central authorities nor provinces provide estimates of the level of real, or inflation-adjusted, GDP.
The disparity between the combined provincial figures and the national number has been due partly to double counting of items and the statistics bureau was trying to correct the issue, Ma Jiantang, head of the agency, said in 2012. The NBS didn't immediately respond to a faxed request for comment yesterday. The provincial economic numbers were reported on government websites and local media.
Data Quality
One possible explanation for the narrowing disparity is that the quality of the provincial growth data improved in the eyes of the NBS, which usually adjusts the regional data to compile the national figures, said Louis Kuijs, chief China economist at Royal Bank of Scotland Group Plc in Hong Kong.
This could have been the case if incentives for provinces to inflate or exaggerate their numbers have weakened, said Kuijs, a former economist at the World Bank in Beijing.
China's leaders are trying to change a system where growth was traditionally as the quickest path to promotion. Local-government borrowing will used as an "important indicator" for regional officials' performance reviews and people should be punished for decisions that "result in huge losses to the country," waste resources or cause ecological damage, the Xinhua News Agency reported in December, citing the Communist Party's Organization Department.
New Credit
National data over the past week showed that new credit, exports and imports exceeded analysts' estimates in January, offering support to the world's second-largest economy. Non-financial foreign direct investment in China rose 16.1 percent in January from a year earlier, the biggest gain since July, Ministry of Commerce data showed today.
China has set a target of 9.5 percent for 2014 growth in industrial production, the Ministry of Industry and Information Technology said today in Beijing, down from a 10 percent goal for 2013. The government is targeting export growth of about 7.5 percent in 2014, setting sights lower than the 2013 pace according to three people with direct knowledge of the matter, Bloomberg News reported last week.
The government targeted 7.5 percent growth in real GDP last year and normally provides the current year's goal at the annual meeting of the National People's Congress, which begins March 5. Analysts surveyed by Bloomberg News in January project growth of 7.4 percent, based on the median estimate.
Growth Targets
About two-thirds of China's provinces have already set real-GDP expansion targets for this year that are lower than 2013's goals, based on reports compiled by Bloomberg. Inner Mongolia set a 2014 target of 9 percent growth, compared with 2013's 12 percent goal.
While almost all provinces reported real growth rates at or above the national 7.7 percent figure, almost half indicated nominal growth below the national 9.5 percent rate. Expansion ranged as low as 4 percent in Shanxi province, which reported a 9 percent increase in real output.
Ding Shuang, senior China economist at Citigroup Inc. in Hong Kong, said he visited several cities last year including Changsha, the capital of southern Hunan province, where the economy appeared to be slowing more sharply than the nation as a whole. Yet it's possible that the national figures include activity in services and Internet industries that may not show up in local data, he said.
The contribution to GDP from tertiary industries, which include services, exceeded secondary ones, mostly manufacturing, for the first time in 2013.
The NBS has "better methodology to calculate" data on Internet services, for example, said Ding, who previously worked at the International Monetary Fund and People's Bank of China. "These kinds of economic activity are becoming more and more important."
— With assistance by Xiaoqing Pi
Before it's here, it's on the Bloomberg Terminal.
LEARN MORE