UAW Fails to Unionize Volkswagen Workers in Tennessee
Jim Efstathiou Jr.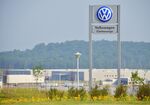 The United Auto Workers lost its bid to organize workers at a Volkswagen AG factory in Tennessee, a setback in its effort to gain a foothold in the U.S. South and a victory for Republicans who urged voting against the union.
In balloting at the Chattanooga facility that ended last night, 712 workers opposed being represented by the UAW with 626 voting to join, the UAW announced. Politicians and outside groups had waged a campaign against the UAW, warning employees that a vote for the union would bring Detroit's economic woes to Chattanooga and discourage investment in the state.
The UAW has been rebuffed in efforts to recruit in the South at foreign automakers, known as transplants, or domestic manufacturers that set up shop to take advantage of tax breaks, non-union labor and easy access to U.S. markets. The loss underscores a decline for unions, said Gary Chaison, a labor law professor at Clark University in Worcester, Massachusetts.
"It'll seem as if it's just a continuing spiral of decline for the American labor movement," Chaison said in an interview, "when one of its most powerful and reputed unions cannot win a certification election under the most favorable conditions."
The UAW has lost 75 percent of its membership since 1979 while the total of U.S. workers who are union members fell to 11.3 percent in 2013, the Bureau of Labor Statistics reported.
"While we certainly would have liked a victory for workers here, we deeply respect the Volkswagen Global Group Works Council, Volkswagen management and IG Metall for doing their best to create a free and open atmosphere for workers to exercise their basic human right to form a union," UAW President Bob King said in a statement last night.
Corker Opposition
The outcome was a victory for Republican politicians including U.S. Senator Bob Corker and Tennessee Governor Bill Haslam who opposed the UAW's effort, warning that a yes vote would deter other companies from investing in Tennessee.
"Needless to say, I am thrilled for the employees at Volkswagen and for our community and its future," Corker, a former mayor of Chattanooga who helped negotiate the incentive package that lured Volkswagen to the city, said in a statement last night. The $1 billion plant opened in 2011.
When voting began Feb. 12, Corker said turning back the UAW would guarantee that Volkswagen picks Chattanooga to build a new sport utility vehicle for the U.S. market.
Corker was contradicted by Frank Fischer, chairman and chief executive officer of Volkswagen Chattanooga, who said the vote had no bearing on where the new SUV is built.
Outside Groups
Outside lobby groups, including one tied to anti-tax crusader Grover Norquist, used billboard advertising and editorials in local newspapers to build opposition to the UAW. The vote supervised by the U.S. National Labor Relations Board was set after a majority of plant workers signed registration cards in favor of joining the union.
Volkswagen and the UAW agreed to negotiate forming a works council, an employee-management body found at most large German companies to resolve labor disputes. None exists in the U.S. where a union must be in place before such a panel is created.
Union membership in Tennessee grew by 25 percent in 2013, the most of any state with 31,000 new members over 2012, according to the U.S. Bureau of Labor Statistics. Even so, only 6.1 percent of the state's workforce was in unions in 2013.
In a Feb 12 interview on MSNBC, King said the UAW "campaign was built on workers in the Chattanooga plant" and he accused Tennessee Republicans of trying to intimidate employees.
Detroit Malaise
Corker had suggested earlier this week that voting for the UAW would bring the sort of economic malaise that crippled Detroit. Such comments might appeal to workers who distrust unions and are fearful of losing their jobs, Chaison said.
Detroit, the 18th-largest U.S. city, filed the largest-ever U.S. municipal bankruptcy in July, saying it didn't have enough money to cover $18 billion in liabilities while also providing adequate police, fire and other services to the city's 700,000 residents. Unemployment in Detroit's metropolitan area was 8 percent in December, compared with 6.7 percent that month nationwide.
High unemployment remains a challenge for union organizing in the U.S. South, and may have swayed the vote against the UAW, according to Merle Black, professor of politics at Emory University in Atlanta.
"If you open up a plant you got 3,000 jobs, and you have 15,000, 20,000 people applying for the jobs," Black said in an interview. "For a lot of these workers the non-union job they have right now is a whole lot better than what they had."
Before it's here, it's on the Bloomberg Terminal.
LEARN MORE