Sony's PlayStation 4 Retakes Lead Over Microsoft's Xbox One
Cliff Edwards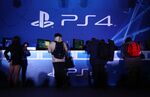 Sony Corp., after replenishing its inventory of PlayStation 4 video-game consoles, retook the lead in U.S. retail sales from Microsoft Corp.'s Xbox One in January as the two vied for industry dominance.
PlayStation 4 sales were almost double those of its nearest next-generation competitor, Tokyo-based Sony said yesterday in an e-mailed statement, citing NPD Group Inc. Combined sales of the PS4 and its predecessor, the PlayStation 3, surpassed all other platforms in January, Sony also said.
The video-game industry is monitoring demand for the new consoles to see whether they spur a broader retail comeback, or if play for many consumers has shifted permanently to smartphones and tablets. U.S. spending on video-game hardware increased 17 percent to $241 million in January from a year earlier, Port Washington, New York-based NPD said in a e-mail.
In December, customers purchased 908,000 Xbox Ones, beating out the PS4, Microsoft said in a Jan. 15 statement. It sold 643,000 Xbox 360s for third place, the company said. Redmond, Washington-based Microsoft didn't say how many of the consoles it sold last month.
Last month, software sales fell 41 percent to $232 million, in part because few titles were available for the newer machines. Microsoft's Xbox One on March 25 gets the exclusive Electronic Arts Inc. shooter "Titanfall."
Shares of Sony fell 1.5 percent to 1,703 yen at the close of trade in Tokyo. The stock has dropped 6.7 percent this year compared with a 9.1 percent decline in the benchmark Topix index.
Digital Downloads
January 2013 included an extra week, making comparisons difficult. Normalized sales removing that week show total hardware revenue rose 47 percent, NPD said.
The PS4 and Xbox One, both released in November, compete with Nintendo Co.'s Wii U, on the market for more than a year. Nintendo, based in Kyoto, Japan, saw sales of games made for its 3DS handheld rise 6 percent on a normalized basis, and 26 percent for the Wii U, NPD reported.
Total video game sales, including accessories, fell 21 percent to $664 million. They would be down only 1 percent on a four-week comparison basis, NPD said. Factoring in sales made through digital downloads, used games, social games and rentals, consumers probably spent $1.05 billion in January, NPD said.
Sony over the holidays struggled to resupply to U.S. retailers after seeing stronger than expected initial demand for the console, Dan Race, a spokesman said last month.
Before it's here, it's on the Bloomberg Terminal.
LEARN MORE