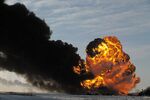 For most of the 14 years that Tinamarie Hatlee has lived in Ravena, N.Y., a small town south of Albany, she didn't mind the trains that passed 50 feet from the back door of her house. They came only a few times a day and moved slowly, so the noise was bearable. But starting last summer, Hatlee says, the trains have been rumbling by every few hours, from early morning until well past midnight. And they go much quicker, as fast as 50 miles an hour, she estimates. Many are oil trains—hundreds of black tank cars filled with tens of thousands of barrels of crude, mainly from oil fields in North Dakota, on their way to refineries on the East Coast. "It's terrifying to think of all that oil flying by so close to my house," Hatlee says. "I don't understand why they have to go so fast."
They're in such a hurry because there's so much oil to move. Over the past three years, U.S. production has increased by more than 2 million barrels per day to 8 million, and railroads are hauling more fossil fuels than they have in a century. In the third quarter of 2013, trains carried 93,312 carloads of crude oil, or about 66 million barrels—about 900 percent more than in all of 2008. Almost all oil reaches its destination without incident. In recent months, however, an alarming number of oil trains in the U.S. and Canada have derailed, causing spectacular explosions that blackened the sky with burning crude. In July a 74-car train plowed into the Quebec town of Lac-Mégantic in the middle of the night, igniting an inferno that killed 47 people. In October a tank train derailed outside Edmonton, Alberta, forcing an evacuation. In November an oil train crashed in Alabama, spilling thousands of barrels into a marshland. In December two trains collided in Casselton, N.D., one carrying soybeans, the other crude. Eighteen tank cars ruptured and burst into flames, spilling about 400,000 gallons of oil.
Local, state, and federal officials, as well as the oil and railroad industries, are calling for tougher safeguards to prevent these kinds of accidents. Just what those protections will look like is anyone's guess. The tangle of competing laws and regulations governing U.S. railroads allows everyone to claim that someone else is to blame.
Mayors and governors in states that oil trains travel through have been making the most forceful demands. New York Governor Andrew Cuomo wants to double the number of state rail inspectors from 5 to 10. Chicago Mayor Rahm Emanuel is pressing for a hazardous materials fee on oil companies and refiners to pay for upgraded railroad tracks, more first responders, and disaster insurance for towns along oil routes. Emanuel doesn't have the power to make that happen, though. Overseeing railroads is primarily the federal government's job, in part because the industry would be paralyzed if it had to comply with widely varying local regulations each time a train passed through a town.
Washington doesn't appear to be in a rush to address the problem. On Jan. 23, investigators at the U.S. National Transportation Safety Board made broad recommendations that would have big consequences: They said crude oil should meet the same restrictions as toxic chemicals, which must be routed on tracks away from population centers. In 2012 the NTSB said crude oil should travel only in upgraded tank cars with thicker, more puncture-resistant walls and sophisticated relief valves. This would require the industry to hasten upgrading its fleet of older, thinner-walled cars better suited to ferrying corn syrup than explosive fossil fuels. "The large-scale shipment of crude oil by rail simply didn't exist 10 years ago, and our safety regulations need to catch up," NTSB Chairman Deborah Hersman said when she released the report. "While this energy boom is good for business, the people and the environment along rail corridors must be protected from harm."

But Hersman can't require oil and rail companies to comply with her recommendations, and they haven't. President Obama could urge federal regulators to act quickly to come up with new safety rules. Congress could pass legislation. Neither has happened. Obama has been mostly silent on the issue, and congressional leaders haven't pushed bills to increase rail safety. Hearings on the matter are getting under way on Capitol Hill this month. The government should be "embarrassed by how unprepared they were for this," says Fred Millar, a rail safety consultant who's worked for cities and environmental groups.
Instead, the problem has been left to make its way through the federal rulemaking bureaucracy. In April 2012 the Pipeline and Hazardous Materials Safety Administration, a part of the U.S. Department of Transportation, began considering new standards to govern oil shipments, a process that requires months of gathering comments from various sides and months more of deliberations. The agency says it has until the end of the year to finish new rules, but under pressure to act quickly, it could come out with them as early as this month.
The Transportation Department could issue what are called interim final rules to immediately impose new speed limits for crude trains and standards that require them to stay farther away from densely populated areas, Millar says. The administration, however, has resorted to "quiet backdoor meetings with the railroads and oil companies," he says, "to see what they'll agree to do voluntarily."
Of course, the industries don't need to wait for the federal government to tell them what to do—they could act on their own to make crude trains safer. Railroads have largely placed responsibility for safety on the oil companies that use their tracks, pressing them to switch to the newer, rupture-resistant cars. "We are trying to show that we are taking this seriously, and we're hoping that the Department of Transportation can follow suit," says Edward Hamberger, president of the Association of American Railroads.
Oil companies aren't eager to go along with the request, and they don't have to because the older cars meet current federal guidelines. Of the 92,000 tank cars used to haul crude and other flammable liquids in the U.S., only 14,000 have the updated safety features. Modifying them could cost the industry about $5.2 billion, according to estimates by Bloomberg Government. Some oil companies are getting out ahead of whatever changes might be coming. On Feb. 6, Tesoro, one of the nation's biggest refiners, announced it will replace all older tank cars it leases by mid-2014. "It is going to cost more to do, there's no doubt," says Senior Vice President Keith Casey. "But simply stated, we think it's the right thing to do."
Oil producers say the railroads that own the tracks the tank cars ride on, including CSX and BNSF Railway, share responsibility for the train accidents. "The first step is to prevent derailments by addressing track defects and other root causes," Sabrina Fang, a spokeswoman for the American Petroleum Institute, wrote in a Jan. 23 e-mail.
While the various sides maneuver for advantage, people such as Hatlee are anxious to see what, if anything, the government will do to prevent the next disaster. As it is now, "We'd be incinerated if there were an explosion," she says. "There's absolutely nothing to protect us."
Before it's here, it's on the Bloomberg Terminal.
LEARN MORE