Among Japan's Carmakers, Nissan Goes From Profit Leader to Laggard
Big incentives in the U.S. have hurt the automaker's profit margins
By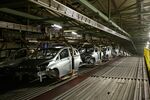 Almost two years ago, Nissan Motor led all Japanese carmakers in profits. It was faster than its peers in moving production overseas to counter the stronger yen, expanding into emerging markets, and recovering from the tsunami and other natural disasters in 2011. Today it's recovering from production delays. Emerging markets are slowing, and it's missing out on the profit boon from a weaker yen enjoyed by most Japanese exporters. The result: Nissan today has become Japan's least profitable carmaker.
The company's net income rose 57 percent, to 84.3 billion yen ($825 million), in the three months ended Dec. 31, but that net was 3.3 percent of revenue, the lowest margin among Japanese carmakers last quarter. "There's a sense of crisis in the company, and [Chief Executive Officer Carlos] Ghosn has started to address problems," says Tsuyoshi Mochimaru, an auto analyst at Longine, an investment analysis firm based in Tokyo. "Things will improve but will take some time." Chief Financial Officer Joseph Peter said on Feb. 10 the company is on track to reach a midyear operating margin target of 8 percent.
Last year, when the weaker yen sent the Nikkei 225 Stock Average to its biggest annual gain since 1972, shares of Toyota Motor surged 60 percent, and Honda Motor climbed 38 percent. Nissan's stock rose only 9 percent, making it the second-worst performer among Japan's carmakers after Daihatsu Motor.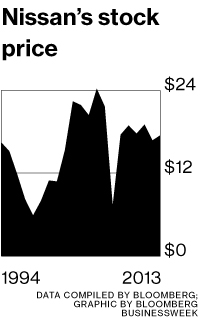 Three months ago, Ghosn announced a management overhaul after the company cut its profit forecast by 15 percent. Ghosn, also CEO of Renault, axed the chief operating officer role and made dozens of executive changes. He also reorganized, breaking out key markets such as China. Nissan produced just 23 percent of its vehicles in Japan last year, the lowest ratio among the country's carmakers after Honda.
The number of cars sold wasn't the biggest problem: Globally, Nissan deliveries rose 3.3 percent in 2013, to a record 5.1 million vehicles, and sales in the U.S., China, and Mexico reached all-time highs. But the carmaker's volume growth in the U.S. has been driven partly by aggressive pricing. In May it cut sticker prices for seven major models, including the Altima sedan, boosting sales in that month by 25 percent. And last quarter it earned 3.4 billion yen in operating profit in North America, down from 26.5 billion yen a year earlier, as it doled out higher incentives than any other Asian automaker. "Nissan should continue to suffer from the harsh pricing environment in the U.S.," says Kota Yuzawa, an auto analyst at Goldman Sachs in Tokyo. "I'm really worried about their U.S. pricing, especially because in the next 12 months they won't have major new product launches except for the Murano."
Before it's here, it's on the Bloomberg Terminal.
LEARN MORE