How Russell Stover Won the Valentine's Chocolate War
How chocolate company Russell Stover won the Valentine's Day war
by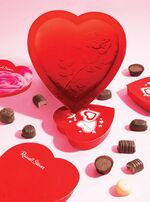 In the days leading up to Valentine's Day, millions of American men will buy boxes of Russell Stover chocolate. They'll dash into a Walgreens or Target or CVS after work and browse a candy aisle teeming with hearts: quilted hearts, hearts with kittens on them, hearts clutched between the plush paws of teddy bears, and hearts wrapped in what looks like a sexy nightie.
That satiny heart covered in black lace was designed by Russell Stover a few years ago to evoke the sultry side of the holiday. Its official name is the Secret Lace heart, but within the company it's known as the lingerie box. "We'd take it to drugstores and the managers would say, 'I can't sell this! People will complain!' " recalls Chief Executive Officer Tom Ward, whose family has owned Russell Stover Candies for more than 50 years. "We'd have to tell them, 'Trust us. Please. We've been doing this for a long time. People will buy it.' "
Ward knew something that his retailers had overlooked: Unlike other candy, boxed chocolate isn't purchased by the person who eats it. During the month of February, the company's customers—the people buying the flowers, making the dinner reservations, and surprising their dates with last-minute gifts—are almost always men. And men like black lace. The lingerie box has become one of the company's best-selling products on Feb. 14.
With 3,000 employees and $600 million in annual sales, Russell Stover is the No. 1 boxed-chocolate company in the U.S. and the third-largest candy company, behind Hershey and Mars. Chocolate is a $100 billion global industry centered around four holidays: Christmas, Halloween, Valentine's Day, and Easter. Christmas is the largest holiday for chocolate, even at Russell Stover, simply because the season lasts so long. But Feb. 13 and 14 are the busiest chocolate-buying days of the year. Americans will spend $1.1 billion on Valentine sweets this year, according to the National Confectioners Association, and 75 percent of it will be chocolate. Russell Stover expects to sell about $175 million during that time.
The Kansas City (Mo.)-based company isn't gourmet. Its chocolate is not artisanal, and it's not organic. Russell Stover chocolate has none of the bitter bite that gives the best chocolate its flavor. The exterior is smooth but not delicate, and the fillings are surprisingly rough in texture and achingly sweet. "It's a bit like the difference between beer and fine wine," says Martin Christy, co-founder of the International Chocolate Awards. And priced accordingly. "They're what we call an affordable premium," says Paul Minger, Walgreens's category manager for confections, known within his company as the Candy Man. "They sell something that looks premium but that's priced much less than what other boxed chocolates go for. No one else really does that."
 
 


Russell Stover was a real person. He first made his fortune as one of the creators of the Eskimo Pie. In 1923, Stover formed a new business selling the individually wrapped candies his wife Clara made in the kitchen of their Denver home and calling them Mrs. Stover's Bungalow Candies. By 1932 the Stovers had moved to Kansas City, changed the company's name, and opened several factories where the sweets were cooked, dipped, and packaged by hand. When Russell Stover died in 1954, the company had almost 40 candy shops and sold chocolate to 2,000 department stores across the Midwest.
At the time, Ward's father, Louis, owned the company in Kansas City that made the paper boxes the Stovers used for their candies. (Russell Stover has been selling heart-shaped boxes since the beginning; it borrowed the idea from Cadbury, which made the first Valentine's Day heart in 1822.) In 1960, Louis Ward bought Russell Stover from the elderly Clara for $7.5 million, taking it public immediately. He opened new factories so the company could expand nationally, then took it private again in 1981. "My dad was a quiet, conservative man," Ward says. "I don't think he would've survived in today's market as the head of a public company." In 1994, two years before Louis died, Forbes reported he was the 22nd-richest American, with a net worth estimated at $500 million.
Like his father, Tom Ward tends to avoid the limelight. At 55, he's a tall, easygoing guy with a loud, boisterous laugh and gray hair that gets whiter near his temples. For a man whose life revolves around chocolate, he's thinner than you might expect, but with a softness that betrays his fondness for sampling his fare.
Ward started working in Russell Stover's corporate office in college, officially joining the company in 1981. He and his father moved the wholesale business away from department stores, refocusing on drugstores and big-box retailers such as Wal-Mart and Kmart. In 1993, Louis Ward suffered a stroke and handed the company over to his sons. (Tom shares the title of president with his brother, Scott.) That same year they bought out their biggest competitor, Whitman's, for $35 million.

On every other holiday, the typical Russell Stover customer is a woman over 35 who makes between $35,000 and $75,000 a year. On Valentine's Day, that changes. Of the 35 million heart boxes Russell Stover expects to sell this year, at least 60 percent will be purchased by men. And the less money they make, the more they're willing to spend. "I know it's counterintuitive," says Mark Sesler, a former ad man who's now Russell Stover's chief marketing officer. He says a man on a limited budget will buy a $40 box of candy and consider the holiday complete. But someone with more disposable income will take a woman out to dinner, buy her some jewelry, and then maybe follow it up with a $10 heart. The same is true on a macro level. "Right before the economy tanked, everyone was into this Ivory Coast, 83 percent cacao stuff," Sesler says. "But then during the recession we felt a surge back to our brand."
Ward distrusts focus groups or any sort of outside company that might tell him how to make his candy. Instead, he and Sesler spend a lot of time loitering around drugstore confection aisles. "I like to watch people, how they buy, what they buy, what they look at, and what they pass by," he says. Ward visits a handful of stores every few months to talk to customers (Sesler visits more), although he almost never tells them who he is—"otherwise, they'll think I'm a weirdo." A couple of years ago, Ward noticed that men no longer buy Valentine's Day gifts as a surprise. "They're all on their phones, standing in the candy aisle going, 'OK, you want something with coconut?' " To help these guys out, Russell Stover sells all-coconut and all-nut-cluster boxes, so they can get exactly what they're told.
Ward and Sesler come up with the marketing conceits, but they rely on someone else to make the chocolate. That job falls to Wayne Houde, whom Ward met in 1999 when he tried to buy Colorado's Rocky Mountain Chocolate Factory. The deal fell through—the companies couldn't agree on a purchase price—but Ward lured Houde away from Rocky Mountain's test kitchen and into his own. Houde designs Russell Stover's chocolate (smoother than Hershey but grittier than Lindt) and figures out how the company's machines should make its candies. For example, to manufacture a s'more, the marshmallow is coated in chocolate and affixed to two graham crackers, rather than melting chocolate in between them.
Houde works near Russell Stover's Denver plant, but three weeks before Valentine's Day he's in the company's factory in Iola, Kan., inspecting the machines and talking with workers to make sure everything's running smoothly. He and Ward walk through in white chemist's coats, poking at nougat and checking on the fluffed marshmallow that's poured by hand into molds dusted with cornstarch; machine-made marshmallow tends to fall like a flat soufflé.

About 350 people work at the Iola factory in staggered 10-hour shifts. Liquid chocolate flows through white plastic pipes that crisscross overhead, each one labeled "MC" (milk chocolate), "DC" (dark chocolate), or "SF" (sugar-free). It's the most delicious-smelling plumbing system you'll ever encounter. There are spinning machines and shaking machines and a contraption that looks like a steamroller that's used to flatten toffee.
At one station where chocolates come out on a conveyor belt, workers have to pop them out of molds and place them back on the belt as fast as they can, like that classic I Love Lucy episode. Some of Russell Stover's candies are still hand-dipped, but it's the raw ingredients that need the most personal attention. A few of the factory's machines are close to 50 years old, and because they're used to make so many different types of chocolates—a machine could be producing molasses chews one week and caramel squares the next—employees spend a lot of time retrofitting them for each production run.
Iola is open 20 hours a day, four days a week; but with the holiday coming up, its workweek has temporarily increased to six days. Russell Stover starts making Valentine's Day candy in the fall; its first shipments go out on Oct. 8 to military bases in Iraq and Bahrain, where they're frozen until it's time to distribute them to troops. Everything else is scheduled for mid-December.
At Russell Stover's 39 retail shops and Kansas City headquarters, Valentine's Day kicks into full swing the first week of January. That's when those heart-shaped boxes hit drugstore shelves and Stover's own corporate offices begin to resemble a romantic comedy. There are 12 bowls and boxes of candy on the receptionists' front desk, and 26 more in the waiting room. But the candy Ward's inspecting in Iola—the seasonal orders the factory is working overtime to meet—is actually for Easter. "You never enjoy the holiday that's happening because you've already moved on," he says, as chocolate bunnies roll along the conveyor belt in front of him. They quickly disappear into a machine that picks them up, wraps them in foil, and then crimps it around their tiny ears just so. By the time it's Easter, the bunny machine will have long since switched over to pumpkins.
Before it's here, it's on the Bloomberg Terminal.
LEARN MORE