pursuits
To Apple, From a Deadly and Devastated Slice of Paradise
By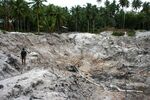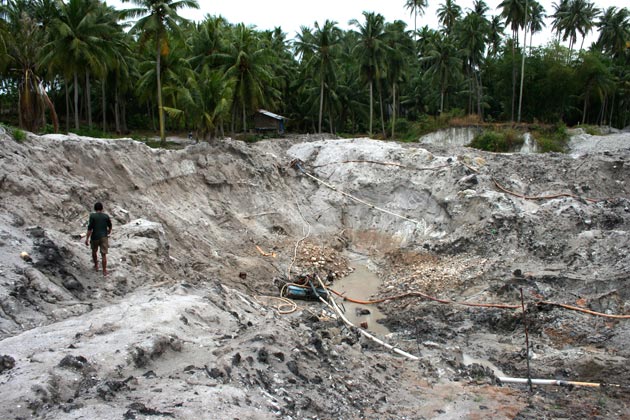 1:15pm: Updates with Friends of the Earth comment
Dr. Mario's words were clinical, precise. They barely rose above the volume of a whisper, but probably will never leave me. I met him in the summer of 2012. We were in the director's office of the largest hospital on Bangka Island. An emergency room attendant, Dr. Mario was describing for me the condition of the corpses of men and boys buried alive in tin-mining pits gouged across this Indonesian island just off the eastern coast of Sumatra.
The miners are easy to identify, he said, by the severe trauma to their heads and chests—caused by the weight of the earth that collapses all around them. It crushes them as it buries them. Their ears, nostrils, and mouths fill with sediment. If the trauma of a landslide doesn't kill them, they drown in earth. "Asphyxiation," he repeated, in English.
While you might have heard buzz in recent years about "rare earth" minerals, the critical metal of our digital age is tin, something Apple put an exclamation point on this week. About half of all tin mined today goes to make the solder that binds the components inside our electronics. Solder is about 95 percent tin. More than any other publicly traded commodity, the tin market is driven by the sale of smartphones, tablets, and our other favorite gadgets. And as we first wrote in Bloomberg Businessweek in August 2012, tiny Bangka Island is the world's tin capital.
It's also devastated by widespread illegal mining, which is a critical source of tin mined on the island and off its coast. About a third of the world's supply in recent years has come from Bangka, its sister island to the east, and the seabed off their shores. Through the supply chains of some of the world's largest solder makers, we traced Bangka's tin to the manufacturing floor of Foxconn Technology Group, which is the biggest contractor for Apple. We also linked it to Samsung Electronics, Sony, and LG Electronics.
Three months after our story was published, the environmental group Friends of the Earth launched a campaign to try to pressure electronics companies to take some responsibility for the deadly conditions and sweeping environmental damage across Bangka. Samsung, Sony, LG, and others acknowledged that Bangka was an important source of tin for their products, but not Apple—at least not publicly.
That changed last night, when Apple released its annual Supplier Responsibility 2014 Progress Report and finally acknowledged that its products carry Bangka tin: "A large percentage of the world's tin—including tin in Apple products—comes from Bangka and Belitung Islands, Indonesia," the report said. "After learning that some of the tin may contribute to environmental damage or pose risks to miners, Apple went to Indonesia to investigate and visited with key stakeholders, including officials from the government, NGOs, and the smelters."
What do the "risks to miners" look like? Virtually all of the tin mined in Bangka's interior is dug out by human hands. It comes from thousands of small-scale mining pits, many of which, if not most of which, operate illegally. In a one-week period when I was there, six men, including a 15-year-old, were buried alive in these pits. Miners were dying at a rate of almost one per week. Conditions were made far more dangerous by pit bosses using tractors with backhoes to dig the walls of the pits almost vertical—increasing their take of tin ore while accelerating the danger of collapse.
Mining also has destroyed the environment. Massive tracts of the island are stripped down to their tan sands, resembling images beamed back to earth from Mars. And damage is not limited to land. Thousands of floating shacks, built atop pontoons, house mining operations off the coast. They use diesel-powered pumps to dredge tin ore from the seabed, devastating fishing habitats that have provided livelihoods to islanders for centuries. Every one of those floating mines is illegal.
As I found, mining companies operating legally were buying tin ore from illegally operated mines, and vice versa. Because of this, and because of the volume of tin it produces, Bangka might be the largest market for illicit minerals in the world, which is at the root of its curse.
In addition to acknowledging the troubled island's presence in its products, Apple did something this week that I first asked its executives to do in 2012: It released a list of all the smelters from which its suppliers purchase tin (and other metals, too).
The list contains 61 tin smelters—at least 34 of which process tin exclusively from the Bangka province. The Apple roster includes almost every tin smelter operating on the island, according to a list of currently licensed smelters sent to me today by the Bloomberg News freelancer on Bangka Island. (Yes, we have a contractor there, which should tell you something about how critical the place is to the global market.) China came in a distant second, with just 12 tin smelters on Apple's list. Many of the Bangka smelters openly purchase illegally mined tin, our own reporting showed.
So what is Apple doing? The company says it's joined forces with a trade group called the Electronic Industry Citizenship Coalition (EICC), as well as a group in the Netherlands called IDH Sustainable Trade Initiative. Friends of the Earth and a tin-mining trade group also are on board what they're all calling the Indonesian Tin Working Group. Apple says the goal is "to explore how its members can help resolve the environmental and social challenges of tin mining on Bangka and Belitung Islands while also supporting the economic benefits of a robust mining trade."
Friends of the Earth credited Apple while noting how long it took. "After more than a year-and-a-half of saying 'no comment', it's great that Apple has publicly admitted it uses tin from Indonesia's Bangka province, where it's mined at devastating cost to people and the environment," said Julian Kirby, of Friends of the Earth. "Apple has started to recognise that supply chain problems start well before factories — the next step should be extending this scrutiny to other raw materials used in its products and packaging."
It's clear the industry is addicted to tin. When we checked in 2012, there were about 7,000 solder points in just two iPad components. So what's next? We're not sure, but as they say in recovery, admitting you have a problem is the first step.
Before it's here, it's on the Bloomberg Terminal.
LEARN MORE