Pound Rises Most in 3 Months as Carney Fails to Convince
Lukanyo Mnyanda and Anchalee Worrachate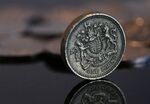 The pound jumped the most in three months versus the dollar on speculation Bank of England Governor Mark Carney will struggle to hold down interest rates as the U.K. economy improves.
Sterling strengthened against all of its 16 major peers as the central bank said in its quarterly Inflation Report the U.K.'s economic recovery is gaining momentum, while reiterating its pledge to keep borrowing costs at a record low. Five-year gilts led a selloff in government bonds on skepticism Carney will be able to keep a pledge that any interest-rate increases will be "limited."
"The market at the moment is just not willing to trust Carney when he says rates will stay low," said Kathleen Brooks, European research director at Forex.com in London. "The market may challenge the Bank of England to just be more specific and not just expect us to believe they are not going to hike interest rates."
The U.K. currency rallied 0.8 percent to $1.6581 at 4:17 p.m. London time, the biggest gain since Nov. 13. The pound appreciated 1.2 percent to 81.96 pence per euro and reached 81.90 pence, the strongest level since Jan. 31.
Sterling has strengthened 10 percent in the past 12 months, the best performer among 10 developed-nation currencies tracked by Bloomberg Correlation-Weighted Indexes, on speculation an improving economy will bring forward increases in interest rates. The euro rose 4.7 percent and the dollar gained 3.5 percent.
Growth Forecasts
U.K. government bonds fell and investors raised their inflation expectations after officials predicted fourth-quarter economic growth would be revised to as high as 0.9 percent from the 0.7 percent estimated by the statistics office. They forecast a similar pace of expansion this quarter.
For the full-year 2014, the Bank of England raised its projection to 3.4 percent from 2.8 percent in November.
The BOE also recast its guidance on future interest rates today to say it would use monetary policy to combat slack in the British economy, rather than focusing on an employment threshold for determining borrowing costs.
"Gilts have sold off as market expectations had overshot in terms of expecting a dovish set of commentary" from Carney, said Francis Diamond, a fixed-income strategist at JPMorgan Chase & Co. in London. "Whilst the message is not a hawkish one, the market has been disappointed. The biggest message is that guidance has evolved from threshold-based to a more qualitative assessment."
Rates Risk
The five-year yield rose 12 basis points, or 0.12 percentage point, to 1.73 percent, the biggest increase since Sept. 5. The 1.25 percent gilt due in July 2018 dropped 0.495, or 4.95 pounds per 1,000-pound face amount, to 97.97.
The benchmark 10-year gilt yield climbed eight basis points to 2.82 percent, and touched 2.83 percent, the highest since Jan. 29.
Short-sterling futures declined, a sign investors were adding to bets on higher future interest rates. The implied yield on the December 2015 contract jumped 19 basis points to 1.65 percent.
A rate increase from the Bank of England will probably come in the third quarter of 2015 though "it's clear the risks to that are for it coming a bit sooner," said Simon Peck, a strategist at Royal Bank of Scotland Group Plc in London.
A gauge of inflation expectations in the five years starting 2019, known as the five-year, five-year forward break-even rate, rose four basis points to 3.35 percentage points. That's the first increase in four days. The measure is among indicators that the central bank monitors.
Unemployment will fall to 7 percent in the quarter through January, the BOE said today. That rate was identified in its original forward guidance as the point at which policy makers might consider lifting rates. BOE officials also estimated an output gap at 1 percent to 1.5 percent of gross domestic product as they provided more detail on the factors that will influence their decisions.
Gilts returned 1.9 percent this year through yesterday, the same as German securities, according to Bloomberg World Bond Indexes. Treasuries gained 1.5 percent.
Before it's here, it's on the Bloomberg Terminal.
LEARN MORE