Cameron Bids to Soothe Tensions Over Handling of Floods
Eddie Buckle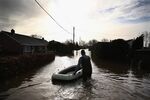 Prime Minister David Cameron moved to ease tensions between politicians and the Environment Agency over the response to floods across southern England, saying all involved must focus on helping those affected.
Cameron made his second trip in four days to the flood-hit southwest yesterday, seeking to show he's making the subject a priority. The visit came after Communities Secretary Eric Pickles, the minister currently in charge of the flood response, and Environment Agency Chairman Chris Smith traded accusations over the handling of the crisis.
"This is a time for everyone to get on with the jobs that they have," Cameron said on the beach at Portland in Dorset. "I'm only interested in one thing and that's making sure everything the government can do is being done and will go on being done to help people through this difficult time."
With southern England suffering the wettest weather since 1766, the risk of flooding is now greatest on the River Thames west of London, where there were 14 severe flood warnings in place yesterday. There are two others in Somerset in the southwest, where some roads have been blocked since December.
Two days ago, Pickles was dismissive of the efforts of the Environment Agency, one of whose main tasks is flood prevention, telling the BBC that ministers "relied too much" on the agency's advice and that "we thought we were dealing with experts."
Smith hit back yesterday morning, telling the broadcaster that his staff know "100 times more about flood management than any politician ever does."
Standing In
Pickles has been standing in for Environment Secretary Owen Paterson, who normally oversees the agency and has been recovering from surgery for a detached retina.
The communities secretary also attempted to soothe matters yesterday afternoon, telling lawmakers that it was "entirely wrong" to "suggest for one moment that I have issued even the slightest criticism of the marvelous workforce of the Environment Agency."
Smith told the BBC Paterson disagreed with Pickles and has been "hugely supportive" of the agency and its staff. He questioned Pickles's grasp of the situation. That came after the Daily Mail newspaper quoted an unnamed cabinet minister as calling Paterson climate-stupid, and the BBC reported that Paterson had complained about Pickles to Cameron.
Smith, a minister in Tony Blair's Labour government, was appointed as the agency's chairman in 2008, under Blair's successor, Gordon Brown. He told the BBC he has "absolutely no intention of resigning."
'Time Later'
"This is not the time to change personnel here," Cameron said in televised comments, saying that "an amazing job" was being done by Environment Agency staff. "There will be time later on to talk about these things. Right now, everyone's got to focus on the job in hand."
After two months of record-breaking rainfall, there's little respite for southern England, with the Met Office predicting rain every day through Feb. 14. A succession of storms and tidal surges has buffeted Britain since early December, flooding more than 8,000 homes and damaging coastal infrastructure, including the main railway connecting the southwestern city of Plymouth with the rest of England.
Before it's here, it's on the Bloomberg Terminal.
LEARN MORE