Olympic Diva Shrugs Off Hotel Gripes to Sing Sochi's Praises
Christopher Spillane and Ilya Arkhipov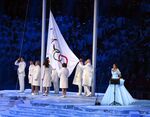 After singing the Olympic Anthem to an audience of millions at the opening ceremony of the Winter Games, Russian diva Anna Netrebko urged visitors to look past slapdash accommodations and focus on the spirit of the event.
"To be attending the ceremony and singing and see all this amazing beauty, I have to say that I am extremely proud for my country and for the people who make this happen," said the opera singer, who as a child visited the host city Sochi in the same southern Russian region where she was born.
With the medals tables filling out and Russia winning its first gold yesterday, the mood is turning to the competition in Sochi where President Vladimir Putin has presided over efforts to showcase the country. More than 59,000 people showed up on Feb. 9, with most venues filled at least 90 percent, including some volunteers, according to the Russian organizing committee.
Putin's grandiose plans, with investments estimated at 1.5 trillion rubles ($44 billion) by the government, have met skepticism and downright ridicule as journalists and visitors turned to Twitter Inc. and other social media sites to complain about side-by-side toilets, hotels that hadn't been fully built, poorly furnished rooms and water that was sometimes discolored and sometimes ran cold. The gripes inspired the English-language Twitter feed @SochiProblems, which gathered more followers than the official @sochi2014 account.
Repulsive Lie
The spending on such work has drawn accusations of corruption from domestic and international critics, including Alexey Navalny, the opposition leader who got an unexpectedly strong 27 percent of the vote to place second in the Moscow mayoral election last year. Even so, Navalny spoke out against hostility toward the Russian-hosted games.
"It's repulsive to hear Putin lie and it's unpleasant to think about pictures of rusty water posted from hotels that cost us a billion dollars," Navalny said in a Feb. 7 blog post, referring to the president saying last month there was no large-scale corruption during the construction. "Nonetheless, it's a great sporting event, and we all want our athletes to do well."
Russia won its first gold medal of the games yesterday in the team figure skating competition, watched by Putin. Norway leads the medal count so far with two golds and seven total, while the Netherlands and the U.S. are tied for second -- each with two golds among four overall.
'Truly Proud'
Putin is seeking to provide an economic springboard to elevate the tourist region for middle-income Russians into one of the leading resorts in the world. Sochi, which runs more than 100 kilometers (62 miles) along the Black Sea, has been a vacation retreat since the tsarist era and was favored by Soviet dictator Joseph Stalin.
Compared with the Sochi of her childhood, Netrebko, 42, said she was "really impressed" with the amount of construction in Sochi and the surrounding villages, although when asked whether the results justified the spending, Netrebko said she's "not a politician."
Netrebko was among those who found the hotels just completed. The singer said she was at the five-star Pullman Hotel, which like the nearby four-star Mercure is part-operated by Europe's largest hotel operator, Accor SA.
'Not About Luxury'
"I can tell even by the smell that it's been finished yesterday," the singer said in an interview at a champagne reception Feb. 8 attended by Putin. "It is like a sports camp, like a camp for students. It's not about luxury here, it's about sport."
The singer, who has Austrian citizenship, was one of 499 famous Russians who endorsed Putin before his March 2012 election. In August last year, after Russia passed a law that bans showing gay "propaganda" to minors, she published a statement on her Facebook Inc. page saying she "never and will never discriminate against anyone."
Alexis Delaroff, Accor's chief operating officer for Russia and CIS, said the hotel's construction had been delayed by two months last year because of a lack of financing.
"When dealing with such a big building a delay can have its influence on the working works," Delaroff said by phone today. "The hotel's construction ended in mid January, so some smells of glue could be there."
State banks and billionaire developers have built more than 4 million square meters (43 million square feet) of housing and hotel space in Sochi for the games, according to the Federal Statistics Center and documents from the state corporation Olympstroy.
Moving Downscale
One of those is five-rated star Marriott International, which charges 8,250 rubles a night for one of its 333 rooms after the Winter Olympics and plans to expand its Russian portfolio by more than 50 percent by 2015, according to a statement.
That was where Moscow resident Larisa Zaykina, 24, stayed before moving to the four-star Golden Tulip Hotel in Rosa Khutor, near venues hosting freestyle skiing and snowboarding events.
"It's fine, maybe it's not the best," Zaykina said. "As long as I have a hairdryer, it's enough."
Even before the host country won its first gold, some Russians had had enough of the sniping. Foreign Ministry spokeswoman Maria Zakharova criticized Western media for complaining about Sochi in posts on Facebook last week and cheered the Feb. 7 opening ceremony. "They can pour as much dirt on us as they want," she wrote. "We are truly proud!"
Before it's here, it's on the Bloomberg Terminal.
LEARN MORE