Brazil Wrong on Weaker Real as Industry Drops: Chart of the Day
Matthew Malinowski and Daniel Grillo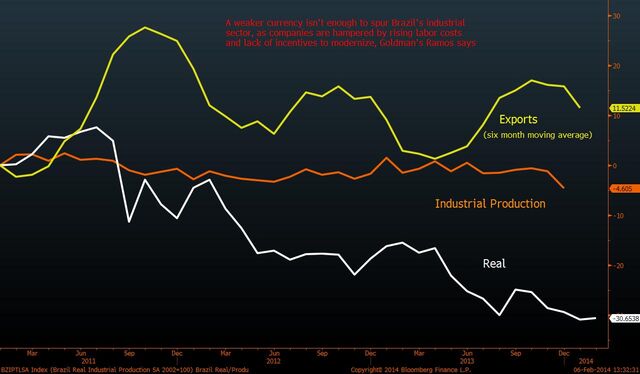 The biggest monthly plunge in Brazil's industrial output since December 2008 shows policy makers' confidence that a weaker real will stimulate manufacturing is proving misguided.
The CHART OF THE DAY tracks Brazil's industrial production index, the real on a percentage-change basis and exports on a rolling six-month average. Output fell in December by the most in five years even as the exchange rate weakened 34 percent since the manufacturing index reached a record-high in May 2011. The currency is the biggest decliner against the U.S. dollar in the last three years among 16 major currencies tracked by Bloomberg after the South African rand.
President Dilma Rousseff said on Feb. 3 that a weaker real would help drive exports this year, an affirmation of Finance Minister Guido Mantega's comments in September that a currency drop would make Brazilian products more competitive and boost manufacturing. Goldman Sachs Group Inc.'s Alberto Ramos said the government's optimism isn't warranted, as companies are hampered by rising labor costs and lack of incentives to modernize.
"The bottom line is that we expect the industrial sector to underperform," said Ramos, Goldman's New York-based chief Latin American economist. "It is a sector that is still facing significant foreign competition and cost-competitiveness issues, which will handicap performance."
The country's main manufactured exports and destination by value last year included passenger cars to Argentina and Mexico and automobile parts to Argentina and the U.S., according to Trade Ministry data. Brazil, which is the world's largest emerging market behind China, saw its economy contract in the third quarter by the most since 2009 as investments dropped.
Fiat SpA is one manufacturer that has seen financial results hindered by Brazil operations. The carmaker's 2013 trading profit in Latin America dropped 41 percent largely from price increases in Brazil, Chief Financial Officer Richard Palmer said in a Jan. 29 earnings call.
Before it's here, it's on the Bloomberg Terminal.
LEARN MORE