Making a Run Inside the Border: Taco Bell's Huge U.S. Growth Plans
by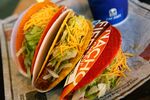 Pizza Hut might be the largest of Yum! Brands' three chains across the U.S., but the parent company of KFC and Taco Bell has lately been showing somewhat lopsided affection for the chain that made Americans fall in love with Doritos Locos Tacos.
Taco Bell already contributed about two-thirds—or roughly $451 million—of Yum's 2013 U.S. operating profit, and executives see more promise in the chain. Last year, 86 new Taco Bell restaurants opened domestically, and the company plans to add hundreds more on top of the 5,000 locations already in the U.S. The goal, Yum says, is to eventually hit 8,000 Taco Bells in the years ahead.
Pizza Hut, meanwhile, has roughly 7,700 U.S. locations, and while Yum expects to expand the pizza chain, too, a company spokesman says there isn't a forecast for "the number of units we plan to have one day, as we have with Taco Bell." Taco Bell has outshone its Yum siblings in the U.S. recently, with same-store sales jumping 3 percent last year while Pizza Hut and KFC saw declines of 2 percent. In 2012, meanwhile, comparable sales at Taco Bell climbed 8 percent and rose just 3 percent at the other two chains.
The Gordita maker enjoys a number of advantages. When it comes to Mexican fast-food chains, no others come close to challenging Taco Bell's American dominance. Del Taco, for instance, has only about 550 U.S. restaurants. The serious rivals populate the fast-casual end of the Mexican spectrum: Chipotle has 1,572 locations in the U.S., and Qdoba has about 600.
What's more, the average Taco Bell store has higher annual sales ($1.3 million) than the average KFC ($957,000) or Pizza Hut ($883,000). And operational efficiencies—including lower food, labor, and real estate costs—lift Taco Bell's restaurant margin (a measure of profit divided by sales) to 20 percent, higher than either Pizza Hut or KFC. Yum's average restaurant margin in the U.S. is 16.9 percent.
As it grows, Taco Bell plans to keep diners coming in all day. It already has specials for breakfast (think waffle tacos), lunch, afternoon snacking (the forthcoming Mountain Dew Sangrita Blast), dinner, and late night. Yum Chief Executive Officer David Novak said on an earnings call this week that Taco Bell is testing mobile ordering, which could roll out later this year.
Before it's here, it's on the Bloomberg Terminal.
LEARN MORE