Why Films Showing Presidential Candidates as Regular Guys Are Risky
Why do politicians make heartwarming movies about themselves and then refuse to show them?
By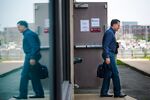 "I feel like if people really get to know who you are," Craig Romney says early on in Mitt, a new Netflix documentary about his father's two presidential bids, "it could be a successful campaign." Filmmaker Greg Whiteley, who was granted extraordinary access to Mitt Romney and his family over the six years he spent trailing them, shot this scene in 2010, as the Romney clan gathered to decide whether their patriarch should make another run at the White House. Whiteley's film, which made its debut at Sundance to widespread acclaim, is precisely the rendering of Romney that his son would have wanted the public to see: He comes across as warm, selfless, and human, still awkward, but endearingly so—and also funny. If he drank, you'd have a beer with him. The wooden automaton whom the public met, and ultimately rejected, is nowhere in evidence.
Unfortunately for Romney, Mitt didn't appear until after he'd lost the election. Although several family members, including his son Tagg, pushed for the film to be released prior to Election Day, Romney's campaign strategists forbade it. "Their argument was, 'Look, you're walking around with a loaded gun. We don't know what you're filming,' " Whiteley told Time. But having seen the film and the reaction to it, some Romney partisans say this was a mistake and have even begun raising the possibility of a third presidential attempt in 2016. (They'll first have to convince the candidate. Asked whether he would consider another run, Romney told the New York Times, "Oh no, no, no. No, no, no, no, no.")
The fantasy that voters would flock to a presidential candidate if only they could see him as his friends and family do isn't unique to Romney and may be as old as politics itself. In 2000, between the time Al Gore won the Democratic primaries and accepted the nomination, his staff invited the filmmaker Spike Jonze to spend a weekend at the Gore family compound in Tennessee and shoot a similar project. "It was Spike and Al out in the woods talking about stuff—and the real Al Gore came out," says Tad Devine, a top strategist in the campaign. "We thought it would be good if people got to know him better, and it actually was a cool film."
The short documentary, which has since been uploaded to YouTube, does the same thing for Gore that Mitt does for Romney. Shot vérité style with a jumpy, handheld camera, Gore is seen playing with his grandchildren, bodysurfing in the ocean, and investing the same painstaking effort into choosing a family movie as he did to reinventing government, all while his wife, Tipper, and kids fondly tease him for it. Gore's dry wit is on display, as he jokes that most voters recognize him as the guy who stood still behind the president for eight years. At one point, to Tipper's mock horror, he pulls Jonze aside to show off a nude selfie that she had painted while pregnant with one of their daughters.
But as with Romney, the warring imperatives of wanting to reveal the "real" candidate in all his humanizing imperfection and maintain strict control of the campaign's message eventually were settled in favor of the strategists who didn't want to risk highlighting the movie. The "humanizing" moment at the convention instead came in Gore's famous onstage kiss with Tipper. The film was shown at the convention but during non-prime-time hours, effectively burying it. "We had a different strategic imperative at the time," Devine explains. "We needed to reposition him as someone who could step out of the shadow of a president who cast a very long shadow and establish him on his own terms with voters."
Looking back, there's a clear pattern of filmmakers being invited into presidential campaigns and offered unusual access to the candidate, only to have strategists block, delay, or downplay their work later on. In fact, there's a natural cycle to how such projects get started—and why they never become the pivotal advantage that true believers imagine they could be.
Anyone with enough ego to envision himself in the White House probably also believes he owes it to history and posterity to capture his campaign on film. Bill Clinton's campaign thought so (The War Room); so did Barack Obama's (By the People). John Edwards apparently thought so, too, although his videographer, Rielle Hunter, produced an out-of-wedlock child rather than a film, after the couple's infamous extramarital affair.
Sometimes the filmmaker is the only person besides the candidate who believes that a campaign is worth documenting. That was the case with A.J. Schnack's 2012 film Caucus, which followed Rick Santorum through Iowa. "Quite frankly," Santorum's spokesman told Slate, "they were the only cameras that showed up for the first year."
In the early, idealistic stages of a campaign, a filmmaker can seem like an ally, a witness to the decency and merit of the candidate. But if the campaign takes off, he'll eventually be seen as a threat. "Politics is a risk business," Devine says. "You have to take risks to win. But the risk of a film is so big that it could just completely spiral out of control. If you take a camera to anybody's life, spend a year with them, then go into a studio, you can make them look like the best person in the world—or the worst."
The impulse to document a presidential campaign will endure, but the ability and desire of political advisers to squelch such projects may soon diminish. "In 2000 the idea of these longer projects, of putting them in the public domain and letting people discover them, was an entirely new thing," says Michael Feldman, another Gore strategist. Since then, Americans have become more acculturated—even habituated—to candid glimpses of celebrities of every stripe, whether they're singing on American Idol, playing pro football on Hard Knocks, or hitting each other with purses on The Real Housewives of New Jersey. People have come to expect it.
This may explain why Mitt, a film about an unbeloved presidential loser, became a Sundance hit. And this in turn may someday convince a presidential contender that the reward of offering such a glimpse during the campaign is worth the risk.
BOTTOM LINE -
The bottom line: Campaigns love the idea of making films that humanize the candidate—until it comes time to let the public see them.
Before it's here, it's on the Bloomberg Terminal.
LEARN MORE