What Advice Would You Give Your 30-Year-Old Self?
What Jerry Springer, movie producer Mace Neufeld, and other notables would tell their younger selves
by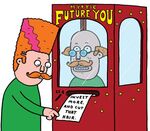 Apu Gupta
38, chief executive officer and co-founder, Curalate
"I wish I had known that founding a startup was more scary than risky, because I would have done it earlier. Instead, I allowed the fear of failing to drive me into a management consulting career, where I lost time and confidence being in a job I wasn't great at. Six years later, I finally started my own company and have never felt more stability, creative freedom, and sheer joy in a career."
Lee Brian Schrager
54, founder and director, South Beach Wine & Food Festival
"I was the owner of a South Beach club called Torpedo and partners with Mickey Rourke at another club called the Spot. I would tell my 30-year-old self to be careful whose butt you're kicking today, because you may be kissing it tomorrow."
Justin Rolls
35, chief operating officer, OrganicLife
"At 30, I was just starting to grow my company. At first it is a necessity to do everything yourself, but as you grow, it is a mistake to not take advantage of new resources. The ability to delegate needs to be learned sooner rather than later."
Chandrika Krishnamurthy Tandon
59, chairman,Tandon Capital Associates
"I was an enthusiastic McKinsey partner commuting between Brazil and New York. I wish I had known that taking time to cultivate inner tranquility was an imperative, not a luxury. Through music and meditation, I would have been able to exude much more grace and keep greater distance between a very grueling work situation and me. I would have redefined perfection: It is giving your best. That is all you can do."
Jerry Springer
69, host, The Jerry Springer Show
"When I was 30, I had just been appointed mayor of Cincinnati. I wish I'd known that when people say, 'It's not personal, it's just business,' to never believe them. Every business decision is personal."
Kim Kurlanchik
48, partner, TAO Group
"I would tell myself to find balance between work and personal life. I was constantly trying to prove myself in a field known for being a boys' club, working most nights and weekends, and my personal life took a backseat. It wasn't until almost a decade later, once I met my husband and had a child, that I realized I previously had no balance."
Mace Neufeld
85, producer, Jack Ryan: Shadow Recruit
"I would tell myself that if I wasn't in love with what I was doing, to quit then and follow my dream. The road ahead may look daunting, but it surely is better."
Before it's here, it's on the Bloomberg Terminal.
LEARN MORE