Trade Gap Shrank in 2013 as U.S. Fuel Exports Climbed: Economy
Jeanna Smialek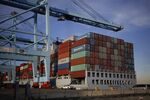 The U.S. trade deficit in 2013 was the smallest since 2009, even as it ticked up at year's end, as rising fuel exports and falling imports propelled the world's biggest economy further toward energy independence.
The gap narrowed to $471.5 billion last year, the lowest since 2009, from $534.7 billion in 2012, figures from the Commerce Department showed today in Washington. The balance on petroleum products shrank 20.2 percent, also the biggest decline in four years.
Foreign sales went beyond fuel as demand for American-produced foods, capital equipment, autos and consumer goods all climbed to records in 2013, evidence of the rebound in global demand that will probably keep driving exports this year. Another report showing claims for jobless benefits dropped last week points to a healing in the U.S. labor market that will help boost consumer spending, ensuring imports also grow.
"The trade deficit will continue to narrow a bit over the course of 2014, mostly thanks to a smaller petroleum trade deficit," said Ryan Wang, an economist at HSBC Securities USA Inc. in New York and the second-best trade forecaster over the past two years, according to data compiled by Bloomberg. "We'll see another year of moderate growth."
Stocks rose, with equities trimming a weekly loss, as investors were heartened by the decline in unemployment claims and weighed earnings releases of companies from Walt Disney Co. to Twitter Inc. The Standard & Poor's 500 Index climbed 1 percent to 1,769.66 at 1:11 p.m. in New York.
December Deficit
In December, the trade gap expanded 12 percent from the prior month to $38.7 billion, according to the Commerce Department report, exceeding the median estimate of economists surveyed by Bloomberg that called for a $36 billion shortfall.
December "was a bounce back" after a very large drop in the gap the prior month, said David Sloan, senior economist at 4Cast Inc. in New York, who correctly predicted the widening in the deficit. "There's still a slight tendency for the deficit to be narrowing. The reduced U.S. dependence on imported energy is quite an important factor."
Exports of petroleum products climbed 10.9 percent in 2013 to a record $137 billion, while imports fell 11 percent to three-year low of $369.3 billion. That left a deficit of $232.3 billion, the smallest since 2009.
The trends continue to gain momentum. Shipments of foreign crude fell 3.5 percent to 7.34 million barrels a day in the four weeks ended Jan. 31, the least since March 1998, data from the Energy Department showed earlier this month.
Crude Production
Domestic crude production was 8.04 million barrels a day that week, unchanged from the prior period and down from 8.16 million in the week ended Jan. 10 that was the most since July 1988. It was the 11th week in a row above 8 million.
Energy exports also will probably be boosted by construction of liquefied natural gas terminals as companies take advantage of a boom in hydraulic fracturing, or fracking, a drilling technique that has led to record natural gas production. As of Dec. 31, the Obama administration had approved export permits for five LNG terminals, the first of which could go online by the end of 2015.
The median forecast in a Bloomberg survey of 74 economists projected a $36 billion December trade deficit. Estimates ranged from $31 billion to $42.5 billion. The Commerce Department revised the November gap to $34.6 billion from an initially reported $34.3 billion.
Exports decreased 1.8 percent in December from the prior month to $191.3 billion, as sales of industrial supplies, autos, consumer goods and capital equipment all retreated. The percentage decrease was the biggest since October 2012, taking overseas sales to a three-month low.
Fuel Exports
Foreign demand for U.S. petroleum products climbed to a record $13.5 billion in December.
Imports rose 0.3 percent to $230 billion in December, reflecting increasing purchases of crude oil and consumer goods such as mobile phones.
An improving job market is probably helping boost household demand. Applications for unemployment insurance payments dropped by 20,000 to 331,000 in the period ended Feb. 1, the Labor Department reported in Washington, indicating employers are retaining workers to meet demand.
Figures from the Labor Department tomorrow are projected to show a 180,000 increase in January payrolls, according to the median forecast of economists surveyed by Bloomberg, after a smaller-than-projected 74,000 gain a month earlier that some economists said was due to poor weather. The unemployment rate probably held at 6.7 percent, the lowest since October 2008.
Dwindling Confidence
Slumping stocks in recent weeks is shaking households and may be limiting the benefit of gains in employment. The Bloomberg Consumer Comfort Index declined to minus 33.1 in the week ended Feb. 2, the lowest since late November, from minus 31.8 the prior period, another report today showed. The share of Americans saying it's a good time to shop fell to the lowest since early November.
Also today, worker productivity increased at a 3.2 percent annualized rate from October through December after a revised 3.6 percent gain in the prior three months that was larger than initially reported, the Labor Department reported. Expenses per worker decreased at a 1.6 percent pace, more than estimated.
The U.S. economy expanded at a 3.2 percent annual rate in the fourth quarter, bringing growth in the full year to 1.9 percent, the Commerce Department reported last month. A shrinking trade gap added 0.14 point to total growth in 2013, the most in four years.
Before it's here, it's on the Bloomberg Terminal.
LEARN MORE